Billy Ocean I REMEMBER…
Reader's Digest UK
|
Reader's Digest October 2020
Coming to fame in the 1970s, Billy Ocean has sold more than 30 million records. Now aged 70, he looks back on moving from the Caribbean to England, getting sacked from Savile Row and performing at Live Aid
…I REALISED I HAD SOMETHING CALLED "A VOICE" from around the age of three or four, and my mum always encouraged me to sing. She was a domestic and would sometimes bring homework, like ironing, and when she was doing it she'd ask me to sing to her to keep her company. I remember many a Saturday night when that happened. Dad was a musician, which also inspired me as a youngster. He'd compose calypsos on his guitar and he was like the village entertainer.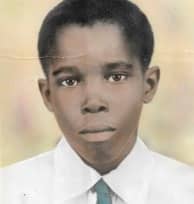 …MY FATHER DID ALL SORTS OF JOBS. I grew up in Trinidad and Tobago in the Caribbean, until we moved to England when I was ten, and there wasn't an organised system of work. You either worked in the oil field, which was the most responsible job there was, or you did whatever you could to feed your family. Back then people were dab hands at everything—such as gardening, fishing, making utensils out of discarded tins—and my father was one of them. That's really the main reason he emigrated to England as part of the Windrush movement, eventually bringing us over with him in 1960.
…ARRIVING IN ALDGATE EAST WAS A TOTAL CULTURE SHOCK. I'd come from living on the border of a cocoa and coffee plantation, then suddenly there were all these buildings and streets and cars. It was all very strange to me but as a child, you adapt very quickly, whereas if I'd been a grown-up I'd probably have fled back to the Caribbean!
Billy Ocean as a young man
…SCHOOL WAS A BIG ADJUSTMENT. There wasn't much contact with white people in Trinidad and Tobago, except for those my mum worked for, so mixing with white kids was very strange to start with. Again, the thing that helped me out a lot was music because I helped organise concerts and because I'm a pretty friendly person anyway, I didn't have any problems, but initially, I was very cautious. I wasn't very academic. I found mathematics very difficult; logarithms and square roots and that kind of thing baffled me, although I learned my times tables and my alphabet. The teachers never really explained anything properly and they concentrated on the brighter kids. There were some kids who were so bright it made me wonder how the Lord made both of us.
You can read up to 3 premium stories before you subscribe to Magzter GOLD
Log in, if you are already a subscriber
Get unlimited access to thousands of curated premium stories, newspapers and 5,000+ magazines
READ THE ENTIRE ISSUE
Reader's Digest October 2020