The Wonder Of Flight
Reader's Digest Canada|November 2019
My dad and I always cherished our airplanes as more than just machines. When he died, I began the search to find the Smith Miniplane that he'd loved the most.
IT HAPPENS TO EVERY PILOT: the realization you'd rather be up there than down here. Some can't quite put their finger on the precise moment; they just always knew they'd be happier looking down at the clouds than gazing up at them. Others, like me, can narrow it down to the exact second.
I remember my tiny hands closed around a control column. There were rudder pedals, too, but I had no hope of reaching them with my short legs. The airplane rocked and sighed in the wind. I felt safe.
Then, strong hands grabbed me and lifted me above a little red and white biplane. I floated for a moment, looking down at the top wing and fuselage, then my feet hit the ground. As my dad led me away, I turned to look at the plane. The arrangement of the air intakes made it seem as though the aircraft was smiling at me.
It was the spring of 1988. I was four years old, living in Ottawa, and I was saying goodbye to the Smith Miniplane known by the call sign Charlie Foxtrot Foxtrot Alpha Mike—or FAM for short. It would be 25 years before I'd ever sit in a Smith again.
My father, Antonio Rotondo, logged relatively few hours in FAM—50 in total—but the effect those precious hours had on him was immeasurable. He spent time in dozens of airplanes, doing everything from aerobatics to instrument flying, but in the sanctum of his Miniplane's seat, he discovered the true meaning of the miracle of flight. On twin crimson wings soaring above the patchwork farmers' fields of Ontario, my father escaped the tempor al bonds of earthly woes—at least until fuel levels became a concern.
THERE ARE TWO KINDS of pilot. The first group regards their planes as living, breathing aerial companions that understand and empathize, reward and punish, give and take life. The second group sees them as machines to fly. My dad was of the former persuasion, and so am I.
When my dad sold his Smith in 1988, out of financial necessity, he lost a companion. As I grew up, we spoke constantly of flying, and after I gained my licence when I was 18, we flew together. Even as our relationship changed, becoming difficult as the years wore on and sickness taxed his body and mind, flying FAM remained a ready topic. My dad would tell brilliant stories of what it was like cocooned in her open cockpit. He talked about that airplane as if it was an old girlfriend who had broken his heart. Every time I suggested tracking the plane down, he'd brush it off. There'd be a tightness in his voice as he'd say he had no interest in knowing where the plane was or what it was doing or who had the fortune of flying it. He cared only for what it had been like to fly it, and how it made him feel.
Every single Miniplane is unique, even if you can't tell them apart by sight—a custom-built reflection of the builder's preferences and the embodiment of a dream. In those days—the 1950s, when a Californian named Frank Smith built the first Miniplane— there were few kits of prefabricated parts. These were handmade, flying works of art. The craftsmen who built these machines were a unique breed. As their ranks thinned over time, their airplanes flew less often, and the market to sell them softened.
Occasionally, the little biplanes would change hands, and the new owners, long on excitement but short on common sense, would scare themselves half to death on the first, tricky landing and then content themselves with telling war stories. Slowly, most Miniplanes faded from record—either abandoned in the back of a hangar, cracked up in an accident or left outside to rot. I've estimated that about 25 Miniplanes were built in Canada. Foxtrot Alpha Mike was one of the last survivors.
MY FATHER'S DEATH from cancer in 2012 hit me harder than anything I'd ever faced. After years of distance, we had just started to build a new relationship. I was 28 years old, on the cusp of starting my own family, and while his passing was by no means unexpected, I wasn't ready to say goodbye. A few months after he died, I felt numb. My grief hardened. I felt guilty and angry. It was as if I had failed my father in some way, and I needed something meaningful to occupy myself.
Increasingly, my thoughts turned to Dad's biplane, and I decided to track her down. Using the phone book, Internet searches and some old-fashioned detective skills, I pieced together FAM's story after we lost track of her. I worked backwards, too, pushing through memories to discover the histories of both the airplane and my dad before they came together. I needed to find a way to preserve my father and the craft he loved so dearly—to give them both a measure of immortality.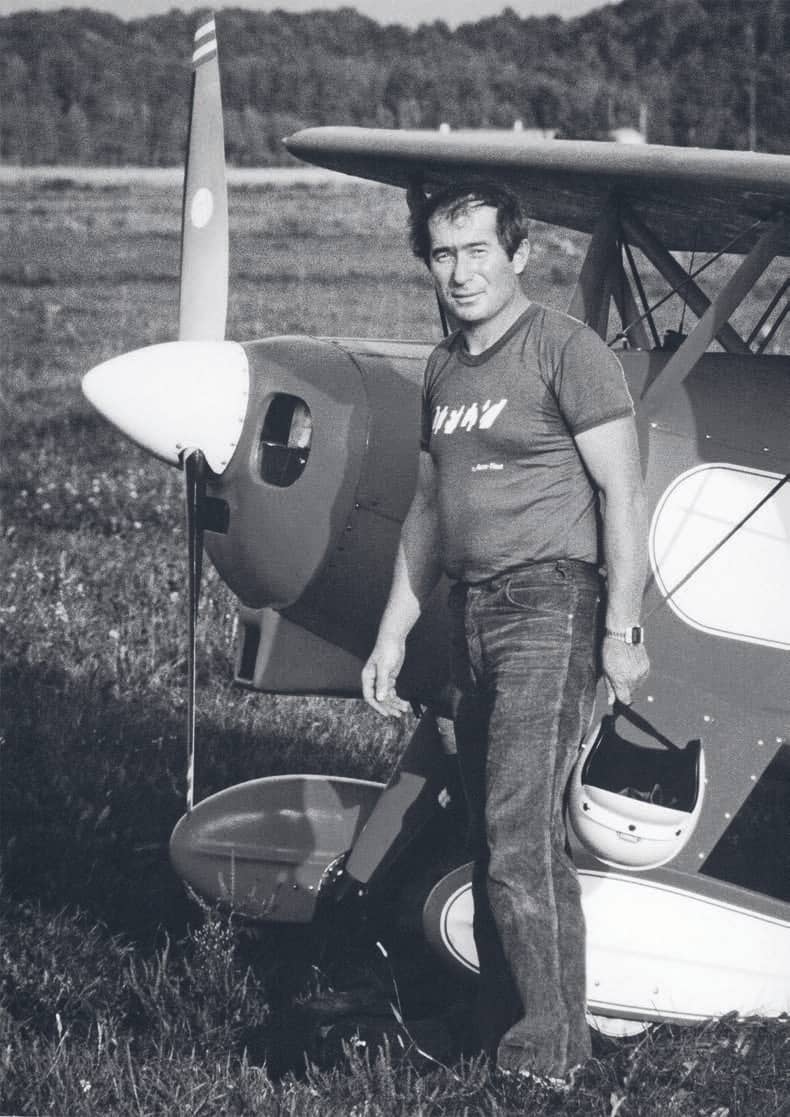 MY FATHER, RAISED IN a village in Italy called San Giacomo degli Schiavoni, graduated from a local college with the title of geometrist—a hybrid draftsman and civil engineer. In 1965, at not quite 20 years old, he left for a job in Canada. The 10-hour flight out of Rome was his first time in an airplane.
You can read upto 3 premium stories before you subscribe to Magzter GOLD
Log-in, if you are already a subscriber
Get unlimited access to thousands of curated premium stories and 5,000+ magazines
READ THE ENTIRE ISSUE
November 2019