LOST ON BURKE MOUNTAIN
Reader's Digest Canada
|
October 2020
To get help, Brandon Hoogstra had to leave his kids alone on a cliff. He prayed he'd remember how to find them again.
Brandon Hoogstra had hiked Burke Mountain, near his home in Coquitlam, B.C., once before. He knew the route to the summit and an abandoned ski lodge.
But he and his wife, Claire, objected when their two eldest, six-year-old Ezri and seven-year-old Oliver, begged to join him for another hike in May 2019. The route was too long— at least 11 kilometres. Even if the weather was nice, they'd surely get tired. And while she loved her husband dearly, Claire worried about him—Brandon is on the autism spectrum, socially awkward at times, highly sensitive and prone to choices that might seem erratic.
The Hoogstras were new to town. Thirty-five-year-old Claire and 34-year-old Brandon had both grown up in the Atlanta area. Wanting to experience life outside the U.S., they'd lived for a couple of years in Chiapas, Mexico, where Brandon worked at a water treatment plant. In 2018, they decided to give Canada a try, and rented a basement suite in Coquitlam for themselves and their four kids (Gabriel was 22 months, Holly six months).
Ezri and Oliver were so keen to climb the mountain that the parents finally relented. Just after 8 a.m. on a beautiful Sunday morning, they set off. Brandon's backpack held his phone, Clif bars, packets of apple sauce, apples, water bottles and fishing gear. They'd refill the bottles in the clear streams up the mountain.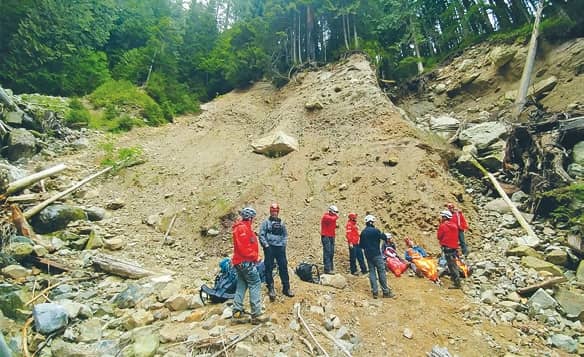 Brandon had planned a varied route up the mountain. The winding ascent was fun and uneventful. Near the top, thick snow blanketed the trail. Excitedly, the kids raced across the crusted surface.
At the summit, Oliver and Ezri shared the second-last Clif bar while Brandon looked around. His phone showed 1:30 p.m. and no reception. They'd rest for an hour, he decided, then head back to Claire and the babies.
When the kids started down the far side of the slope, Brandon said, "You guys really want to find those fishing lakes, don't you?" He'd identified them on Google Earth. "Oh, yes!" Ezri said. So they took an unfamiliar route down the other side of the mountain.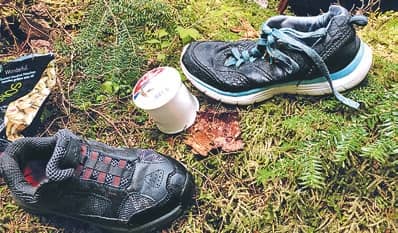 BY THE TIME BRANDON realized the path they were on had become an animal trail alongside a stream, it made sense to keep following it. When the stream reached a cascading waterfall, they clambered carefully down the slippery rocks to the pool below.
The stream sang to them, and they kept following it down. The day had been bright and beautiful. Mid afternoon, when the sun disappeared behind heavy grey clouds, they suddenly felt disoriented, cold and hungry. Brandon tried to light a fire, but couldn't ignite the wet twigs.
They decided to continue hiking down. For half an hour they cautiously descended until they reached a sheer cliff edge. The stream became a noisy, six-metre waterfall. Brandon cursed himself for taking an unknown route down. He hadn't studied this area and he didn't have a map. Ezri took his hand. She, like Brandon, had a unique way of processing the world. "Dad," she said, crying, "I love you, and I don't blame you for getting lost. You're my dad, and you're nice."
"Babies," he said, "hopefully there are no more waterfalls. The Lord will guide us."
They held hands as they carefully descended. Finally, Brandon said, "It's too steep. We'll have to slide on our butts."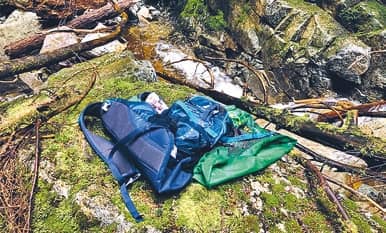 THEY INCHED DOWN THE SLOPE UNTIL OLIVER SLID ON A LOOSE ROCK AND ALL THREE WENT FLYING.
Still holding hands, they inched down the slope. Tree trunks were rest stops. Fir saplings, their roots sunk deep in the rock, made handholds. It worked well until they reached a sheer, 10-metre drop and the stream became a deafening waterfall. Mist soaked them as the water raced over a tumble of boulders.
You can read up to 3 premium stories before you subscribe to Magzter GOLD
Log in, if you are already a subscriber
Get unlimited access to thousands of curated premium stories, newspapers and 5,000+ magazines
READ THE ENTIRE ISSUE
October 2020