Conquer Your Everyday Aches and Pains
Reader's Digest Canada
|
October 2020
11 STRATEGIES TO STOP THEM FROM HOLDING YOU BACK
Accepting a life with pain isn't something that comes naturally to most people. Ever since a 1986 car accident, Keith Meldrum has experienced severe discomfort in his abdominal wall, hip and back. The 50-year-old engineer in Kelowna, B.C., used to try to push through it: "For a long time, I wanted to show myself and the world that I was not going to let my injury hold me back." But when he would overdo it with activities that ratcheted up the intensity of his pain, like playing baseball or even signing up for Canadian Armed Forces training, he'd often end up in the hospital.
Finally, 16 years ago, Meldrum's doctor referred him to a health care team that specialized in pain and had expertise in self-management techniques. It was a turning point, he says. "I stopped fighting and started putting my energy into living the best life I could."
About one in five Canadians lives with chronic pain, or pain that stays after a typical healing period of 12 to 16weeks. But those agonies that everyone experiences at some point—a bad toothache or menstrual cramps—can be just as debilitating.
Now, when Meldrum feels pain flaring up, he'll pause and take the edge off by spending five, 10 or even 60 minutes performing deep, focused breathing to relax muscle tension and lower stress. "I can dial the worst of the pain back down," he says. This is just one of several methods he relies on to keep moving and healthy.
Here are 11 ways you can take the battle with pain into your own hands— and win.
FOR GENERAL PAIN
Over-the-counter medications
Acetylsalicylic acid (ASA), which has been on the market since 1899, was the world's most popular painkiller by the mid-twentieth century. Acetaminophen became available in 1950, and today it ranks as the most widely used medication, full stop. Both drugs work by changing the message of the chemical transmitters that travel up our spinal cord and tell our brain we're hurting. As they lead to the least harmful side effects of all painkillers and can help a range of aches, it's best to give them a try before turning to anything stronger—unless, of course, your doctor has advised you to avoid these products because of a medical condition such as liver disease or a bleeding disorder.
Ibuprofen, which is a nonsteroidal anti-inflammatory drug (NSAID), is chemically similar to ASA but carries more serious risks, including kidney damage, high blood pressure and gastrointestinal bleeding. You should check with your physician before using it, especially if you're over 65 or have certain medical conditions like diabetes or high blood pressure.
Be wary of combination products, like those that contain acetaminophen plus a muscle relaxant. The more ingredients a medication has, the greater the risk it could interact with something else you're already taking. "Read the labels and tell the pharmacist what you're also on," suggests Dr. Tom Evans, a physician and co-founder of the Atlantic Pain Clinic in Moncton, N.B.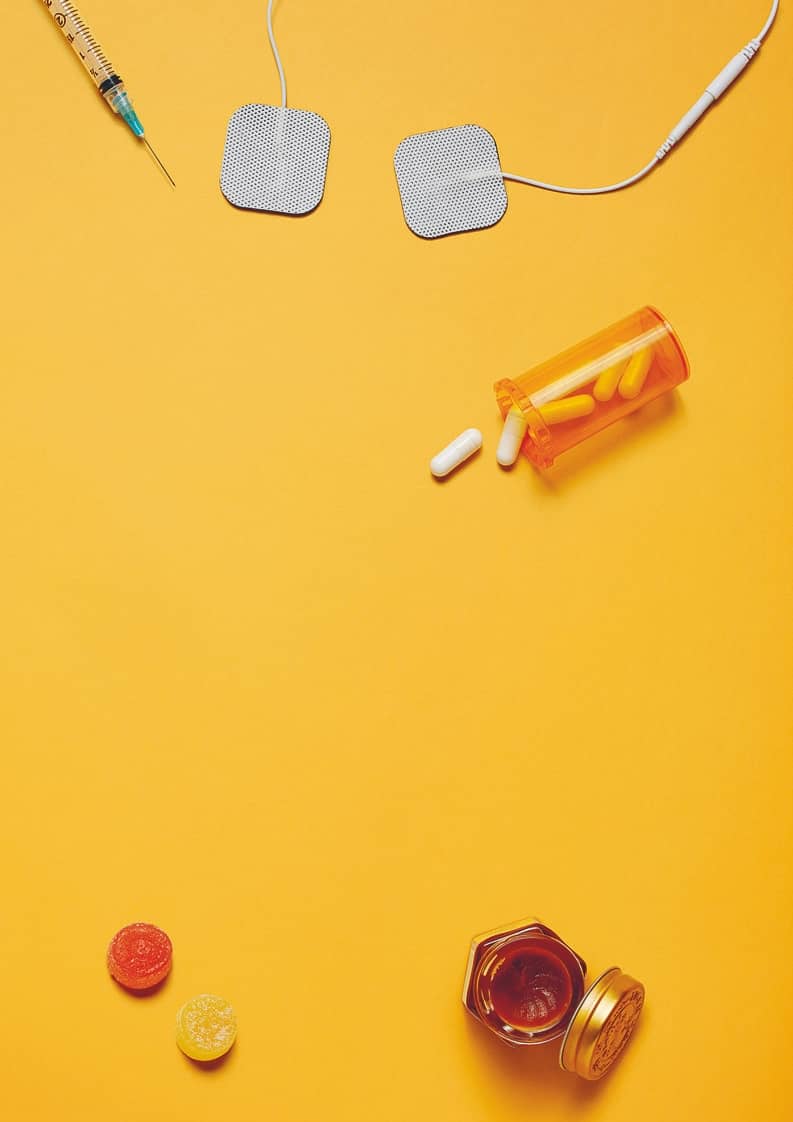 FOR MORE EXTREME PAIN
Prescription drugs
Kennedy Aragon-Scriven, a 22-year-old undergraduate from the University of British Columbia, badly hurt her tailbone as a teen while horsing around with classmates. The nerve pain that now radiates down her legs can make them feel like they're on fire, and a dose of aspirin doesn't put it out. "I spent a lot of time hoping that the next doctor I saw would give me the magic bullet," she says.
In addition to sticking to a stricter sleep schedule and using a special cushion for sitting, for the past year, Aragon-Scriven has been getting help from gabapentin, in a group of anticonvulsant drugs that also includes pregabalin. These are often used for pain that arises from damage to the nervous system—such as a severed nerve, chemotherapy side effects or shingles.
NSAIDs are also available in prescription-strength formulas, if over-the-counter medications don't do the trick. (Some people need the stronger NSAIDs for menstrual pain, for instance, or to ease the sore joints of osteoarthritis.) Since various options act on different groups of those pain transmitters, it may take some trial and error to find one that helps you.
FOR INFLAMMATION
You can read up to 3 premium stories before you subscribe to Magzter GOLD
Log in, if you are already a subscriber
Get unlimited access to thousands of curated premium stories, newspapers and 5,000+ magazines
READ THE ENTIRE ISSUE
October 2020