A SCREAM IN THE WILD
Reader's Digest Canada|June 2020
Alone on a mountain and pinned under a grizzly, Colin Dowler reached for a pocket knife and struggled for his life.
EVER SINCE HE WAS A KID
growing up on Quadra Island, B.C., Colin Dowler pushed himself to do more, go faster and scale bigger heights, despite having a small physique and a nagging congenital knee disease. Jenifer, his wife of 16 years, often found herself telling him to slow down. When he skied, he raced the double-black diamond fanatics. When he rode his mountain bike, it was on the bumpiest terrain. If he wasn't a little scared doing something, he didn't think he was doing it right.
Last July, to celebrate his 45th birthday, he booked off a week from his job as a city facilities manager in Campbell River, B.C., where he lived with Jenifer and their two daughters. He also planned to spend two days on his own, scouting a route he'd eventually use to climb Mount Doogie Dowler with his older brother, Paul. The peak, standing around 2,000 metres in the Coast Mountains in southwestern B.C., was named after Dowler's late grandfather. It had always been a point of pride for their family that Grandpa Doogie, a prominent community member who once owned the Heriot Bay Store and Post Office, a Quadra Island hub, was immortalized in nature. But none of the Dowlers had ever climbed to its summit. Colin tried once in his 20s and made it within a few hundred metres of the peak before getting rained out.
Jenifer didn't like the sound of her husband's latest plan. She was used to Dowler going on solo adventures, but this time he'd boat to an obscure bay, bike an unpopulated road, hike through grizzly country and camp overnight alone. There was too much room for disaster.
"If I'm not home by eight o'clock Monday evening, you should start to worry," he said.
Jenifer laughed. It was practically her husband's motto.
Technically, he said, she'd have to wait until the morning if she wanted search and rescue to take his disappearance seriously.
"So," she said, "I should just sit all night worrying until I can call authorities and say my husband is missing."
He shrugged.
Pretty much.
The night before his journey Dowler packed sparingly. He ditched his usual tent to experiment with a bivy sack—a person-sized portable shelter. He filled the remaining pockets of his bag with a handheld GPS, hiking poles, his homemade venison pepperoni and a few other essentials. Instead of his usual Swiss Army knife, he took a three-inch stainless steel pocket knife given to him by his dad, Norman.
Jenifer and their daughters were still in bed when Dowler left his home at 7 a.m., his bike and boat in tow.
THE WEATHER THAT DAY was nice, which meant the parking spots at the city's boat launch would fill up fast. Dowler intended to stop at a tackle shop for bear spray, but as he added up the minutes, he drove past it, deciding the small likelihood of a bear attack wasn't worth not completing his mission.
He recognized he couldn't completely rule out the possibility, though. He'd had two grizzly sightings and countless black bear encounters on Quadra Island before. But he'd always escaped unscathed.
Dowler pulled into the Campbell River port and quickly set off in his motorboat. More than an hour later, he arrived at Ramsay Arm, an inlet on the mainland, and found a spot to tie the vessel near a logging camp.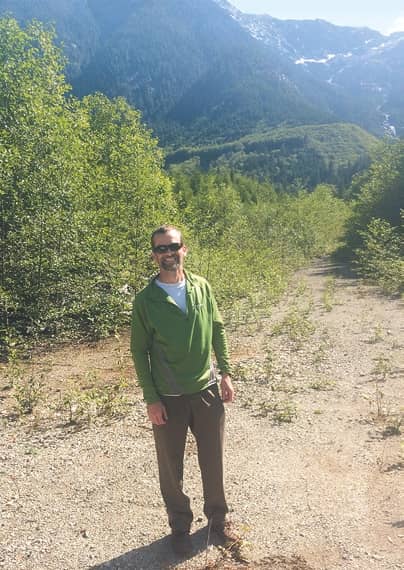 The photo Giannandrea took just before Dowler left.
As a former worker in the logging industry, Dowler knew it was good practice to check in at the mess hall. "Is there anything you need?" Vito Giannandrea, the camp cook asked him.
"Bear spray," said Dowler.
You can read up to 3 premium stories before you subscribe to Magzter GOLD
Log in, if you are already a subscriber
Get unlimited access to thousands of curated premium stories and 5,000+ magazines
READ THE ENTIRE ISSUE
June 2020