47 Secrets To A Happier Life
From owning a pet (especially a dog) to wearing sunglasses, these small habits can boost your mood—and your well-being
THERE ARE PLENTY of reasons to seek happiness. Research has shown that arthritis patients who have a "positive affect" are able to take more daily steps than their unhappy counterparts. Merry people tend to avoid getting sick during flu season, and they even live longer. Plus, experiencing joy just feels good.
So, here are 47 small, surprising ways to feel happier.
Do things that give your life meaning
1. Keep a diary—and re-read it from time to time. According to a 2014 study in Psychological Science, writing in a journal can make people happy, even if the entries are mundane. We tend to forget the little things in life that bring pleasure, but documenting those ordinary moments allows us to rediscover them.
2. Figure out your purpose. "This is about having some kind of goal or principle that orients your life and moves you into the future," says journalist and author Emily Esfahani Smith. It could be a big goal, like getting involved in politics, or a more personal option, like being a good parent. Either way, it should be one that motivates you and organizes the activities of your day around something greater than yourself.
3. Forgive (even if you can't forget). Holding a grudge is stressful and can make you feel angry, sad, anxious and out of control. But forgiving someone who has hurt you doesn't cause negative emotions at all.
4. According to Neil Pasricha, the author of seven books on happiness (including the upcoming You Are Awesome), reading 20 pages of a novel every day will make you happier. "Literary fiction is shown to increase brain activity and improve our capacity for empathy, compassion, and understanding," he says. He recommends paper books to reduce screen time.
5. Think about negative emotions as an opportunity. "It's important to acknowledge that unhappiness is part of the human experience," says Meik Wiking, the author of several books on happiness, including the upcoming The Art of Making Memories. "We will struggle; we will be heartbroken; we will experience setbacks—overcoming them is what makes us both human and happy."
6. …which is why you should rethink your approach to stress. Kelly McGonigal, a health psychologist at Stanford University and the author of The Upside of Stress, says thinking about anxiety-inducing situations as challenges instead of threats can minimize the negative impact of stress on your health and reduce your risk of, for instance, cardiovascular disease.
7. Pasricha also recommends taking up a hobby. But here's the catch: it has to be something you're not good at—say, stand-up comedy, making chocolate or maybe balloon animals? That's because we're happier when we're learning.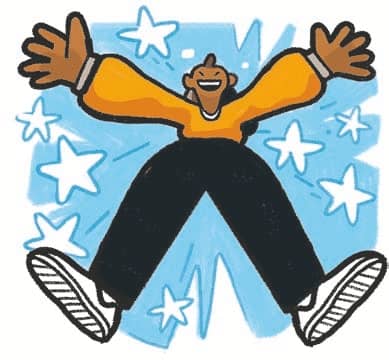 Focus on relationships
8. According to Robert Waldinger, a psychiatrist, professor at Harvard Medical School and director of the Harvard Study of Adult Development, strong relationships are key to happiness. Whether they're romantic partners, friends, children or co-workers, other people help "remind us of what's important in life and help us weather the ups and downs of personal and political problems," he says. "They usually cannot solve these problems, but they can provide an emotional buffer that softens the impact of real-world issues."
9. Act extroverted—even if you're not. "We found that when introverted people reported that they were acting outgoing, those tended to be their happier moments," says John Zelenski, a psychology professor at Carleton University in Ottawa. That means talking to strangers on the bus or chatting with a barista can boost people's happiness, even if they're naturally solitary types.
10. Owning a pet can make you happier. A recent Washington State University study found that just 10 minutes of petting a furry friend resulted in reduced levels of the stress hormone cortisol. And dogs might have an edge over cats—in a recent survey of Americans, 36 percent of dog owners rated themselves as "very happy" compared to only 18 percent of cat owners.
11. A 2019 psychology study concluded that dads are happier than moms, perhaps because they were more likely to report that they were playing with their kids rather than doing housework. The lesson? Split child-care—and household tasks—equally.
You can read upto 3 premium stories before you subscribe to Magzter GOLD
Log-in, if you are already a subscriber
Get unlimited access to thousands of curated premium stories and 5,000+ magazines
READ THE ENTIRE ISSUE
November 2019