The Power of Three Gauri Shinde, Nitesh Tiwari, Sujoy Ghosh
Platform
|
November - December 2016
Close of the year. Closest to how big it gets in Bollywood. The last act of a play, they say, overrides everything you've seen before. So here it is, Indian Cinema rolling out in all its glory the most beauteous bouquet —Shah Rukh Khan as the grown-up guide to Alia Bhatt in Gauri Shinde's Dear Zindagi [Alice Munro would be pleased?], Sujoy Ghosh creating a Durga not with 10 hands but with a mother's heart in Kahaani 2, and Nitesh Tiwari taking leaps and bounds from his maiden Chillar Party to the million-dollar play field that's Dangal. Bollywood saving the best for last; each of the three finish-liners setting their own tone—some breezy and some brutal. We speak to these filmmakers to give you a glimpse of what it means to be up for a truly grand finale.
Gauri Shinde
Dear Zindagi
Can you sum up your journey as a filmmaker over the years?
I'd say that my craft has evolved in two parallel ways. The first is as a filmmaker—learning from my last film and working as a TV commercial director for so many years. Other than the technical aspect, your craft evolves as you grow as a person. It is an invaluable experience, an incredible journey that affects all human beings.
What inspires your art?
Life is often the best inspiration. There are infinite stories and experiences to create from…the good, the bad, the ugly, all of that shapes how one thinks. That informs my work as a filmmaker. I'm interested in the detail and the spice in human relationships and that's how my first film [English Vinglish] came about; and the second film is also about the small joys.
Can you give me a blurb on Dear Zindagi?
It is difficult to describe it since there's no reference point. It does not fall into a coming-of-age, slice of life category…these are all clichéd terms. What I can say is that it's a story about how looking inward and understanding our strengths, weaknesses and fears allows us to experience the world outside with open arms, to embrace life. It's like a love letter to the opportunity that we've been given, to not lead a passive existence but go out and participate, to understand what your status quo in life is and maybe want to change it.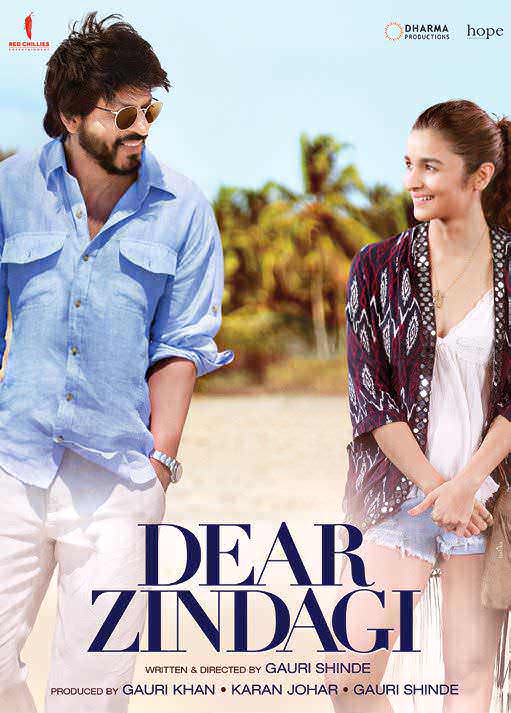 Take us behind a key aspect of your creative process.
To work with a team and cast that is of my choice. Luckily even during English Vinglish I got to make my own creative decisions and that's how I want it to be. I'd never make a film where I had to compromise on my ideas or my choice of crew.
English Vinglish had a strong woman character as the main protagonist; so does Dear Zindagi. What draws you into women's lives?
I don't think like that…I also wonder why people are not asked why they have male protagonists…since there are only two main genders in the world. Dear Zindagi could easily have a male protagonist—Alia's character, the theme and the questions being raised are entirely gender agnostic. Also it's only my second movie, so I do not want to be categorised as a filmmaker who makes female-centric movies. Having said that, being a woman allows me to be particularly sensitive to what we as women face from the external environment, how we internalise these things to our advantage or sometimes not. Once I started writing the story, I thought it would be more sincere with a woman lead, it was just that. Also it would be unfair to say it is only an Alia film; it is a Shah Rukh-Alia film. There is a male lead too. The film belongs to both of them.
What's next?
You can read up to 3 premium stories before you subscribe to Magzter GOLD
Log in, if you are already a subscriber
Get unlimited access to thousands of curated premium stories, newspapers and 5,000+ magazines
READ THE ENTIRE ISSUE
November - December 2016