MARTIN PARR
Platform
|
June - October 2020
IN CONVERSATION WITH ARTIST AND CURATOR RAVI AGARWAL
Ravi Agarwal: You have such a huge body of work. You have a life of photography, it's really hard to think of things and you have been very open, I have been reading up on the website, reading your interviews. You've always been extremely candid and that's a very good resource. Just to begin with if you could briefly tell us about what got you into photography?
Martin Parr: My grandfather, who is a very keen amateur photographer, he lived in the North of England and I was brought up in the South. I would stay with him during the summers and we went out shooting processed film, made prints and by the age of thirteen or fourteen I decided that I wanted to be a photographer. It was a very long time ago, it was in '67, fifty-three years ago and now I'm a photographer indeed.
RA: I started photographing when I was thirteen and I'm sixty years old now. I was particularly interested in reading about your move away from Pictorialism very early on and you moved into a different kind of space and you also shifted from black and white to colour which was all very radical at the time because photography was and still, in some way, continues to be black and white as serious art photography.
MP: Now, I think now it can be anything. As you said, twenty or thirty years ago, colour was almost a heresy. Although India had very good colour photographers with Raghubir Singh and even with Raghu Rai but particularly Raghubir was pretty ahead of his game.
RA: The word art comes with certain connotations, everyone wants to be an art photographer and that implied fine art photography, all confusing words meant to be in black and white and there's a big legacy of how the Friedlanders or the Bressons drove the pulse of the time. I was thinking of your early pictures that I saw in one of the books. You're not doing classical pictorialism you are rather looking at foregrounding and the subjects. You've presented a human critical view of what you're seeing.
MP: When I worked in black and white, it was more of a celebration of society and then it became more a critique and then I changed to colour. Especially with The Last Resort which was the very first colour project that I did.
RA: It's interesting you've used the word 'critique' because somehow that's implied through your work but it's never overtly stated.
MP: It's a critique on society and a critique on my view of the world.
RA: I see it in many different ways it's idiosyncratic, it's very particular to your underlying brand of humour but also a deep insight into what you see. A very astute eye. How would you react to that?
MP: It's not my job to say how good or bad my eye is, that's other people's jobs. The one thing that the English are good at is self-defamation. If you were talking to an American they'd be telling you how great they are.
RA: You also remind me of working against your idea of a photograph and in some ways being irreverent to the system because you form your very particular eye and you continue with that without any apologies. You don't play to anybody else but your own eye. Photographers usually have a difficult time finding a language, finding their form.
MP: I accept that I find my own language and build my own vision and I'm very happy I've got that behind me, which I can utilise as I continue to work. I agree with you, it's not an easy thing to achieve and I'm very privileged that I've managed to do that.
RA: What do you look for when you interact with young photographers?
MP: I meet a lot of young students and I always look for something that is very original. I can usually see what an intern says they're looking at when I look at their work and sometimes you see that spark of individuality, which isn't always fully developed but you see the strands of it coming through. That's my job as a teacher, to encourage that and purposefully point them in their own uniquely personal attitude and direction.
RA: I guess it takes a certain kind of mind and a certain kind of eye to do that. One of the stories that everyone is always interested in is your entry into Magnum. Would you like to talk a little bit about that?
MP: It was quite controversial at the time but in the end I got the two-thirds majority, which in politics is a huge deal. I don't think even Modi got that majority, it's regarded as a landslide. Controversy has always followed my career.
RA: Why would you say controversy has followed you? What about your style?
MP: I never really understand why it is so controversial because all I'm doing is photographing rundown seasides or going to supermarkets. People go to wars and famine and various other things but they don't get criticised. I'm always puzzled as to why I'm so open to criticism when to me what I'm doing is perfectly obvious and ordinary.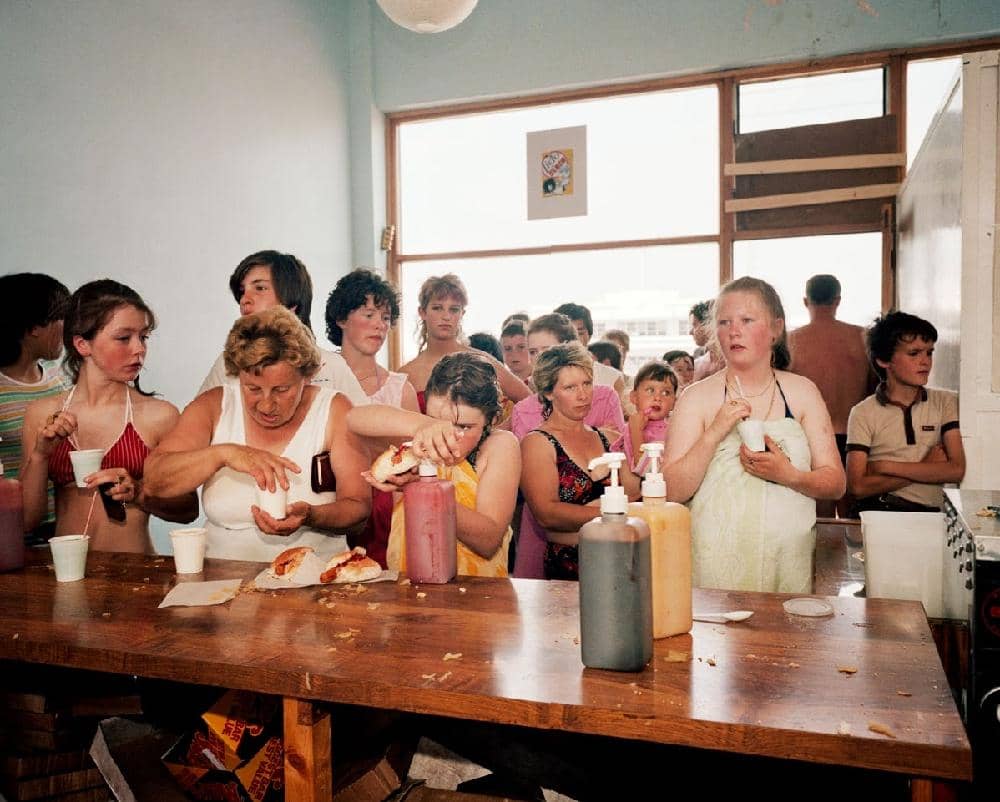 New Brighton, England, 1983-85 From 'The Last Resort' © Martin Parr / Magnum Photos
RA: I guess that's a compliment to your pictures. They're revealing things that people don't want out in the public space.
MP: If you can tell me why in one simple sentence I'd be very pleased.
RA: Well I think they're brutally honest. You expect that from journalists but one doesn't expect that from photographers. It's also a language that people don't understand so easily. I had also read somewhere that you haven't been to Iran. You don't see yourself as a political photographer do you?
MP: I mean there is a bit of politics there but it's not overtly shoved down people's throats. Of course one can't ever be so far away from politics in this society. It is there but in a subtle manner. People will take whatever they want from it politically.
RA: Depends on what you call political I guess….
MP: What's political is a very difficult thing to define. All photo journalists and documentary photographers have to come from the left. They have to like people and there's not much point really. I come from the left, of course and I'm sure you do too. I don't need to inquire your stance on Mr Modi, I already know it.
RA: Another thing that I'm interested in is a photographer who I really respect is Allan Sekula who taught you the documentary form and never wavered from it. In your long career, photography has undergone so many languages and so many changes.
MP: That's part of the excitement of photography. About thirty years ago, colour was regarded as heresy and now it's perfectly normal.
RA: And you're sticking to the documentary format?
You can read up to 3 premium stories before you subscribe to Magzter GOLD
Log in, if you are already a subscriber
Get unlimited access to thousands of curated premium stories, newspapers and 5,000+ magazines
READ THE ENTIRE ISSUE
June - October 2020