The Legacy Of Fashion
Three family-founded brands which have put Philippine fashion and style on the global map continue to be relevant today, thanks to the way their founders have passed on the torch to the next generation of creatives
TESORO Words by CHIT l lIjauCo
Ever since she wowed the Philippine fashion scene with an embroidered voile blouse inspired by a cigarette ad in 1972, Ma Beatriz Fabella Pamintuan-Tesoro or Patis had begun, unawares, to write a strong legacy. Clearly, she was no ordinary designer: she always looked back (late 18th to early 19th century Philippines and the American Colonial being favourite periods), championing Philippine style and transforming Filipiniana fashion into both casual wear and haute couture.
Almost 50 years in the industry today, Patis has not only built an iconic brand but changed the mindset towards going local. This she did by not merely transforming a sketch into a jaw-dropping outfit but by immersing herself in Philippine design, in her home and her personal style as well.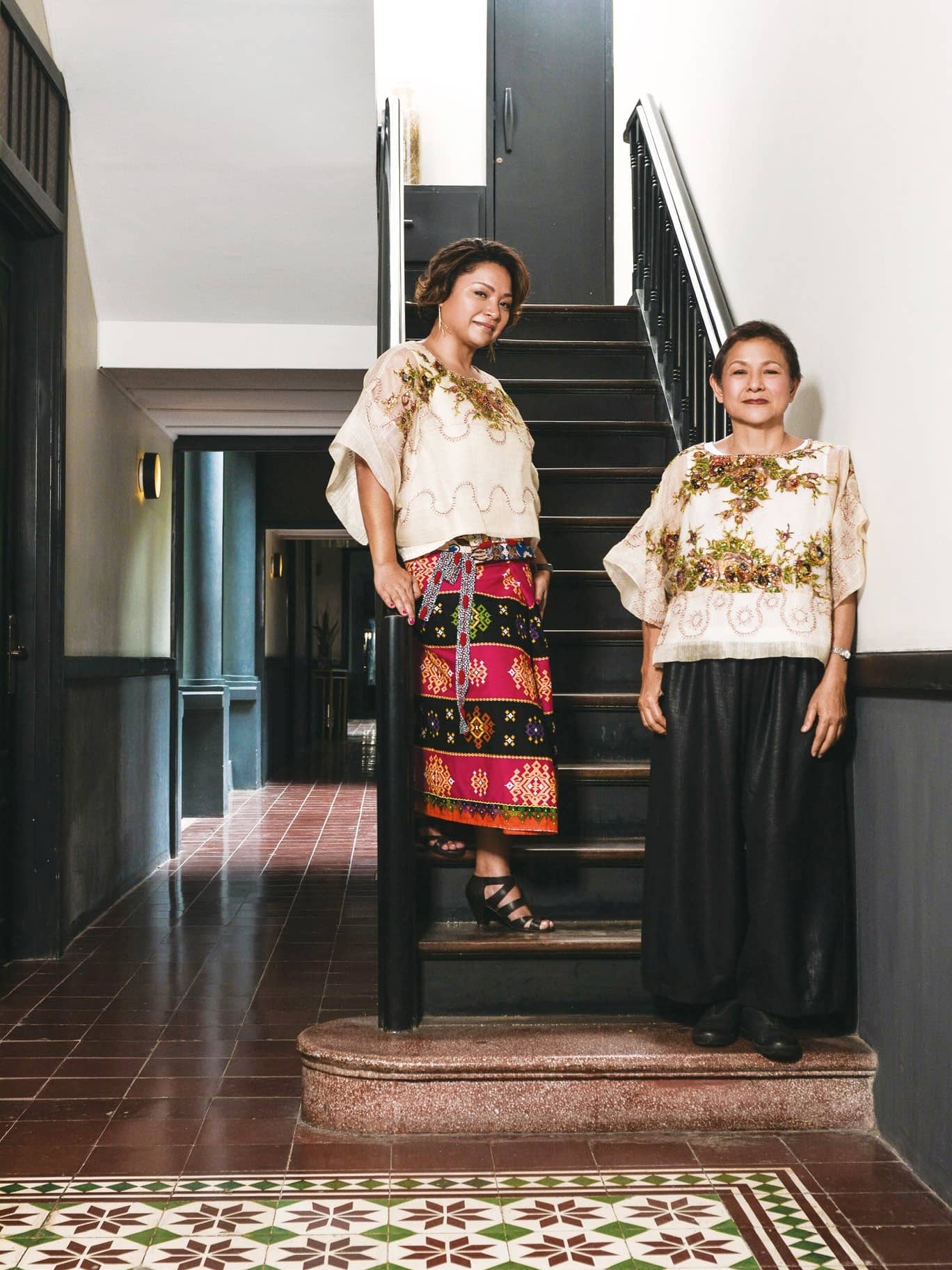 Today you can find her, at least once a week, in a quiet corner of Tesoro's in Makati, hidden behind her eye-popping creations, all Philippine-inspired of course. Here she meets her clients, who continue to fill up her calendar, hungry for "Patis-attention," which has gotten to be a rarity ever since the designer moved to her creative haven in the mountains of Laguna, three hours away from the city.
The move is one of the major changes in her life in the last decade. The other is the death of her husband of 46 years, the lawyer Jose Claro "Tito" Tesoro, in 2016. A son died in 2008 but not before leaving her a granddaughter, now 14. Her first grandchild, Enzo, courtesy of only daughter Nina, has just graduated from university. Two other sons complete her family and yet, according to her, it took a couple of years to adjust to a life without Tito. She has bounced back, however, happily immersed in her creative world.
And now, she has a dream that's getting her all excited. "Since the last 10 years, I have been planning a mentorship programme on embroidery, age-old crafts, and other creative activities," she starts. The concept was turned into a business plan by Nina, a management professor of De La Salle University who is now at the dissertation stage of a doctorate in Business Administration. Called Sinulid Workshops, it comprises many fields of learning like literature, behavioural sciences, performance arts, communication arts, lifestyles of health, and of cource fashion design and textile arts.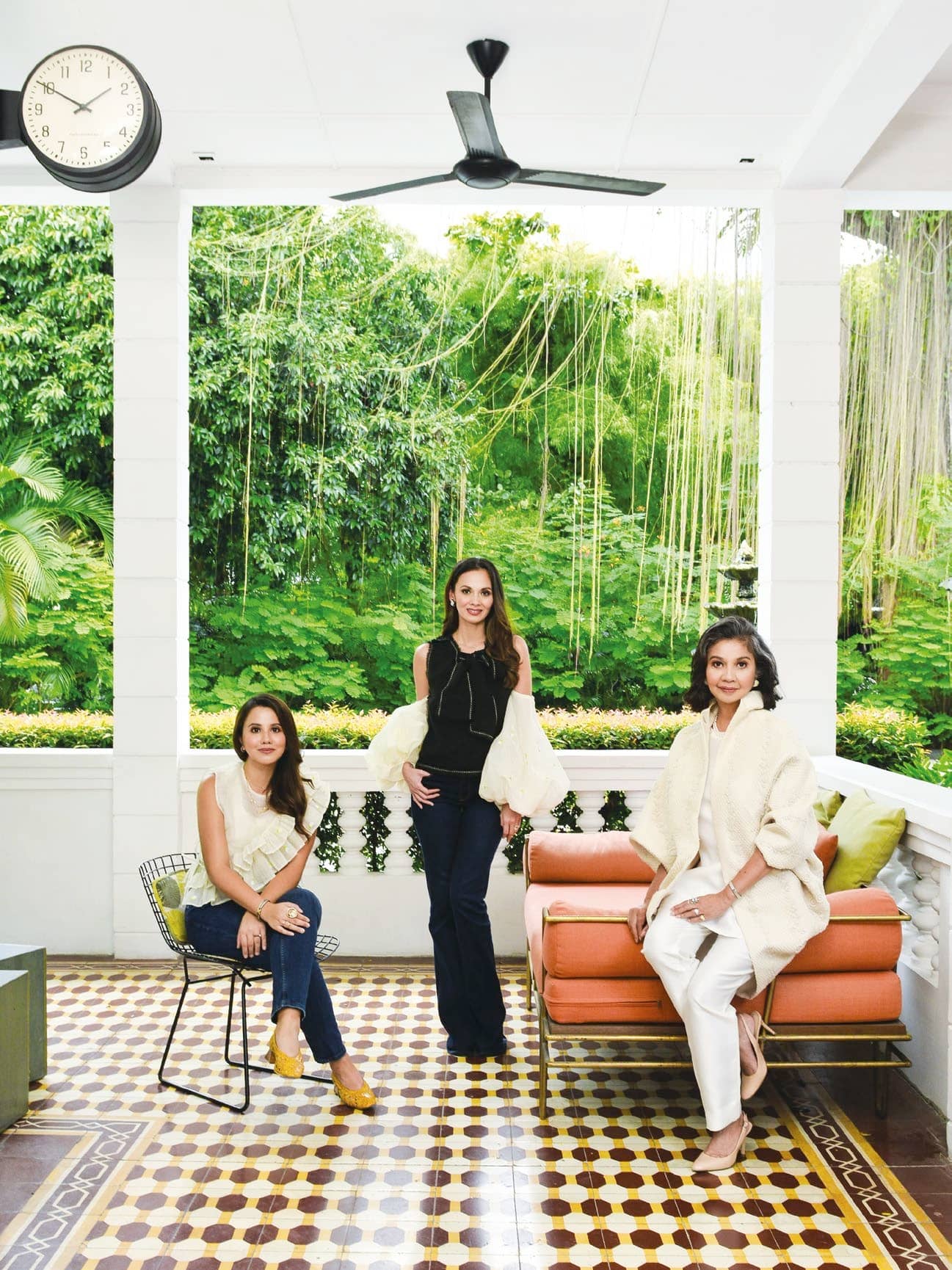 Giving Sinulid a special touch is the involvement of experts from the Festival International Textile Extraordinaire (FITE). "They will be the mentors," Patis says of this association of curators from Europe whom she met when they invited her to exhibit her work in 2014 in Clermont-Ferrand, France. "They will impart valuable international perspectives and exposures that will infuse disciplines of a global level to the different creative activities. With this centre, I hope to influence our people, young and old, to think beyond their comfort zone."
The centre, of course, will be at her haven in the mountains, so idyllic and ideal a place for creativity. Planted with as many trees that you can think of, the huge space is more than enough to hold the 30 to 40 housing units she has set as a goal.
You can read upto 3 premium stories before you subscribe to Magzter GOLD
Log-in, if you are already a subscriber
Get unlimited access to thousands of curated premium stories and 5,000+ magazines
READ THE ENTIRE ISSUE
October 2019