Arundhati Roy: 'I See gender As A Spectrum...'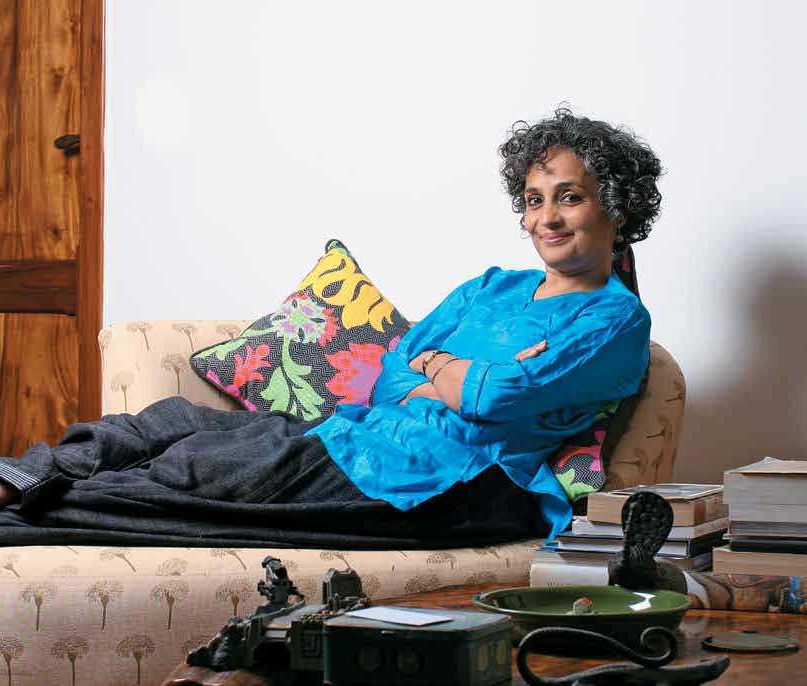 Arundhati Roy is an award-winning writer of a work of fiction that is rated as one of the best in recent times. Anyone who has read The God of Small Things would also see the roots of her political essays that have followed. The works complement each other and make Arundhati a powerful voice not just in India but across the world.
She has also put her money where her mouth is. In 1998, she donated the 15 lakh Booker prize money for The God of Small Things to the Narmada Bachao Andolan. In 2002, the Lannan Foundation gave her a $3,50,000 (1.67 crores) prize for "her precise and powerful writing highlighting her commitment to social, economic and environmental justice". She donated the prize money in solidarity to 50 people's movements, publications, educational institutions, theater groups and individuals. And as her published books continue to earn royalties, she continues to share her good fortune with movements and individuals.
Arundhati, therefore, embraces a universe that is by definition larger than that of most writers. She spoke for an hour to Saba Naqvi about what shaped her, what moves her, and what gets her to start writing. Excerpts:
You are a writer but you have made some very powerful arguments and interventions on rights issues and movements. How do you see your evo­lution from a gender perspective?
First of all, I should say that I don't believe that there are only two genders. I see gender as a spectrum and I'm somewhere on that spectrum. Accor­ding to a Queer friend, my evolution on the gender spectrum has been from 'Straight' to 'Qwicked.' Second, I don't see myself as someone who looks at the world through a lens of 'rights' and 'issues'. That is a very narrow, shallow way for a writer to look at the world. If you ask me what is at the core of what I write, it isn't about 'rights', it's about justice. Justice is a grand, beautiful, revolutionary idea. What should jus­tice look like? If we disaggregate things into "issues", then they just remain "issues", problematic areas in an other­ wise acceptable scenario. Of course, there isn't any society in the world that is a just or perfect one—but we cannot ever stop striving towards justice.Today we seem to be running in the opposite direction, striving towards injustice, applauding it as though it's a worthy dream, a goal, an aspiration, and the terrible tragedy of India is that the caste system has institutionalised injustice, made it a sacred thing. So we are programmed to accept hierarchies and injustice. It's not that other societies are just. Other societies have been through wars and genocide on an incredible scale. I am just talking about the imagination of our society. What can one do, how do we rail against it? Many of us do what we do, knowing that even if no one's listening, even if we never win, though we want to, badly, we'd rather go down on the other side than be a part of this victory march that is really a death march.
When you put your mind to it, is it possible to understand why women have been at the forefront of so many contemporary struggles?
Why are women involved? Because, broadly speaking, they are under attack from both ends, from tradition as well as this new market­driven "moder­nity". I myself grew up in Kerala, dreaming of escape from a life of 'tra­dition' but then came up against a type of modernity that I wanted to flee from too. So you have to pick through it all and find your own path. In this country we have people who practise female infanticide, female foeticide in which millions of girl children are killed—and not only in traditional rural communi­ ties—we have honour killings based on caste, and at the same time we have the freest, strongest, most vibrant women anywhere in the world, the most inde­ pendent and radical women, original thinkers who are on the frontlines of struggles—in India, we live in several centuries simultaneously.
You can read up to 3 premium stories before you subscribe to Magzter GOLD
Log in, if you are already a subscriber
Get unlimited access to thousands of curated premium stories, newspapers and 5,000+ magazines
READ THE ENTIRE ISSUE
August 24, 2015