Salman Rushdie: The Fabulist at Play
Salman Rushdie in his new novel regains the magic as he unleashes the jinn in the War of the Worlds.
If the imagination of the storytellers we admire is a permanent astonishment, Salman Rushdie is out there in the front row, his fervour matching one of his favourite women, Scheherazade. So it is apt that his new novel is called Two Years Eight Months and Twenty-Eight Nights, which is to say The Thousand Nights and One Night.For a writer born 'handcuffed to history'; the original 'Bombay chokra' shaped by the shame and sorceries of the Subcontinent; the one who dared to enter the Jahilia forbidden by faith; a wayfarer whose destinations ranged from Moorish Andalusia to the tequila country of Mexico, from ancestral Kashmir to Akbar's court to Machiavelli's Florence; every future, as the novelist Julio Cortázar would have said, is fabulous. Or: The story is the only way of life in a world where the nights are longer than Scheherazade's.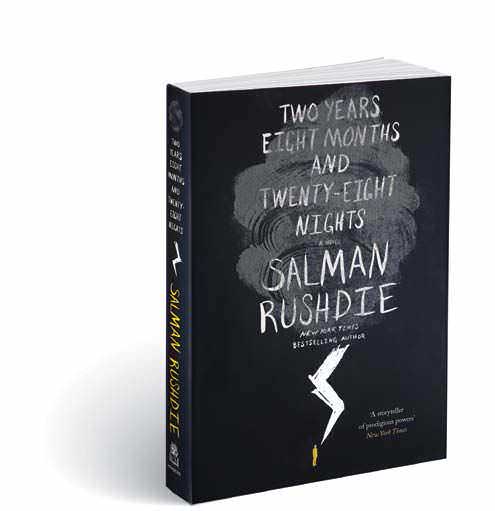 Here, Rushdie makes a dazzling comeback as an oriental fabulist, looking back at a world in a whirl, where the forces of light and darkness, of reason and religious righteousness, are at war, from the vantage point of a distant future. You may be tempted to say that this kinetic epic populated by supernatural beings and magically transmuted humans is created by a combination of JRR Tolkien and Philip Pullman tutored by an array of philosophers and historians. It is not. Rushdie has been here before, on a lesser scale. In his book for his son, Haroun and the Sea of Stories, the face-off between Rashid Khalifa and Khattam Shud, between the leaders of Gup and Chup, is a call for freedom from the enemies of imagination, and its appearance after the ordeal of The Satanic Verses only makes it all the more relevant an allegory worthy of a father who was once trapped in his own metaphor.
This novel is bigger, busier and bursting with ideas, spanning millennia, and set in history and fantasy, its terrain shifting from the twelfth century Arab Spain to a New York we can't miss to the fairy Mount of Qaf to Bombay, and it is powered by the jinn, 'the creatures made of smokeless fire' who live in the upper world, Peristan or Fairyland. There are good jinn and bad jinn, and at the centre of action here is a benign princess jinnia, the Lightning Queen Aasmaan Peri or the Skyfairy. Her sacrificial time-travelling to save humanity in the War of the Worlds provides Rushdie with perfect scenarios— some of them marvellous set pieces—for mixing allegory with allusions, pastiche with philosophy, cleverness with scholarship, history with mythology, and all the while exuding the exuberance of a writer who is forever powered by the possibilities of this big, bad, boisterous world, which he holds in his palms, and plays with.
You can read up to 3 premium stories before you subscribe to Magzter GOLD
Log in, if you are already a subscriber
Get unlimited access to thousands of curated premium stories, newspapers and 5,000+ magazines
READ THE ENTIRE ISSUE
September 14, 2015