WITHIN MINUTES OF THE OKL AHOMA CIT Y BOMBING, LOCAL JOURNALISTS WERE ON THE SCENE TO REPORT THE UNFOLDING EVENTS TO THE WORLD, OFTEN PUTTING THEMSELVES IN DANGER TO DO SO. YEARS LATER, THE TRAUMA OF THAT DAY STILL HAUNTS THEM. BUT THEIR STRUGGLES HAVE CONTRIBUTED TO A NEW FIELD OF STUDY THAT MAY HELP REPORTERS BETTER COPE WITH THE EVENTS THEY COVER.
WHEN A TRUCK BOMB DETONATED outside the Alfred P. Murrah Federal Building in Oklahoma City on the morn-ing of April 19, 1995, Oklahoma City's police department, firefighters, EMTs, and local emergency rooms quickly were overwhelmed. The city's 911 center recorded 1,800 calls in the first hour after the blast, and first responders raced downtown. Within an hour, additional staff from state agencies, the National Weather Service, the United States Air Force, the Civil Air Patrol, the American Red Cross, and the Oklahoma National Guard were on hand.

Also among those on the scene in the early hours were local journalists who'd come to track the events—and report them to the world as accurately as possible—as they unfolded. Against a backdrop of chaos and tragedy, these reporters found themselves thrust into a situation that endangered their lives. For many, the trauma of that day lingers even after twenty-five years.

IN APRIL 1995, Carrie Hulsey-Greene was a reporter for Oklahoma City radio station KTOK. She was in her car at Northwest Fourth Street and North Harvey Avenue when Timothy McVeigh's bomb detonated at 9:02 a.m. She assumed a gas leak had led to an explosion. Her first radio broadcast of the morning began thirty seconds later. Eventually, she met up with her colleague Trey Davis and climbed into his van. As they drove north on Harvey, they saw Sergeant Bill Martin of the Oklahoma City Police Department running toward them. He was yelling at them to get back—authorities thought they had found another explosive device. They drove the van into an alleyway and hid there.

Steve Lackmeyer, who has been a reporter for The Oklahoman—then The Daily Oklahoman—since 1990, has a similar memory.

"I started walking down Robinson," he recalls. "Not long after, there was a scare—they thought they'd found another bomb, and everyone started running."

Later, Lackmeyer and his colleague Steve Sisney were standing near Rebecca Anderson, a nurse who was trying to help victims, when she was struck by falling debris and mortally wounded. Witnessing the day's many tragedies was traumatic for Lackmeyer and many other local journalists, but covering the bombing and its aftermath also provided an outlet over the next few years.

"I know if I've ever felt like I had a purpose, it was then," says Penny Owen, who was a reporter on The Oklahoman's police beat that day. "Therapy for me also came in the form of just doing my job. I knew that people were relying on the paper."

Terri Watkins was reporting for Oklahoma City affiliate KOCO and says focusing on work was, for her, the only way to make it through the experience.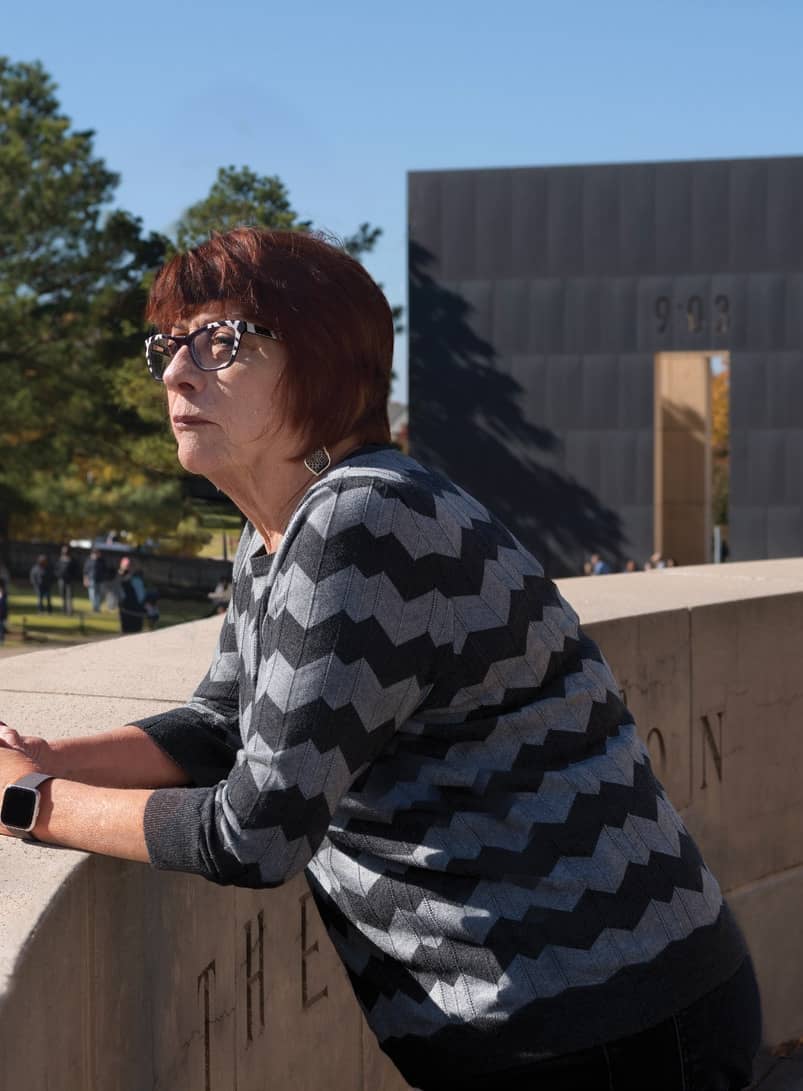 "I was working through it, which, for me, is the way to handle something," she says. "It was not difficult to do my job that day; it was my comfort zone."
Still, both women report they experienced major emotional come-downs in the weeks and months following. For Owen, it happened when she got back to Oklahoma in 1998 after reporting on McVeigh's and Nichols' trials in Denver.
"It was like falling off a cliff," she says. For Watkins, some difficulty arose as she
watched onlookers, many of whom were families of victims, observing the implosion of the Murrah Building's remains. Phil Bacharach, who then was a reporter for the Oklahoma Gazette and covered the aftermath and trial for nearly three years, says the focus on work had a dark side.
Continue Reading with Magzter GOLD
Log-in, if you are already a subscriber
Get unlimited access to thousands of curated premium stories and 5,000+ magazines
READ THE ENTIRE ISSUE
January/February 2020