HOCHATOWN CALLING
Oklahoma Today|May/June 2020
THIS SOUTHEAST OKLAHOMA HOT SPOT DRAWS GAGGLES OF VISITORS FROM TEXAS AND ARKANSAS, SO WHY HAVEN'T YOU BEEN YET?
With golf, lodging, camping, and numerous other amenities, Beavers Bend State Park offers a resort experience in the heart of Hochatown.
Texas, Texas, Texas, Arkansas, Louisiana, Texas, Texas, Louisiana, Texas . . ."
Perched along the edge of Beavers Bend State Park, the McCurtain County Game Reserve, and the Ouachita National Forest, Hochatown hauls in tourists by the busload. But stop at any of the businesses along U.S. Highway 259—which anchors this unincorporated community that historically has been considered a part of Broken Bow but now is taking on an identity all its own—and take a look at the license plates. They're almost all from out of state.
Smack dab in the middle of Hochatown, the parking lot outside Grateful Head Pizza Oven & Tap Room is by no means an outlier. Even on a drizzly Sunday morning, throngs of diners wait for tables and explore the nearby souvenir shops, many clad in T-shirts that make it clear they're visitors. Amid the restaurants, breweries, mini-golf courses, and hiking trails, the only thing that seems to be in short supply in this southeastern Oklahoma resort town are Oklahomans.
It makes sense when you consider that Hochatown is closer to Dallas, Texas, and Fayetteville, Arkansas, than it is to much of Oklahoma, but it is odd to see so much of the Sooner State's natural splendor enjoyed by non-Okies. And local business owners would like to change that—at least a little.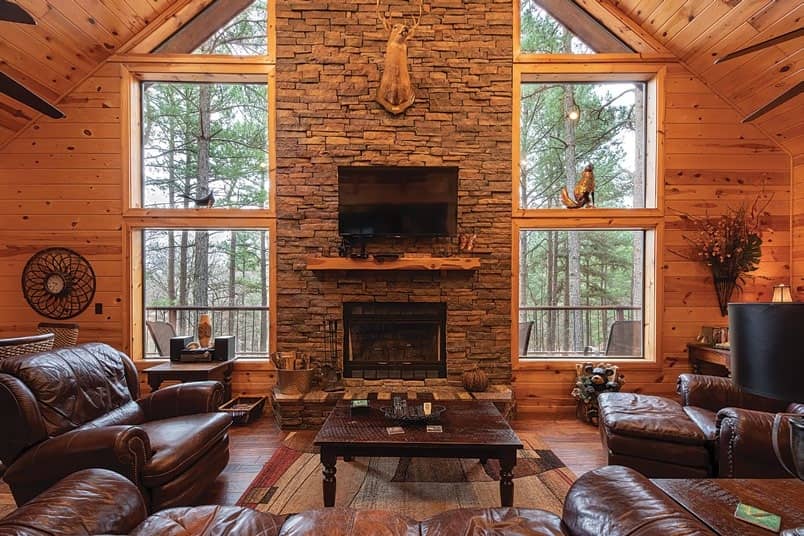 Coyote Ridge cabin is one of nearly fifty luxury cabins managed by Beavers Bend Adventures.
JOHN MANNING WASN'T born on a horse, but you'd be forgiven for thinking so if you saw him ride. Manning, a former cowboy and owner of Riverman Trail Rides, says he can't remember a time in his life when he wasn't riding regularly. Even during his years as a welder and working at a paper mill, he always had horses. Though it was at the mill that his life—and his luck—changed.
"I never win anything," he says. "But there was a football pot at work, one of those hundred-square boards that cost five dollars a square. There were only two or three spots left, and I put down my money."
Lo and behold, Manning won. And the big prize in the pot was Duke, a friendly and gorgeous eighteen-month-old colt that became the very first animal employee of Riverman Trail Rides. Duke, the five-dollar horse.
That wasn't Manning's only brush with luck. In July 2008, a friend from Broken Bow who owns River's Bend Resort implored him to start a trail-riding business.
"I thought she was crazy," he says. "But I also knew she was a smart businesswoman. And here we are, eleven years later."
Working with his wife, sons, and a few hired hands, Manning and the Riverman crew take riders of all experience levels on horseback journeys through the majesty of rural McCurtain County. Rides start at an hour—a good length for tenderfeet—all the way up to all-day treks.
"If you ride with a group, you ride to the level of the least-experienced rider, so we encourage people who want a more challenging ride to take a private one," Manning says. "There's a few people every year that think they want an all-day ride, so we give it to them. Of course, with that, we supply a full catered lunch. Some of those we have to cut short because, by hour six, they're riding sidesaddle, if you know what I mean."
It's simultaneously nerve-wracking and exhilarating to put your trust in a one-ton animal that wears metal shoes, but all those jitters fade when you look out over Glover River, the last free-flowing river in the state. And then they all come rushing back when Manning guides wide-eyed visitors' horses across the water.
"We wanted to give people an experience like we had growing up riding horses," he says. "You get to see all kinds of terrain rather than just riding around a flat circle. Crossing the river is one of the ways we set ourselves apart from the competition."
You can read up to 3 premium stories before you subscribe to Magzter GOLD
Log in, if you are already a subscriber
Get unlimited access to thousands of curated premium stories and 5,000+ magazines
READ THE ENTIRE ISSUE
May/June 2020