APRIL 19, 1995, IS A DAY THAT LIVES IN INFAMY ACROSS THE NATION BUT ESPECIALLY IN OKLAHOMA. TWENTY-FIVE YEARS LATER, BOMBING VICTIMS AND CITY LEADERS LOOK BACK AT THE HISTORY OF THAT DAY AND REFLECT ON HOW OKLAHOMA CITY HAS CHANGED IN A QUARTER CENTURY.
Williams is a survivor of the Oklahoma City Bombing. So it is a miracle that he exists in the year 2020—that he is around to talk about the weather, play a sport multiple times a week, and make good-natured jokes about his declining footspeed. For the rest of his life, he will carry the wounds from that day, internal and external. To hold his tennis racket, for instance, Williams has to build up the handle with overgrips until it's big enough to fit in his right hand, the fingers of which are bent and curled, up and down, permanently out of alignment. He calls it, affectionately, his "funny hand."
Williams was one of the countless people whose lives were wrenched suddenly out of alignment on the morning of April 19, 1995. At 9:02 a.m., time froze, and the space of the whole city warped around it. Near the beginning of an otherwise normal workday in the middle of a quiet downtown, a homemade truck bomb ripped through the Alfred P. Murrah Federal Building. The ground shook in neighboring cities; more than three hundred buildings were damaged or destroyed. Though the blast took only a fraction of a second, it killed 168 people and injured many hundreds more. Immediately, the attention of the entire world flowed into Oklahoma City. The tragedy, for better and for worse, came to define the place. Twenty-five years later, we still struggle to understand the damage—how deep it goes, how many lives it altered, and how the city and its people built themselves back up around the shape of so much absence.
Richard Williams now lives in Houston, but it doesn't take much to bring his thoughts back to that morning in Oklahoma City. He might see a news article about one of the terrorists. He might stumble across an artifact from the Murrah Building in his house—he has donated many to the Oklahoma City National Memorial & Museum, but he likes to keep some close. Or it might come up on the tennis court, when a new opponent asks Williams an innocent question—where he's from, what he did for a living—and the story of that day will find its way out. Although he never volunteers his memories of the bombing, he's willing to talk if someone asks.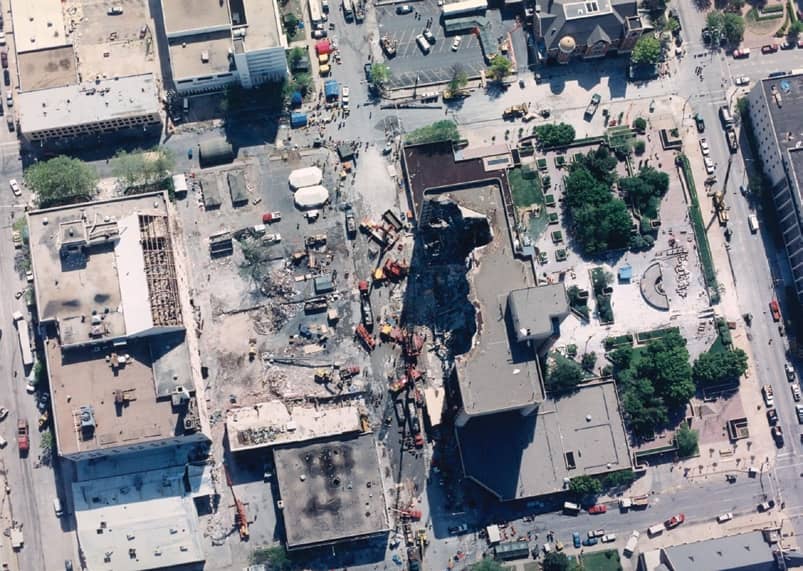 Williams' left hand, the non-funny one, emerged from the bombing just fine. Today, it is absolutely normal—fingers aligned nice and strong. But this is the thing about that funny hand: All these years later, after multiple surgeries and physical therapy, after exercises he still has to do, the injured hand not only has regained its original strength— it has surpassed it. While it might look unusual, the funny hand now is stronger than the normal one. All of that unthinkable damage, in the end, after many years of recovery, after a quarter-century of grinding work, turned out to make the thing better than it might otherwise have been.
TWENTY-FIVE YEARS IS, depending on how you look at it, a very long time or a very short one. In the grand scheme of the universe, of course, it is nothing. For an ancient city like Paris, Beijing, or Mumbai, a quarter of a century is hardly more than a moment.
But Oklahoma City is not like other cities. Among its unique qualities, it has a special relationship to time. No other major American city was born, as it was, in a single day—April 22, 1889, when thousands of settlers came rumbling over the plains to claim land in the middle of Indian Territory. Since then, no other city has transformed and reinvented itself so many times in such a short period. At various times, Oklahoma City has demolished and rebuilt much of its downtown and expanded its outer borders exponentially. It has turned itself into a brand-new city many times over—and done so in roughly the amount of time it would have taken a normal city to start holding meetings about possibly beginning to file the paperwork. In Oklahoma City, twenty-five years is a whole history unto itself.
In October 2019, I went to City Hall to speak with Mayor David F. Holt. The MAPS 4 process was ramping up, and a city councilperson had dropped by, so I waited outside his office, inspecting glass cases that held pieces of history: black-and-white photos of moustachioed men who came in the Land Run, a brick from the groundbreaking of the Chickasaw Bricktown Ballpark, Thunder paraphernalia. It was a compressed narrative of Oklahoma City with heavy emphasis on the recent renaissance. That narrative carried over into Holt's office. A framed Thunder cartoon drawn by the Japanese superfan Nanae Yamano hung on one wall—evidence of a global reach the city never could have dreamed of back in the 1990s. Near the window was a street sign autographed by Kings of Leon, who performed at the opening of Scissortail Park, a grand public space in a part of town long dismissed as a wasteland.
Holt, surrounded by such celebratory mementos, pointed out how unlikely all this progress seemed back in 1995. The bombing hit at the end of multiple waves of civic misfortune: the oil bust and bank failures of the early 1980s, widespread unemployment, decaying infrastructure. After the destruction that had come with urban renewal, downtown felt empty, desolate, ruined. In 1991, United Airlines rejected Oklahoma City's bid for a major repair facility because, executives said, they couldn't imagine making their employees live there. A terrorist attack, in a place already so devoid of public life, seemed like it might be too much to take. It was easy to imagine a rapid decline.
Continue Reading with Magzter GOLD
Log-in, if you are already a subscriber
Get unlimited access to thousands of curated premium stories and 5,000+ magazines
READ THE ENTIRE ISSUE
January/February 2020