FIRST LINE OF DEFENCE
Three Concepts You Need to Protect Yourself and Those Around You
We see the news about the latest rape, robbery, or mass shooting and say to ourselves, "Yeah, I could have stopped it." It's easy to fantasize about saving the day, about being the hero. But could you do it in real life? What does it actually take to put your life on the line to defend an innocent life or a whole group of them?
Byron Rodgers knows what it takes — and he wants others to, as well. A combat vet and now a bodyguard to wealthy folks and individuals who need protection, Rodgers recently founded and hosted the inaugural Protector Symposium, a conference for security experts, law enforcement, and civilians interested in learning how to better protect themselves and those around them.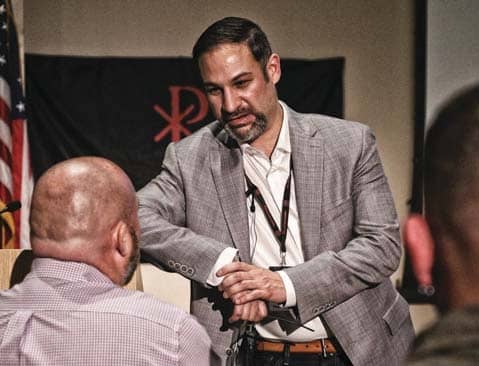 "I'm very aware of the reality that the civilian on the scene of an attack is the first line of defense," Rodgers said of recent stabbings, mass shootings, and terrorist attacks around the world. "I wanted to do something to contribute to that civilian demographic, to educate them about violence and make them more accountable, and to help keep these injuries and death counts low."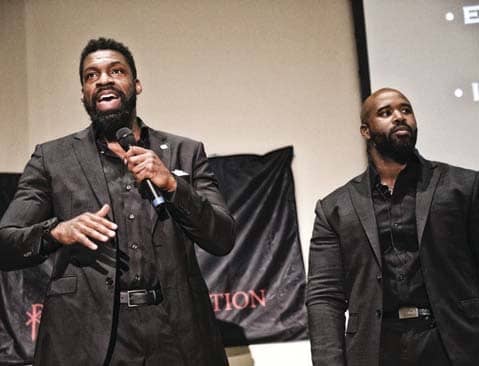 Rodgers had contemplated how he could teach the largest number of people in a wide range of skillsets. He toyed with the idea of hosting a seminar at the range, but logistics and safety would limit that to a few dozen students at a time. So he shifted to a symposium format, where we could reach a much larger volume of people the quickest.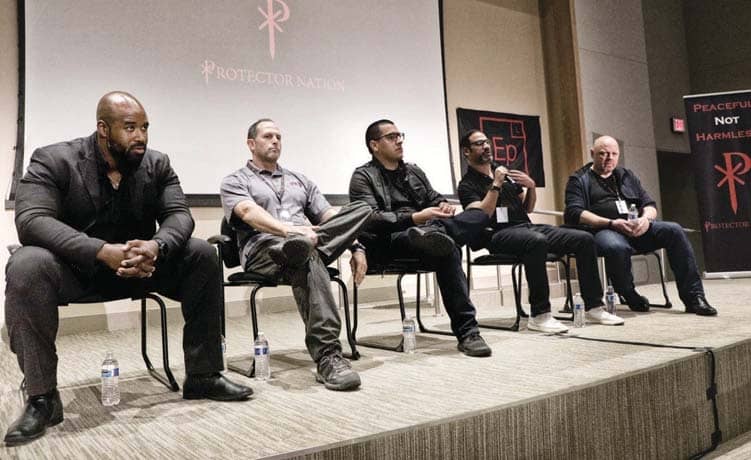 "I looked at what really takes place when danger happens," said Rodgers, who was twice deployed to Iraq as a U.S. Marine infantryman, and now runs Bravo Research Group, a small boutique security company. And I thought, Who are three speakers I can expose people to who will literally make them effective protectors — just from a presentation?"
His answer was a two-day symposium featuring three world-renowned subject-matter experts (SMEs): former U.S. Marine and situational awareness expert Yousef Badou, former Mexican counter-narcotic officer and antiabduction instructor Ed Calderon, and former U.S. Army Delta operator Mike Pannone. Though the speakers had varying skillsets and came from vastly different backgrounds, a pattern emerged from their presentations, with the trio independently touching upon three things all protectors should work on.
Predator Mindset
Despite having such disparate experiences, the threelecturers named (in different ways) one thing as the most important trait any bodyguard, soldier, peace officer, or prepared individual should have: a predator's mindset.
For many years, Badou was a trainer in the U.S. Marine Corps' (now defunct) Combat Hunter program, which helped warfighters develop a more tactically cunning mindset by integrating tracking, profiling, and observation skills. He now applies that type of enhanced situational awareness as the founder and owner of Emergence Disrupt, a company that provides security training to large organizations like schools, corporations, and music festivals.
Badou emphasized thinking like a predator and proactively looking for potential prey in your surroundings because "thinking like a bad guy makes you a better good guy."
You can read up to 3 premium stories before you subscribe to Magzter GOLD
Log in, if you are already a subscriber
Get unlimited access to thousands of curated premium stories, newspapers and 5,000+ magazines
READ THE ENTIRE ISSUE
Issue 37