DELICIOUS OR DEADLY?
OFFGRID|Issue 38
Wild Mushroom Foraging 101
When you mention harvesting — and eating — wild mushrooms, though, especially in a room full of people who've never experienced more than the store-bought variety, get ready to see expressions of admiration shift to skepticism.
That's for good reason, perhaps. According to the National Poison Data Center, there are over 7,000 exposures to toxic mushrooms in the U.S. annually. Of these, 39 per year result in major harm, and statistically, 2.9 per year prove fatal.
For those who make it a point to learn a few wild mushrooms, though, nutritional rewards await. Mushrooms have more protein than most vegetables. They hold high levels of riboflavin and niacin and trace amounts of vitamin C, B1, B12, D, and E, according to the International Journal of Microbiology. Vegetarians, especially, can benefit from adding mushrooms to their diet, not only because of the protein levels, but also because mushrooms are the only non-animal food source of vitamin D.
Medicinally, species of fungi have been shown to have antioxidant, anticancer, antiallergic, antiviral, and antibacterial characteristics, again according to the International Journal of Microbiology.
Knowing What's Out There
Foraging for mushrooms isn't a leap one should make without being anchored to knowledgeable allies. Between 5,000 and 10,000 species of mushrooms are native to North America. Of these, about 100 are considered edible and roughly the same number are counted as toxic.
The old saying that "all mushrooms are edible once" shouldn't be put to the test. You should be certain of the identification beyond the shadow of a doubt before ingesting any wild mushroom. In fact, learning just one or two edible species each year and then expanding your repertoire slowly is advisable to ensure that you know your chosen fungi well.
Tools for mushroom hunting will include a sharp knife, a good camera, and a few mesh bags to allow spores to be dispersed as you walk. Field guides for your location are good to include — not just identification books for mushrooms, but also for associated trees if you aren't already familiar with common species.
If you have a reliable cell signal, iNaturalist is a beneficial app. You can post pictures and location data that other enthusiasts can view, and multiple experts can offer input on the taxonomy of your discoveries. The Mushroom Identification Forum on Facebook is another social media tool. With 170,000 members, there's a good chance someone has seen the mushroom in question before.
Whenever you're relying on photos for identification, take detailed pictures of both the upper and underneath portions of the cap, as well as the stalk. Note whether it arises from the ground, from dead wood or a living tree. Species may be distinguished by the presence of gills, pores, or other spore structures.
Spore prints can also be useful. Put the mushroom cap — spore structure down — on a sheet of paper, hydrate the cap with a few drops of water, and cover it with a cup or glass for a few hours. The color and arrangement of the resulting print can aid in identification.
Help in the Flesh
As valuable as books or online resources may be, these methods aren't nearly as beneficial as seeing mushrooms in their natural habitat alongside someone who knows.
"The best advice I can give for people wanting to forage for edible mushrooms is to join a local mushroom club," says Dr. Jean Williams-Woodward, University of Georgia Extension plant pathologist. "Here, we have the Mushroom Club of Georgia. The clubs often conduct forays where people can learn to identify and locate edible mushrooms in person."
If you can't stand shoulder-to-shoulder with an expert in the mushroom's habitat, bring the mushroom to the expert. Don't sweat about picking a mushroom for identification later. It's not the same thing as yanking up a wildflower. What we call mushrooms are the fruiting bodies of a complex network of vegetative fibers we can't see beneath the soil surface or under the bark of a tree. The mushrooms are analogous to the apples on an apple tree, springing forth from an extensive hidden organism that has successfully colonized a fallen log, a standing tree, or a patch of soil.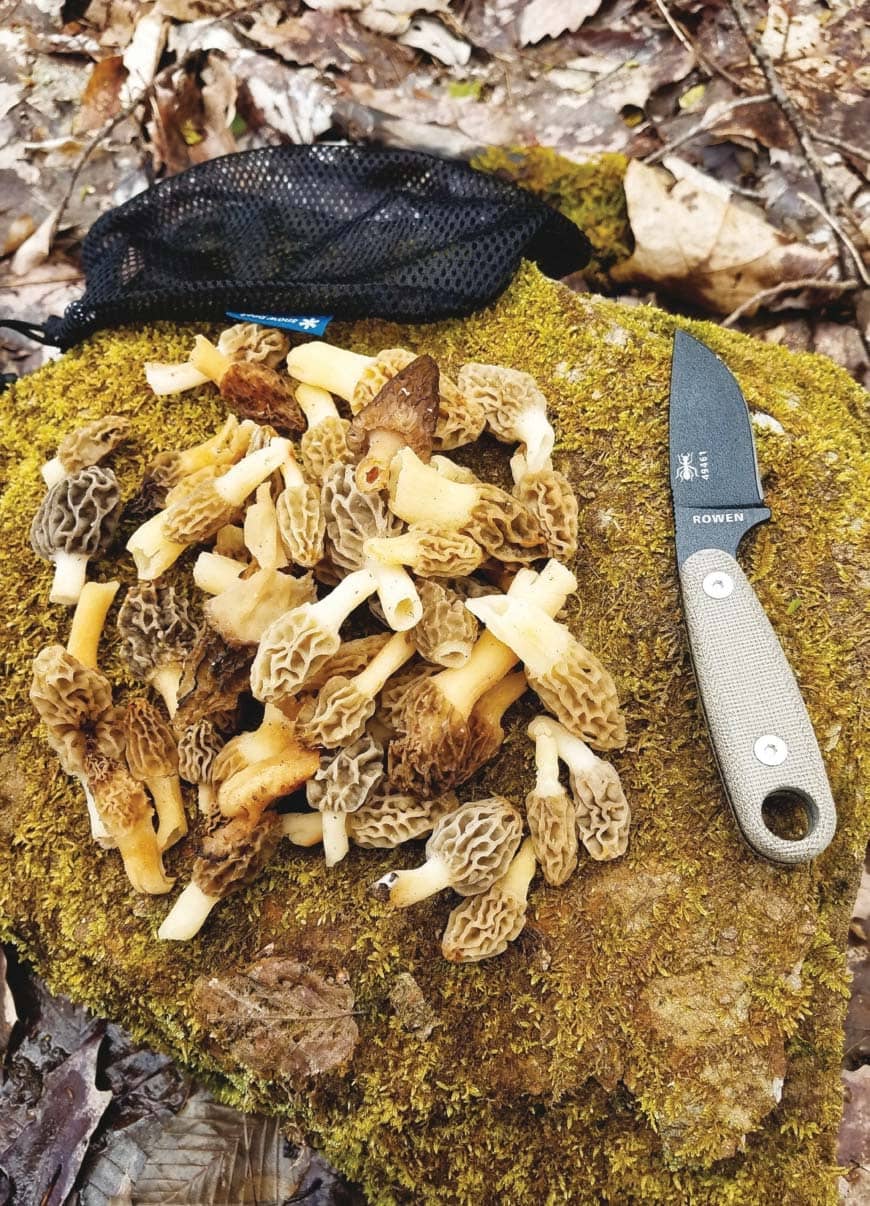 Raw or Cooked?
You can read up to 3 premium stories before you subscribe to Magzter GOLD
Log in, if you are already a subscriber
Get unlimited access to thousands of curated premium stories and 5,000+ magazines
READ THE ENTIRE ISSUE
Issue 38