Yes, Fall It's Still Happening
New York magazine
|
August 31–September 13, 2020
THE CHANGE OF SEASONS during a pandemic can happen almost imperceptibly. Suddenly, summer has slipped through your fingers. Fall usually signals the start of a fresh cultural calendar, but this year, none of the clear markers are there. Broadway remains shut down; the pageantry of Oscar season isn't quite the same when everything's streaming; release dates are pitched further into the distance, pegged to the hope of some theoretical future. But amid uncertainty, great art can feel like a grounding force, and there's plenty to challenge, entertain, and debate this fall. The final stretch of 2020 includes some of the most exceptional films, shows, and books of the year: weird clown comedy, the next Big Little Lies–style soap, and the kinds of novels that help you see the world more clearly. Mark your calendars—just maybe use a pencil.
THE CHANGE OF SEASONS during a pandemic can happen almost imperceptibly. Suddenly, summer has slipped through your fingers. Fall usually signals the start of a fresh cultural calendar, but this year, none of the clear markers are there. Broadway remains shut down; the pageantry of Oscar season isn't quite the same when everything's streaming; release dates are pitched further into the distance, pegged to the hope of some theoretical future. ¶ But amid uncertainty, great art can feel like a grounding force, and there's plenty to challenge, entertain, and debate this fall. The final stretch of 2020 includes some of the most exceptional films, shows, and books of the year: weird clown comedy, the next Big Little Lies–style soap, and the kinds of novels that help you see the world more clearly. Mark your calendars—just maybe use a pencil.
91 THINGS TO WATCH, READ, AND DO
1 The Appointment
By Katharina Volckmer (9/1)
This novel has a subtitle: "The Story of a Jewish Cock." That should tell you something about its author's relationship with cheeky—and, at times, downright sacrosanct— wordplay. Set over the course of one long doctor's visit, The Appointment is a rant-as-novel, a longwinded list of grievances, questions, and observations, starting with its protagonist's admission that she occasionally thinks about screwing Hitler. It only gets wilder from there.
2 The Lying Life of Adults
By Elena Ferrante (9/1)
The author's first novel after the conclusion of her girlhood affirming Neapolitan quartet is another bildungsroman of a disenchanted girl on the cusp of womanhood, this time set in the 1990s among the intelligentsia.
3 Daddy
By Emma Cline (9/1)
Included in Granta's 2017 Best of Young American Novelists after the publication of her best-selling debut novel, The Girls, Cline returns with a collection of short stories about toxic men.
4 Chef's Table: BBQ
Netflix (9/2)
The show that changed culinary cinematography forever is bound to give you the meat sweats as it trains its refined lens on barbecue.
5 Tenet
Warner Bros. (9/3)
Christopher Nolan's new movie opened internationally on August 26, a week before coming to select theaters in the U.S., and you know what? Getting spoiled on the details of this highly secretive production is what we deserve for not getting our shit together as a country.
6 Nate
Netflix (Date TBD)
Allow Natalie Palamides to Dominate You With her genreand genderbending comedy special, Nate.
By Helen Shaw
A SHORT MAN ROARS onstage on a toy-size motorcycle, his black-and-red-checked lumberjack coat swinging open over his bare chest. He spoons up a mouthful of protein powder, spits it out past his enormous Yorkshire-terrier mustache, and lights the resulting dust cloud on fire. Grrrargh! He raises an ax high over his head, but it boinks delicately off a log. After all, inside this guy Nate—a bellowing, grimacing Napoleonic bro—is a very little lady.
When I speak to his creator, Natalie Palamides, in her Los Angeles home, she is whatever the polar opposite of Nate is, comfy in a purple maxi dress and yellow-lensed glasses. In normal life, Palamides doesn't do the chaosMuppet faces that characterize her comedy, and her ferocious energy is groggy at ten in the morning. But at any hour, playing any gender, her voice is her superpower. Low or high, Palamides sounds like a distracted Powerpuff Girl (she's actually the voice of Buttercup in the recent series reboot), with the exact mix of gravel and squeak that makes you think something tiny is about to kick your ass. For most of her weird and wonderful Netflix comedy special, Nate, Palamides is unrecognizable, growling provocations from under a huge black John Travolta wig. Her costume lampoons and exaggerates masculinity and occasionally lets a glimpse of femininity peep through: Black cotton chest hair drifts over bared breasts; a stretchy rubber penis—much abused—is tied into little briefs. As a production, Nate draws from discomfort comedy, clown character traditions, even cartoons. Imagine Andy Kaufman meets Sacha Baron Cohen meets Elmer Fudd—if all those fellas were women with no hang-ups about their boobs.
The show isn't merely drag mayhem. As Nate tells us about a recent heartbreak and the adult painting class he's taking to work through his feelings ("C'mon, Nate! Express yourself!"), the macho little pepper pot asks—often literally—questions about agency and vulnerability. If the comedy weren't so profane, Nate would feel like an after-school special posing a moral conundrum (what constitutes consent?). Swaggering around in oversize boots, Nate talks earnestly about permission, but he constantly demonstrates coercion. "All you gotta do is ask," he insists as he tries to cop a feel from a woman in the front row. "Ask!" the audience chants obediently and on cue. The conventions of being an audience member at a comedy show, with the assumption that one be a "good sport," form a wave front of pressure; Palamides manipulates that pressure to force theatergoers past their comfort zones. Can Nate get a guy to call a woman a "whore-ass"? Can a half-naked Nate—five-foot-one in shoes—persuade some other fellow to wrestle topless? Only every goddamn time.
Long before the shutdown, Nate had achieved international success: The show was a crossover smash at the Los Angeles Upright Citizens Brigade, toured twice to New York, and won the Total Theatre Award at the 2018 Edinburgh Festival Fringe. After seeing it in Los Angeles, Amy Poehler and her production company put their muscle behind it; Nate will come to Netflix ready to be this season's Nanettelevel conversation piece. This is not the typical journey for foulmouthed, outer orbit Weird Clown stuff. Palamides is part of a small community of tight-knit clown creators who have been making work in L.A. for a decade, but the venues are miniature—a sold-out show might top out at 95 people. In the normal scheme of things, there's an intermediate step between the Deep Fringe and the Netflix special, but Nate jumped that gap.
Palamides, now 30, has wanted to be a comedian since she was a little kid: Growing up outside Pittsburgh, she was already making home videos in her backyard. Students would stop her in the halls at school to do bits. Her lodestars were Disney (she's still obsessed to the point of having a podcast called Hidden Mickeys) and Austin Powers. "Looking back, I'm like, Oh, maybe it's like a little bit early for a 9-year-old to be quoting the movie," she says. "It was, 'Oh yeah, baby. I'm horny.' And my dad would be like, 'Yeah, don't say that.' " But it was too late: She had worked out that being small and talkin' smut could get laughs.
Her college experience, at Indiana University of Pennsylvania, couldn't have been more wholesome. (When you cross a road in the town, the voice of the walk signal is an impression of Jimmy Stewart.) But Palamides's theater professor Rick Kemp introduced her to the study of European clown, which goes beyond mere entertainment, turning foolery into a quasi-spiritual pursuit. After honing her mask and commedia skills, Palamides was plucked out of the undergrad scene by Philadelphia's beloved Pig Iron Theatre to work on "devised" theater—a collaborative form in which an ensemble improvises from a prompt—and she learned to make a play without a script. Another performer with the same interests might have gone on to study la tradition with grand French masters like Philippe Gaulier (Baron Cohen was once a student), but Palamides was impatient to get started on her senior-year-in-college goal: climbing the Los Angeles comedy ladder to get to Saturday Night Live.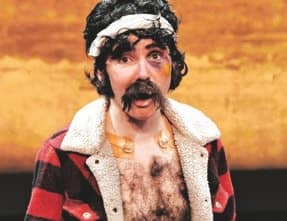 Palamides as Nate.
In L.A., she hit those SNL-approved rungs fast, almost immediately joining a team at the Upright Citizens Brigade and booking voice-over and commercial work. She missed the am-I-falling-or-flying freedom of true absurdity, though. Luckily, L.A. had become a global center for clown performance, revolving around three important organizations: the Clown School, where instructors teach the sweet-natured "red nose" style; John Gilkey's the Idiot Workshop, where the form is stripped to its core of being grotesque and goofy in public; and the Lyric Hyperion, run by the community linchpin Dr. Brown, a.k.a. Philip Burgers, a Gaulier-trained clown with a deep footprint in cringey, awkward hilarious character work. Clown is a liberating corrective to the competitive nature of entertainment in L.A., says Palamides's friend and co-clown Chad Damiani, where everything is built around getting discovered. Nobody looks cool while clowning: The failure is the point, the face-plant the reward. "We're just the most foolish versions of ourselves," he says.
Palamides started taking classes at the Idiot Workshop and the Lyric, and Damiani remembers the first time he saw her performing in the latter group's ensemble Wet the Hippo. "It was five very intense guys onstage at a little independent improv show, and she was just more fierce than any of them. She was so fearless and gross and funny." In Palamides's best work, a character always points out the sheer squelchy oddness of having a body that desires or is desired; 20 years after The Spy Who Shagged Me, her comedy signature was still that Austin Powers–esque repulsion-seduction. In one 2013 Wet the Hippo video called "Salad," she fantasizes filthily about eating a salad out of a guy's pants; in a sketch at UCB, she's a promiscuous anthropomorphic egg who complains to the manager at L.A. sandwich sensation Eggslut. Throughout "Start Objectifying Women," a viral video shot by Seth Allison, her character insists, in nastier and nastier ways, on being made into an object—first a man's broom, then his ice machine, then his garbage disposal.
At the Lyric, Palamides decided to develop longer, more theatrical pieces. She began relentlessly workshopping bit after bit at variety shows, open-mic nights, and clown classes. She'd put on a strange outfit and go out in front of an audience with almost nothing planned, hoping to create one moment onto which she could build something new. Eventually, with Dr. Brown acting as director and mentor, she repurposed the Eggslut costume for her first full-length, hourlong show, Laid, about a woman who gives birth to an egg every day and has to decide whether to raise it or eat it (mess ensues). Laid went to the Edinburgh Fringe, where it was a wild success, winning Palamides the 2017 Best Newcomer Award. It also paved the way for Nate.
That September at the Lyric, during a boot-camp clown incubator, Dr. Brown asked participants to develop a bit in which they felt at risk. Palamides had long been curious about wrestling an audience member. How much danger would she be in? What could she get away with? (Kaufman's experimental comedy around "inter-gender wrestling" may have been murmuring in her memory.) Nate was a character she'd dreamed up for a Pig Iron workshop years before—"this douchey guy chugging a two-liter bottle of soda watching TV in Burbank"—so she dusted off his mustache to see whether melancholy masculinity would be a good thing to take to the mat. In her incubator show, she tried it with Nate topless. At first, the entirety of the gag was the asymmetrical match. "Part of me thought it was funny to push the boundaries with what a woman's body is like," she says, "because men wrestle shirtless all the time and it's not taboo at all! But to wrestle a topless woman has this taboo quality about it, and I thought, Isn't that interesting?" After the incubator, she started to iteratively shape a love story for the chest-thumping pip-squeak. It was only then that she allowed Nate to start asking questions about consent.
Palamides is not willing to call what she does true clowning. "You're taught that there's only one pure clown that comes about every generation," she says. These are the Charlie Chaplins, the Lucille Balls, the divine idiots. "It's very rare. Anybody can learn to incorporate clown techniques, but to be a clown is something that's not as easily obtainable," Palamides continues. "There is an innocence to clown. There's not supposed to be any sort of sexuality or anger." And in Nate, there is certainly sexuality and anger, alongside a deep stripe of masochism. Palamides's deepest pleasure comes from making the audience uneasy. She thinks, Well, if they're there, they're gonna play with me. She can use any response—a yes or a no or even silence—to lead to further humiliation. Laughter sours in your mouth. The questioning becomes a means of control. "It was like a puzzle," she says. "It's fun to think about how I could still get whatever I wanted, no matter what the audience said."
This is where the live-wire danger in Nate comes from, the feeling that you're discussing agency with someone who's playing a dominance game herself. Whether watching Palamides in person or onscreen, one feels the tingle of vicarious terror as participants' eyes grow more and more frightened. But Nate's eyes change too. In one crucial moment, the mustache slips aside and we see what seems to be the "real" Natalie. Is it Nate up there, naked and strong? Or is that Natalie, naked and vulnerable? In the most finely calibrated manipulation of the evening, Palamides turns the waves of audience attention and has them crash down most punishingly on herself. The show ushered us there, coaxed and bullied us. Despite her protestations, this radically undefended moment is absolutely the core of clowning—the revelation of the human in the performance, the glimpse of the true fool, the unadorned and unpretending self.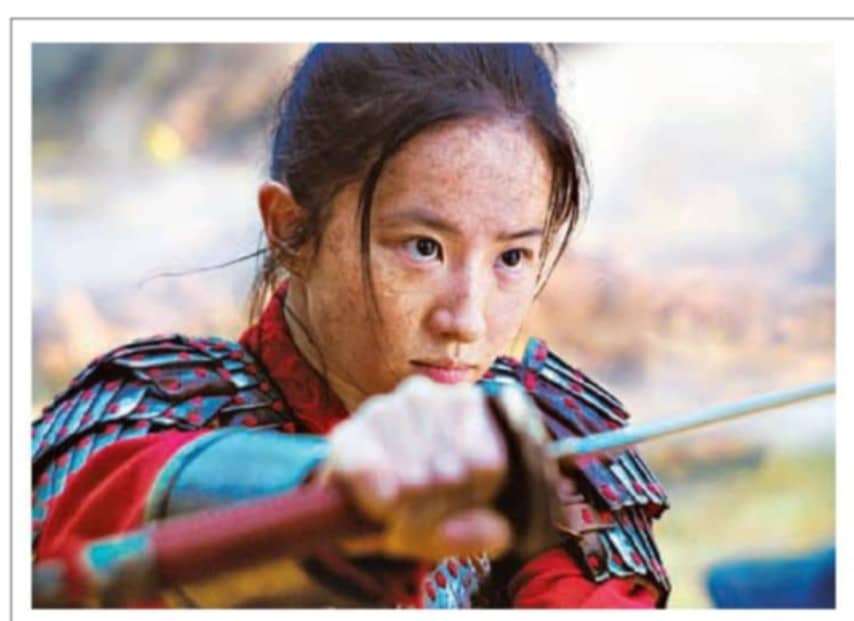 7 Mulan
Disney+ (9/4)
This live-action remake of the Disney animated classic has been delayed for so long, and so many times, it sometimes feels like it already opened. But it's finally happening! Mulan will be by far the biggest film of the year to go straight to digital, via a somewhat convoluted rent/purchase Disney+ arrangement that will cost you around $29.99. Which is maybe not so great for the movie itself: By all accounts, it's a massive epic, the kind of experience made for the big screen. Still, it could be really special. That director Niki Caro (an underrated filmmaker finally getting her shot at a blockbuster) isn't going the overly reverential remake route is cause for hope.
8 I'm Thinking of Ending Things
Netflix (9/4)
Charlie Kaufman's surreal meet-the-parents saga, loosely adapted from Iain Reid's novel, stars Jessie Buckley as a woman heading to the family farm of the boyfriend (Jesse Plemons) she's been thinking about breaking up with.
9 Resistance
Gimlet Media (Date TBD)
Inspired by the racial-justice uprisings that have bubbled up across the country, this podcast will feature the voices of young activists marching on the front lines as they get advice from elder statespeople who were part of the civilrights movement.
10 Away
Netflix (9/4)
You know what's better than the complicated dynamics of a marriage stretched across the scaffold of intense public scrutiny and shaped into a TV narrative? That same thing … but in space! Hilary Swank and Josh Charles star in this drama about a mission to Mars.
11 All That Emotion
By Hannah Georgas (9/4)
After touring with the National, indiepop singer-songwriter Hannah Georgas turned to Aaron Dessner to work on her latest album. Dessner has guided Taylor Swift on her "indie folk" turn, but expect less organic sounds this time.
12 Chemtrails Over the Country Club
By Lana Del Rey (9/5)
Lana Del Rey's first collection of music after she posed an ill-advised "question for the culture" in the spring will test her legacy.
13 Detroit 2. G.O.O.D. Music/Def
Jam Recordings (9/4)
Find Peace (No, Really) With Big Sean
A frank talk with the rapper about why it took so long for Detroit 2 to come out.
By Craig Jenkins
DETROIT RAPPER Big Sean signed to Kanye West's G.O.O.D. Music imprint in 2007 after impressing his future label boss with an impromptu freestyle in a chance meeting at a local radio station two years earlier. In the 2010s, Sean hit the ground running with a string of increasingly sharp studio albums and guest spots, matching wits with heavyweights like Drake, Nicki Minaj, Jay-Z, and Ariana Grande and shining on solo singles like "Guap" and "Bounce Back"; deep cuts like "Bigger Than Me" and "One Man Can Change the World" balanced the upbeat mood of the singles with heartfelt emotion. Sean has slowed down a bit since doubling up in 2017 with the release of his fourth album, I Decided, and a collaboration with Metro Boomin, Double or Nothing. He has taken his time working on Detroit 2, the sequel to his critically acclaimed 2012 mixtape and love letter to his hometown. And, as I'd learn talking with him in mid-August, Sean has been working on himself.
Before this month, it had been three years since your last album and a year since your last official single. What have you been up to?
Honestly, I've just been making sure I'm happy with the music. For some reason, time seems to be going faster than usual. So [the album] has taken longer than I expected it to. But I was on my schedule and making sure that I felt good doing the music, because it is my happy place. I don't know if I took too long or what the outcome may be. I don't know if it'll do better than anything I've ever done, but at least I am a hundred percent happy with it.
You started the year by announcing a Coachella performance and finishing up the album, but not long after the trailer dropped, things went left in the country. Did you delay the release until you saw how things would unfold in the music business?
No, I didn't delay it because of that necessarily. My whole life shifted. All our lives shifted. When I would listen back to a song, I would feel like, Oh, I need to talk about this feeling that I'm experiencing right now on here. I was inspired to progress the album a little further. I don't know what the consequence of that will be. Maybe it'll be great, maybe … I don't know.
Pandemic time does feel shorter. The summer is almost over, and it feels like it just started.
I've been feeling that way for the last year, year and a half. It just seems like things have been going faster than I can even grasp. But I've learned to accept it and not always feel like I'm trying to catch up. I've been making an effort to stay aggressively happy. I meditate seven days a week, and that gives me a chance to connect with myself. It feels like charging your phone. It's like waking up with a full charge, as opposed to waking up with your phone dead. Taking time for myself has really helped, even if it's just, like, playing Call of Duty a little bit. I only play for an hour, an hour and a half at the most, just to give myself a break if I'm in the studio for 12 or 14 hours. Because if you don't, things start to blend in together. That's why I really fuck with London, how they, like, take teatime, lunch, all these breaks. I heard Albert Einstein did this too.
Trying to force creativity can create anxiety of its own.
It was destroying me, too. That type of mindset was destroying me, and I didn't even know. It was making me wake up with so much anxiety, so much heaviness. Once the anxiety starts overflowing, it turns into depression and then you just … that ain't no way to be when you're trying to make something. How are you going to attract something you're not putting out there? You're trying to listen to 92.3, but your station is on 105. You got to get on that frequency.
The rap game moves pretty quickly nowadays. A lot of young artists are on a cycle of one or two releases per year. Did you ever worry that time off would slow your momentum?
I kind of felt like that when I was working on Dark Sky Paradise. With I Decided, I didn't have as much time, but I still made sure that I didn't try and rush it. I realized that I'm on my own schedule in my own lane. I'm not a new artist. I gotta treat things a little differently than they probably would. I had a lot of living to catch up on. After my last album, I felt like I was not enjoying my life that much—not to sound depressed or anything like that. I was thankful for opportunities and for everything I got to do, being able to take care of my family. But those are two different things—being grateful and being happy. I believe in God and the universe, so I'm gonna always be grateful, even if I don't have anything. But I wasn't enjoying it. I needed to explore that and figure out why I was feeling some of the ways I was feeling, why I felt down, and why I had all this anxiety. I had to sit down, talk through it, and do therapy.
You tweeted something a while back that stuck with me. You said, "DON'T PRETEND TO BE OKAY WHEN YOU'RE NOT." I feel like, as Black men, we feel pressure sometimes to chin up and accept whatever's on our plate instead of asking for help. Have you had to unlearn some of that?
Hell yeah. Growing up, you had to be a man. You couldn't be emotional all the time. That's looked down on. My granddad was dry. He was an amazing granddad, but he just didn't show that much emotion. He was a stone-cold military man. I don't know what he was going through. He never talked about it. He liked his TV shows, and he liked his food hot. My dad was a little bit more expressive, but he has gone through a lot he never talked about. So it was a new thing for me to approach my life like, Let me sit down and talk with somebody. It inspired my dad to do the same thing—to talk about his life and sit down with people, to pursue therapy. It's something that I'm very proud of.
But when I tweeted "don't pretend to be okay when you're not," I was tweeting at myself. I saw a lot of people say I was talking to Kanye, but if I have something to say to Kanye, I say it to Kanye. What I was dealing with is that my assistant that I'd worked with for a couple of years had passed away, actually committed suicide. It affected me. I went through another situation before that. It really helped when I came to the realization, like, Hey man, don't pretend to be okay if you're not okay.
Is it hectic when rappers you respect are beefing?
It ain't hectic. It is what it is. People be having disagreements. We're human beings, so I just let people handle it how they handle it. I feel like, at this point, beefing with each other ain't really productive when it ain't that deep, when it's just like, "This person may have said something.
Now we got rap beef." This motherfucker [Trump] is trying to take our rights away. This motherfucker is killing us. If there's any type of tension or any type of misunderstanding, communication is the way to go. It's different if somebody comes for your fucking family. If somebody killed my brother in the streets, I probably would want to kill him even 50 years after that. That's a whole different thing.
I respected that you squashed the rumor that you had beef with Kendrick Lamar. Stuff like that can get twisted on the internet and become something it wasn't.
That's what happened. It was nothing. I didn't even know what the fuck it was. We communicated to each other that it was all love. That's what you're supposed to do. It should never get to a point where you can't communicate with someone, especially somebody who had been in my house before, somebody who I've been invited to their mama's house, or somebody I've made music with that was fire.
"After my last album, I felt like I was not enjoying my life that much—not to sound depressed or anything like that."
If I may ask, do you regret making "IDFWU," a song that many interpreted as being about your ex, the late Naya Rivera?
I don't feel comfortable talking about it because I want to respect her. She's made such an impact on people, and she's done so many great things in her life and her career that it was hurtful to even have that [song] be associated with her. It wasn't a diss to her. I truly made the song and played it for her. She knew about it, and she liked it. We had a breakup that was very public, and we were young and we forgave each other and moved on from that. If I would have known something this tragic would have happened, I would have never made the song.
In spite of you having to rethink the timing, it's good that Detroit 2 is hitting right now. You're talking about issues that people are going to relate to, like loneliness and depression.
Well, the thing is, I don't talk about depression and those things that much necessarily, because that's not what I wanted to put energy into. I'm really talking about the things that lifted me up out of it. That's a difference. It affected a lot of the music. I was in the studio with Stevie Wonder playing him my album. We were working on some stuff, and he inspired me to do music that's not necessarily on this album. After this album, I don't think that I'm going to be done again for a long time. I'm inspired to keep going.
What inspired you to return to the Detroit concept, as someone who hasn't really done a sequel since the mixtape days?
When I was making Detroit 2, I felt like I was returning to my roots but with a stronger foundation. The music reminded me of the Detroit mixtape while I was making it. Before I decided to call the album Detroit 2, I kept going back to that idea: Man, I remember I was doing this when I made Detroit. I found myself doing some of the exact same things. I got back to journaling. I got back to not feeling restricted. The city of Detroit is owed so much respect and honor. When I was talking to Stevie Wonder, I was saying Motown gave Black music and Black people an identity in music. Motown isn't an era to me. It's almost like a genre of music.
In the album trailer, you said you were inspired by going back to the local records you were raised on. Who are some of the artists that shape your outlook on music?
J Dilla. Would we have Kanye if there was no J Dilla as a producer? Maybe not. Or No I.D. or people like that. Slum Village and Eminem and all these great people. The city feels alive. It feels electric. The song "Body Language" on my album samples [Shawn &] Dale's "Soulful Moaning," which was a record they played during the quiet storm every night. It was something that was a part of my childhood. They played it at school dances. It brings back those memories for me. That's what making music and expressing yourself is all about: going back to those moments and being able to express them or turn them into some type of inspiration.
But I think people will be able to relate to [the album] wherever they're from. Detroit is an inclusive city. A lot of people haven't been, but Detroit is fun, man. That shit is the best. It ain't bougie. It ain't Hollywood. We real people from there. We've been through the worst. We've been dealt the bottom before. It's cool whenever you meet people from the D. We know what it's like to hustle. We know what it's like to be starving. I think that does something to the character of a person. That's what I love about being from Detroit: It's like I had to really earn my way.
14 No Compromise
Guns & America (9/7)
It's hard to imagine a gun-rights movement even more absolutist and right wing than the NRA, but there is one and it's been gaining momentum within the gun-rights world. Produced by the public-radio reporting collaborative Guns & America, No Compromise examines the movement's origins and rise.
15 Just Us: An American Conversation
By Claudia Rankine (9/8)
The poet who rendered atmospheres of American mourning in Don't Let Me Be Lonely and the bestselling Citizen: An American Lyric returns with another genre-melding work. This assemblage of poetry, essay, criticism, and more gathers many voices to breach the surface of what's left unsaid.
16 Kevin Beasley: Reunion
Casey Kaplan (9/10)
After a smashing one-person Whitney show of a gigantic spinning cotton-gin engine encased in a glass vitrine, this super-gifted artist has crafted free-hanging "slabs": tapestrylike images that resemble gigantic family snapshots but are composed of compressed old clothes, raw cotton harvested near the Virginia property he grew up on, and housedresses sourced from a Harlem shop that was frequented by his grandmother and great-grandmother.
17 Aubrey Levinthal: Vacancy
Monya Rowe (9/10)
This little office space gallery in a big building has identified more than its fair share of rising figurative talent over the years. This fall finds the haunted Bonnard-like figures and phases of spiritual life by the up-and-coming Philadelphia-based artist Aubrey Levinthal.
18 Miscast
MCC Theatre, YouTube (9/13)
Every year, the Miscast gala for the Off Broadway theater MCC is a source of viral video hits—the gimmick is Broadway stars singing songs from roles in which they'd normally never be cast. (In a previous year, Katrina Lenk sang a sultry version of "If I Were a Rich Man" from Fiddler on the Roof, and all who watched it evaporated instantly in a vaguely aroused mist.) Online, the gala gets its signals productively scrambled, with a lineup of Main Stem heavyweight performers including Raúl Esparza, Beanie Feldstein, Heather Headley, Joshua Henry, and Adrienne Warren, whose Tina Turner in the now-suspended TINA was pure electricity.
19 We Are Who We Are
HBO (9/14)
Luca Guadagnino, director of Call Me
by Your Name, takes us all on another sunny, melancholy sojourn to Italy with his first TV series. Two American Army brats make their way through teenagehood and its attendant complicated emotions.
20 365 days with mxmtoon
Talkhouse (9/14)
Each episode of this daily podcast pairs a general piece of history—Sandra Day O'Connor's appointment to the Supreme Court, say— with a specific piece of music history that happened on that day.
21 The Third Day
HBO (9/14)
This limited series stars Jude Law, Naomie Harris, and Emily Watson in a two-part story (the first three episodes are dubbed "Summer," the last three "Winter") centering on a mysterious island. No, this is not a remake of Lost.
22 Murder in the Kitchen: Peter Saul Early Works
Werner Gallery (9/17)
Meant to bookend the New Museum's tremendous survey "Crime and Punishment" (shut down after 31 days in the spring), this show features powerful early works by the primal proto-Pop artist–cum–bomb-thrower Peter Saul. Witness a master class in painterly nerve, vision, materiality, and supercharged political subjects.
You can read up to 3 premium stories before you subscribe to Magzter GOLD
Log in, if you are already a subscriber
Get unlimited access to thousands of curated premium stories, newspapers and 5,000+ magazines
READ THE ENTIRE ISSUE
August 31–September 13, 2020