What Will the First Day of School Look Like?
New York magazine
|
August 3 - 16, 2020
We're offering this story for free to read so that you can stay updated on the COVID-19 outbreak
Terrified teachers. Obstinate officials. Exhausted parents. Inside the messy, bungled battle to reopen the city's schools.
In late June, while public-school students across the city were attending their graduation or "step-up" ceremonies over Zoom, the NYC Department of Education, as part of its planning for school reopening in the fall, asked every principal in the system to measure their buildings. Armed with floor plans and laser pointers, the principals visited each classroom, noted which ones had windows, and figured out if any other spaces could be converted into classrooms. Then, after dividing the total space by the number of students, they were expected to come up with a reopening plan that would meet social-distancing guidelines—all in less than a month.
To Medi Ford, a high-school teacher in Brooklyn, this seemed crazy. Her principal was smart, creative, and a former science teacher, but she was not a public-health specialist or an epidemiologist. Ford had been in the public-school system long enough to know that there were many principals who would not be up to the challenge. "The DOE just said, 'Good luck to your school. I hope you figure it out,' " Ford told me. "To me, that's a recipe for chaos."
Ford's school is located on the top floors of a former torpedo factory near the Dumbo waterfront. After her principal completed the mandated walk-through, Ford visited the school with her own tape measure. She had been in the building only once since March, when the city's schools had shut down in a whirl of panic and confusion, and she found the experience eerie. She was required to get permission to enter two days in advance and to sign in at the door with a school-safety officer.
Inside, the school was dark and empty. Ford walked through the halls and found that they were less than eight feet wide. The hallways had always belonged to the students: It was where they could escape the confines of the classroom. She took a video of the sink in the hallway that had been out of commission ever since lead was discovered in the water. Fearing cockroaches, she decided to skip the bathrooms and the gym. Entering her classroom, she found it almost exactly as she had left it months ago, a pre-pandemic time capsule. Now, in the era of social distancing, she realized it was far too small for her 20 students. Measuring the tables at which her kids once sat, working in groups, Ford found that they were less than six feet long, meaning they could now accommodate only one student at a time.
"It was sad," she says. It was sad to see her classroom, set up for lively group discussions, rendered unusable. It was sad to imagine her students having to cling to the edges of the hallway as they pass one another. But Ford was also angry. A lot of time had passed since March, and almost nothing had been done to prepare the school to reopen. It seemed unthinkable that it could now be done in time.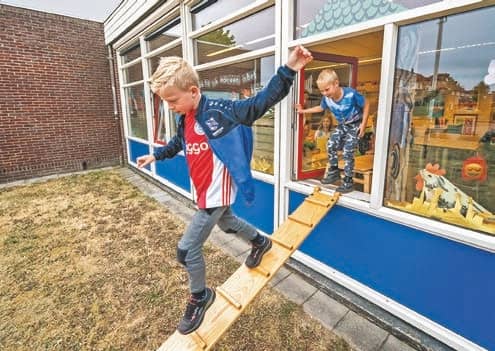 How Other Countries Are Trying to Make Schools Safe
NETHERLANDS – Students use a gangway to avoid crowded exits after elementary schools reopened in May.
AS SCHOOLS STRUGGLE to reopen under conditions of a still-festering pandemic, New York City faces a cruel paradox. Because the virus came here early and did unspeakable damage, and because the city endured a three-month lockdown, New York is now, from a coronavirus perspective, one of the safest urban school districts in the United States. It is therefore theoretically one of the easiest to reopen. But for the very same reasons, it is the hardest school district to reopen. Its employees have seen what the virus can do to entire communities. Its finances have been decimated. Many teachers, like the families of their students, have fled the city for safer ground.
Worst of all, the people charged with preparing the most ambitious school reopening in the country are angry at one another, working at cross-purposes, and full of distrust. Teachers feel they are being asked to jeopardize their very lives to provide an inferior educational experience so that other adults can go off to work. School administrators and staff feel they are being asked to plan the impossible with too little time and too little money. Working parents, especially mothers, find themselves shunted back into the home, sitting alongside their children for hours as they Zoom in to their classes. And looming over all the confusion and divisiveness is a touchy, querulous, voluble mayor who cannot seem to make up his mind. Nearly everything has conspired to prevent the city's schools from reopening at anything close to their full capacity, if they reopen at all.
Teaching is not like any other profession. You aren't sitting at an isolated computer, or driving a vehicle, or hammering nails on a construction site, surrounded by adults who can reasonably be expected to wear masks and observe social distancing. You're in an enclosed space all day, surrounded by kids. You teach them to tie their shoes, open a bag of potato chips; you teach them how to read, how to tell time, what an isosceles triangle is, what caused the Civil War. No one besides their parents can make more of a difference in their lives. Teachers are underpaid, overworked, often overlooked—and, universally, profoundly trusted and beloved.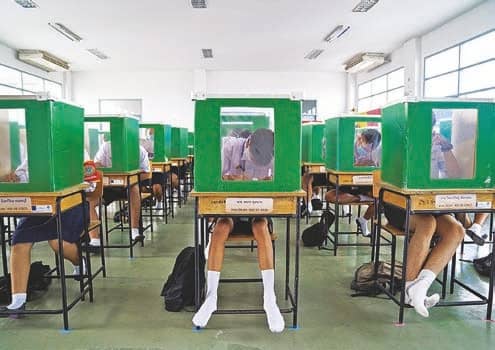 THAILAND – The government mandated that all students wear face masks when schools reopened on July 1. For added protection, desks at a school in Sam Khok were outfitted with old ballot boxes repurposed as partitions.
According to Michael Mulgrew, a former high-school English teacher from Staten Island and now head of the powerful United Federation of Teachers, the union started planning for the fall in the first weeks of April. Mulgrew says the planning committee looked at all sorts of options: "Any plan you can think of, we discussed." The committee's members looked at outdoor learning but concluded that, by the end of October, the weather would be too cold and wet. They explored keeping high-school students at home and letting elementary students spread out into the high schools but could not solve the staffing problem. "A teacher is not just a teacher," Mulgrew says. "An elementary-school teacher is a specialist in child development. A high-school teacher is a specialist in communicating complex concepts. You can't just put a high-school teacher in a class full of kindergartners." In the end, they came back to alternating kids between classroom and remote learning to create enough space for social distancing. "Anyone who does the numbers would see: Either you triple the number of classrooms and teachers or you go hybrid," Mulgrew says. "It's just math. Once you start with the safety piece, it becomes a space and teacher-capacity issue."
Many other school districts across the country were coming to the same conclusion. But in New York, there was a difference: The teachers and the mayor were not speaking to each other.
Mulgrew says the mutual animosity goes back to the winter. In January, a teacher returning from a trip to China was put in quarantine. The following month, after February break, teachers and students returning from field trips to Northern Italy discovered that tests for the virus were almost impossible to come by. "The mayor was out there saying everyone should get tested, but they couldn't get tested," Mulgrew says. Then, in early March, a high-school teacher at Grace Dodge in the Bronx tested positive for the coronavirus— but the DOE refused to close the school, because the teacher had faxed in his test results himself rather than having the hospital do it. "That's when things got super-ugly," Mulgrew says.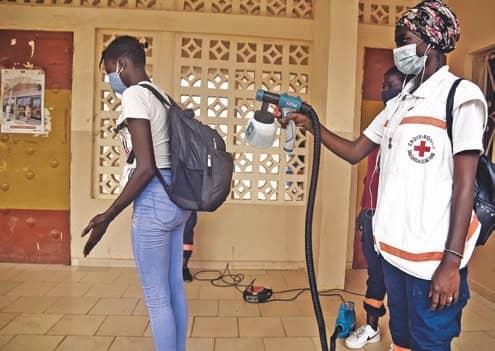 SENEGAL – A red cross worker sprays a student with disinfectant at a school in Dakar in June 25, the first day students returned to examination classes.
On March 12, at a meeting with parents and advocates, Schools Chancellor Richard Carranza was asked about a petition signed by 108,000 people asking the schools to shut down. Carranza replied, flippantly, that when he got a letter from 108,000 epidemiologists, then he would close the schools.
The next morning, Mulgrew had a contentious meeting with Mayor de Blasio. He urged the mayor to close the schools, but de Blasio resisted. "Then he did that press conference," Mulgrew says. De Blasio brandished a letter from a big health-care-workers union arguing that schools needed to stay open so its members could take care of the sick. "Which is rich," Mulgrew says, "because by Sunday, that same union was saying they didn't support that position."
That morning, Mulgrew announced that he would be taking the city to court to close the schools. By the afternoon, the governor and then the mayor announced the schools would be closing.
Since then, Mulgrew and the mayor have spoken only once, on a conference call of the city's school reopening commission.
I ask if that's abnormal, for the mayor not to be talking with the head of the teachers union, especially at a time like this.
Mulgrew agrees. "It's strange," he says.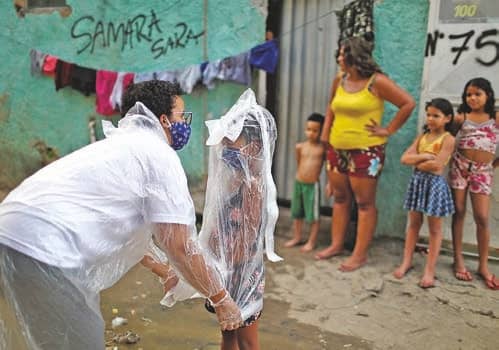 BRAZIL – Maura Silva, a teacher in Rio de Janeiro places a hug kit she created on her student Yasmin de Jesus Ramos before embracing her. Educators in the city are making home visits while they wait for public schools to reopen.
WHEN THE DOE finally issued its preliminary guidance on reopening, in early June, its "spaceutilization analysis" suggested that a "full size" classroom of about 800 square feet could hold nine to 12 students. By the DOE's estimate, that meant most schools would have to divide their student body into two cohorts—one cohort would attend school in person on alternating days or weeks, while the other engaged in "remote learning" at home. The plan devoted an entire page to laying out various possible schedules for the cohorts without addressing more fundamental questions—how, for example, teachers could be expected to juggle both the in-class and remote-learning cohorts simultaneously.
Worse, from the parental perspective, limiting in person classes to 12 students would mean that a fairly typical New York City classroom of 30 kids would have to be split into three cohorts, not two. The principal of P.S. 107, a popular school in Park Slope that appears in Mo Willems's book Knuffle Bunny Too, sent a letter to parents after doing the DOE- mandated walk-through of her building and measuring the classrooms. Absent some kind of intervention, she told parents, their kids would be attending the school in three cohorts this fall. That meant there would be weeks when students would have only one day of school. And what if that day fell on, say, Yom Kippur? For many parents, the city's plans—rolled out slowly and semi-publicly at a time when they were still stuck at home all day with their kids, wrestling with Zoom classes—were a real blow: The pandemic was not over, and it wouldn't be over come fall, and there was no telling when it would be over.
You can read up to 3 premium stories before you subscribe to Magzter GOLD
Log in, if you are already a subscriber
Get unlimited access to thousands of curated premium stories, newspapers and 5,000+ magazines
READ THE ENTIRE ISSUE
August 3 - 16, 2020