The Prom Queen of Instagram
New York magazine
|
September 21 -October 4, 2015
High-school popularity can now exist well outside of high school - particularly if you are a certain kind of teenage girl.
It isn't possible, objectively speaking, to declare one person the most popular teenager in New York City, but if you were making a list, there would be worse places to start than with Lilli Hymowitz. She is 16, the third of three sisters, and the owner of 7,978 followers on Instagram, where she presents her life as a perpetual party, much of which takes place by a pool. I first heard about her from a friend's 15-year-old brother, who had been in the same room as Hymowitz before but was confident she had no idea who he was. This was a great disappointment to him. "Everyone wants to know about her," he said. "She's like a celebrity." He knew whom she was dating, where her five tattoos were located, and when she had patched things up with her best friend after nine months of not speaking. He said that "Lilli's Dark Circus," her 16th-birthday party at Le Bain, had been the "party of the year." Jason Derulo performed, and Hymowitz wore a low-cut black dress that made room for a necklace in the shape of red lips smoking a cigarette. "She's rich and she's pretty and she does whatever she wants," he explained, before adding that her notoriety was of a particularly modern variety. "I guess you could say I know a lot about her from Instagram. I don't really know her."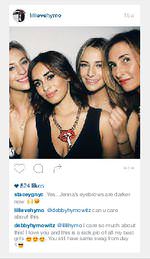 By the standards of real celebrity, Hymowitz's following isn't especially impressive, but for an anonymous teenager lacking famous parents or, by her own admission, a particular skill—"I can't, like, sing"—she is unusually popular online: not quite Instagram famous, but known well beyond the walls of any one school or the connections of any particular circle of real-life friends. For the aspirational caste that makes up much of the city's teenage (and adult) population, Hymowitz represents, as one of them put it, an "Insta-ideal."
She posts photos of herself next to DJs at clubs, wearing an angel outfit for Halloween, and topless in bed covered by strategically placed sheets, along with a smattering of horses and inspirational quotes and pictures of her baby half-brother. Were it cool to use hashtags, which she says it is not, many of her photos could be tagged #squad, to identify the rotating circle of friends in her orbit—attractive, stylish, posing in clubs and next to wineglasses and in the mirror, typically with looks of bemused detachment.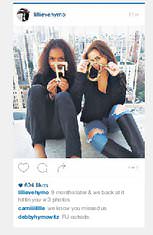 Her following, which is many times larger than the average high schooler's, is a combination of random teens, the horse community, men in the Middle East, mothers in the Midwest, some bots, and people whose primary interest is finding out if she can help them hang out with Jaden Smith, whom she met through Tumblr. "I got a lot of followers when we became friends with some people that have names out there," Hymowitz says. A photo she posted of herself with Madison Beer, a 16-year-old singer, and Hailey Baldwin, Stephen Baldwin's daughter, got 1,836 "likes." In May, 2,182 people liked a photo announcing that Hymowitz had gotten hair extensions.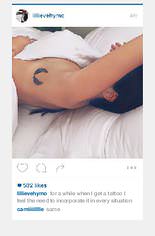 A certain amount of Hymowitz's appeal has to do with her extreme economic privilege—her father, a money manager, recently made the tabloids after trying to build a bowling alley in his townhouse— and though she knows people at Hewitt, Calhoun, Brearley, Columbia, Riverdale, and Dwight, she doesn't know many who go to public school. Fellow teens describe her as a real-life Serena or Blair from Gossip Girl, which is meant as a compliment, or an Upper East Side Kardashian-Jenner, which is not. "Everyone I know including myself is sort of confused by her lifestyle," a Manhattan private-school contemporary told me. "She has so many followers because people seem to be obsessed with seeing how rich young women live and seem to have flawless lives."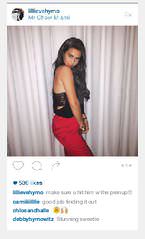 Much of teenage life—the self-definition and posturing, the longing and experimentation—now happens online, such that the pursuit of friends and status and popularity no longer stops at the cafeteria door. Instagram and the like offer Hymowitz a scale of extracurricular notoriety that the popular girls of even ten years ago could never have comprehended. From a distance, that reality can seem disturbing; up close, it's some combination of liberating and terrifying. "You can edit your life on Instagram," Hymowitz says, before admitting, "I think people think I'm cooler than I am."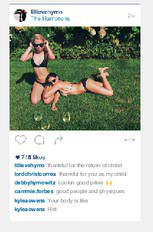 In real life, Hymowitz is five-foot-one when she isn't wearing heels, with dark hair that she is currently trying to lighten, in stages, so that within a couple of months she'll be blonde. She is about to start 11th grade, which she thinks could be auspicious. "Eleven has been my number forever," she says. "My bat mitzvah was on 11/11, and at 11:11:11 we had a countdown." She divides her time between a townhouse (owned by her father) and an apartment (her photographer mother's), both on the Upper East Side. Her favorite places in the city are the Great Lawn and "downtown." She has a fake ID and no curfew. She thinks "big parties are the most intimate," and that there are few feelings better than a shower in the morning after going out the night before. Asked to name her favorite subject in school, she offers the coolest response imaginable: "I hate school."
My first one-on-one audience with Hymowitz took place late one summer afternoon, in Sagaponack, where her father has a home. Like any celebrity, Hymowitz is smaller than she appears onscreen, and I wandered aimlessly around the crushed-rock driveway until spotting her behind a wall of luxury SUVs. Online Hymowitz looks 25, but in person she presents much more like her age. She wore white sweatpants and a blue flannel shirt with don't worry be yonce stitched on the back. Her toenail polish was patchy. She had an Apple Watch on one wrist and three bracelets on the other.
Hymowitz used to spend all summer in the Hamptons, but lately she has preferred to stay in the city with her friends. "They're not interested in just hanging in the backyard doing nothing," her mother, Debby Hymowitz, said of her daughters. We had been watching Lilli compete in the Hampton Classic, a horse show, earlier that day. Lilli, who has been riding since she was 4, is a fixture on the riding circuit, traveling to competitions in Pennsylvania, Florida, and occasionally Europe, but her interest in horses has diminished along with her desire to spend all summer in a beach house with her parents. She had been training less, and in the jumper competition, she got no ribbon. "I tell her, 'Just scale back, make time for other things,' " Debby said. "Life is a puzzle."
Lilli ushered me to the pool, where she settled into a modern white deck chair, crossing her legs on the seat in a pose of serene confidence. It was as if she had been giving interviews all her life, even though she had only done so a few times before, for horse blogs. Debby said hello before heading off to SoulCycle, and Lilli's father, Gregg, stopped by to warn "No drinking," but otherwise Hymowitz handled this on her own. "When I meet people outside New York, they're like, 'You are not 16,' " she said. "I'm just like, 'This is what 16 looks like in New York now.' "
You can read up to 3 premium stories before you subscribe to Magzter GOLD
Log in, if you are already a subscriber
Get unlimited access to thousands of curated premium stories, newspapers and 5,000+ magazines
READ THE ENTIRE ISSUE
September 21 -October 4, 2015