The Eco–Yogi Slumlords of Brooklyn
New York magazine
|
August 31–September 13, 2020
How did a couple who BUILT AN EMPIRE of YOGA STUDIOS, VEGAN RESTAURANTS, and homes with LIVING WALLS" end up as PANDEMIC VILLAINS?
THE BATTLE OF 1214 DEAN STREET commenced on a warm afternoon in early July. Angie Martinez, a 24-year-old Brooklyn native and barista, returned home to the Crown Heights rowhouse she shared with eight roommates to find her landlords, Gennaro Brooks-Church and his ex-partner, Loretta Gendville, crowding the front door with their three children, two dogs, two handymen, and a mattress. Martinez had been paying them $865 a month via Venmo for a room with one window, no heat, and no working fire alarm. The run-down four-story structure, classified as a single-family home by the City of New York, had been illegally converted and rented out by the room. In March, at the start of the coronavirus pandemic, several tenants, including Martinez, had lost their jobs, and in April, many in the house had stopped paying rent.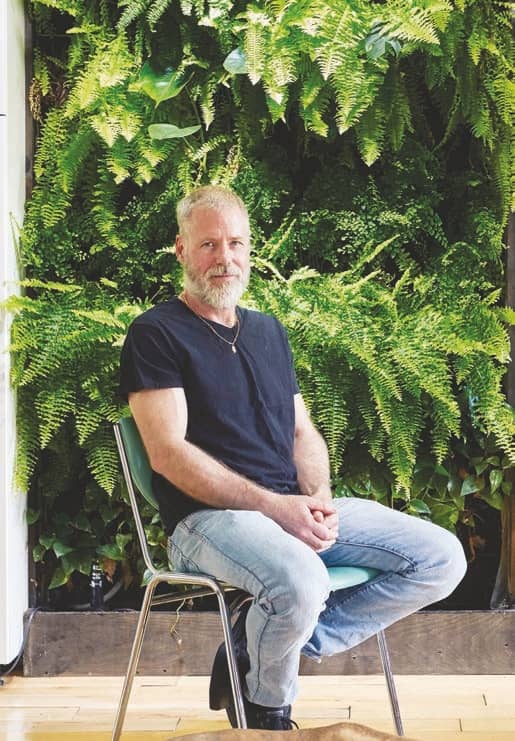 BROOKS-CHURCH and his then partner, LORETTA GENDVILLE, became media darlings during the Brooklyn boom.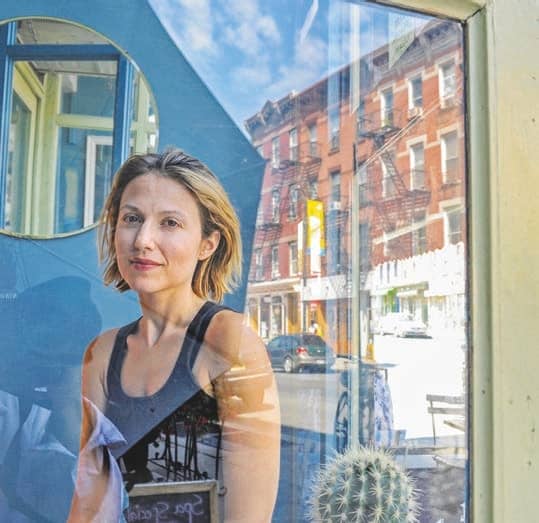 Now, Brooks-Church and Gendville seemed to be moving in. As Martinez approached 1214 from the street, she saw a few of her fellow tenants huddled on the steps outside. Gendville, a wiry blonde in her 40s, screamed at them, calling them squatters. Once inside, she roamed through the house, tenants say, with BrooksChurch close behind. One tenant told Gothamist that Gendville had grabbed her by the wrist as she was getting dressed in her room, ordering her to "get the fuck out." Martinez called 911. Another tenant discovered Gendville's two sons, ages 8 and 12, eating Popsicles in the kitchen. "It's so nice to be home," one of them said. When the handymen started to change the locks, several tenants decided it was better to leave, grabbing what they could and putting their belongings on the street.
After a while, the police arrived. When Martinez identified herself as a tenant, the cops said they were responding to a call from Gendville and Brooks-Church, who had also apparently dialed 911. They told Martinez that the landlords said they had nowhere else to go. Since it was their house, police said, they couldn't make the owners leave. They told Martinez to think of the family as her new roommates. At the same time, Gendville and Brooks-Church could not legally remove the tenants on their own: Not only was a moratorium on evictions in place during the pandemic, but the law requires evictions to be carried out by a sheriff armed with a court order.
Returning to her room, Martinez discovered that her mail had been spread out on her bed next to someone's discarded sun hat. Gendville and the kids eventually left, but Brooks-Church planted himself in the living room. "He was sitting on my chair," Martinez says. "Just sitting there, all night."
The next day, he was still there. One of the tenants contacted organizers at the anti-gentrification group Equality for Flatbush, which put out an appeal on Instagram for reinforcements. "urgent," it read. "Illegal Lock Out in Progress 1214 Dean Street— Go and Support Tenants Now!" By the time the sun went down, close to a hundred people, mostly young Brooklynites with their bikes, were crowded into the front yard and spilling onto the sidewalk. They chanted through their face masks at the gray-haired and -bearded Brooks-Church, dressed in a gray T-shirt and shorts, who stood, stone-faced, on the porch above. Someone beat a tambourine. At around 10 p.m., a human chain of protesters rushed the front door, and Brooks-Church, overwhelmed, fled to his SUV. Over the next two days, the occupiers held watch over 1214 Dean, sustained by donated pizza and beer.
As word of the occupation spread, it became apparent that the landlords were not just New Yorkers of considerable means. They were an ethically sourced, non-GMO, unmarried poster couple for a certain Brooklyn-specific subset of their tax bracket. BrooksChurch, 49, was a "green builder" with a construction company called Eco Brooklyn who had spoken about sustainability at the Brooklyn Public Library; he was a vocal advocate for designating the Gowanus Canal a Superfund site, making it eligible for environmental protections. He did CrossFit. Gendville, 45, was the owner of a restaurant called Planted Community Cafe and a local chain of yoga studios, spas, and children's stores called Area—a "minimogul," according to the New York Times. The pair were currently renting out a brownstone they owned on Airbnb not five miles away, with a tree house and turtle pond, for nearly $800 a night. What could drive two yogic, environmentally conscious, vegan brownstoners to kick out their unemployed tenants during a global pandemic?

"You white liberal phony fake selfish motherfucker!" a Connecticut College professor who had biked to 1214 screamed at Brooks-Church during the protest. "You belong in a Charles Dickens novel!"
He was not far off, though the landlords are more Artful Dodger than Ebenezer Scrooge. Underlying their apparent success is a tangle of questionable business and real-estate practices—some brazen, others not uncommon for entrepreneurs like BrooksChurch and Gendville, smalltime prospectors mining for gold in the postrecession Wild West of Brooklyn gentrification. For those in their orbit, their public cruelty at 1214 Dean Street was not an isolated moment of madness but the inevitable culmination of years of greed and exploitation, exacerbated by the pandemic, in which even those who staked a claim in the Brooklyn boom are finding themselves unable to survive the bust. Though they own two businesses and six properties in one of the country's most expensive real-estate markets, the landlords were apparently homeless.
"I used to call them the Brooklyn Heights Bonnie and Clyde," says a former Area employee. "I had a Google alert set on them for just this kind of thing."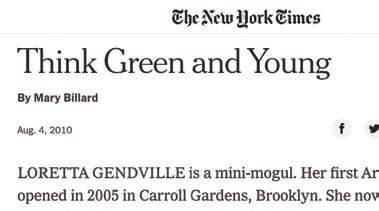 BY ALL ACCOUNTS, Loretta Gendville is not a yogi. She did, however, predict the exact moment that two things were about to take off in Brooklyn: yoga and babies. Gendville grew up outside Chicago and moved to Williamsburg in her early 20s, trained in Swedish massage. Her first venture—funded, she said, with "small private loans" and her American Express card—was a spa in Carroll Gardens in 1998. Two years later, she opened her first yoga studio, on Smith Street, followed by her first retail store, Area Yoga & Baby, which carried maternity and workout clothes.

Gendville met Brooks-Church in an Area Yoga class, according to a person who has known the couple for more than a decade. He was "this sexy Spanish guy," a flâneur type. He had grown up mostly on the resort island of Ibiza, the son of outlaw parents, hippies hunted by the Feds for two antiwar bombings in the '80s until his mother turned herself in and his father reportedly got caught in Arkansas trying to pick up $6 million in cocaine. Brooks-Church became an adherent of Human Design, a pseudoscience combining astrology and chakras, which was created on Ibiza in 1992 by an advertising executive named Alan Krakower, who claimed to have received messages on the meaning of life from an entity called "the Voice."

You can read up to 3 premium stories before you subscribe to Magzter GOLD
Log in, if you are already a subscriber
Get unlimited access to thousands of curated premium stories, newspapers and 5,000+ magazines
READ THE ENTIRE ISSUE
August 31–September 13, 2020