The Culture Pages – Aidy Bryant – "I'm Not Nice!"
With a second season of Shrill and an eighth of SNL, Aidy Bryant has figured out how to get what she wants.
FRIDAYS AT Saturday Night Live are in some ways harder than Saturdays at Saturday Night Live. Mondays are nerve-racking, sure, with writers sitting on the floor of Lorne Michaels's office, lobbing ideas at him and the celebrity host of the week during a Socratic pressure cooker of a pitch session. Tuesdays and Wednesdays are the most fun (near delirious writing days fueled by snacks and seltzer). But Fridays are when the show has to come together. Writers, cast members, and the production team block out sketches, build sets, choose costumes, rehearse, rewrite, reblock, rechoose costumes, consider camera angles and props, and film pretaped segments, often in a 24-hour workday that involves sleeping in the office, if there's any sleep at all.
On one of those recent Fridays, when the stage of Studio 8H erupts in manicured chaos—crew members turn piles of wood into elaborate sets and camera operators zoom around on cranes, narrowly missing the heads of performers—Aidy Bryant, a cast member of eight years, is running through jokes for a sketch she cowrote. "The Corporal" stars her and her sometime writing partner, always office wife, Kate McKinnon, as sisters willing to murder each other and their unwittingly hot third sister (that week's host, Jennifer Lopez) to win the hand of a visiting suitor. It requires a gilded birdcage big enough to fit a human, two vanities, a rifle, a noose, a martini glass full of pills, a rubber lobster, and a corset that has to fly off J.Lo's boobs at the exact right beat.
The sketch includes many of Bryant's signatures: characters inspired by golden-age Hollywood, jokes drenched in murder-y darkness, and a plot that twists the knife into "women's topics," in this case playing into anti-feminist tropes with such absurd dedication they come back round to feminist. And she gets to do it all in a funny voice (she loves a funny voice) as one of her favorite types of characters—what she and her co-writer Sudi Green call "baggooo ladies" (said with a warbling, rich-lady modulation)—a fancy woman who enters a room purse first.
McKinnon and Bryant—who wears a striped T-shirt and black denim mini flares, her long straight hair side-parted like Jan Brady's—start the scene in wheelchairs and, while trying to angle them, end up in a leg fight. On the third run, they're beginning to find their characters and rely less on cue cards. "AHHHHH, siiiiIIiister," Bryant says. McKinnon counters with a more dramatic "AHHHHHHH, sister," in an old-timey voice-off. Bryant grabs McKinnon and pulls her to her bosom, breaking the scene to ask the cameraman, "Does this read as a murdering move to you?" McKinnon shakes with laughter.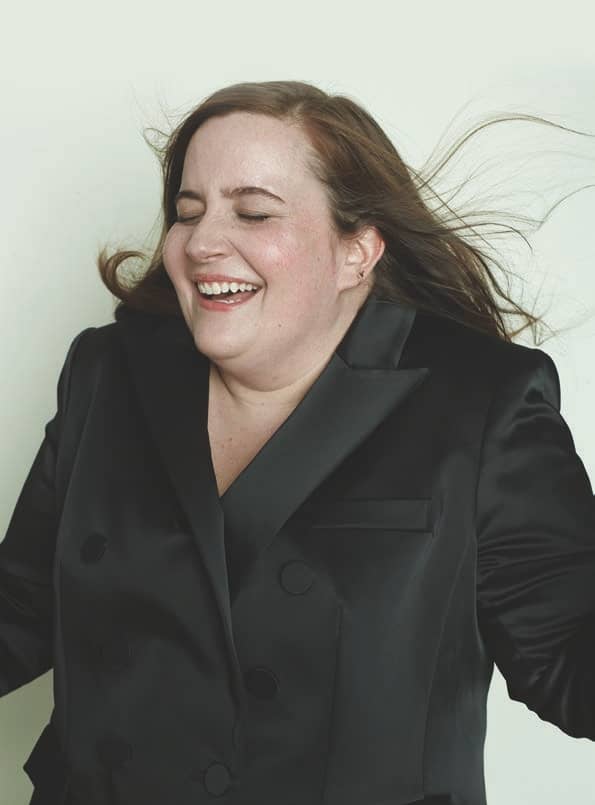 Bryant, who is 32, started the same year as McKinnon and Cecily Strong. But whereas Strong excels at the sexy, bitchy villain, and McKinnon veers toward the scene-stealing oddball, Bryant tends to get cast in roles with an insecure middle-school- student energy. Her characters seem innocuously dippy or so innocent that butter wouldn't melt in their mouths, and it takes a minute to realize she has infused them with a vile twist or a chaotic sexual streak that lurks just under the surface. She often delivers the dirtiest lines in a folksy way that makes streams of profanity or riffs on dildos seem like a church camp sing-along. "There's a juxtaposition with my sweet face," Bryant says of her characters, citing "Girlfriends Talk Show," a recurring sketch with Strong where Bryant plays Morgan, a teen girl supposedly having the time of her life co-hosting a talk show with her best friend but who is actually "just in hell all the time."
Bryant landed "Girlfriends Talk Show" in her first season, and while it was a breakout moment, early reviews had dubbed Strong the star of the new class. It took several more seasons for Bryant to find her beat and her fan base. In 2018, Bryant earned an Emmy nomination for her work on SNL. The following spring, she starred in Shrill, a Hulu series about a discontented 20- something journalist, Annie, who is hell-bent on improving her life.
The show's poster featured Bryant in a purple bathing suit, a Portland, Oregon– hipster Venus on the half-shell, broadcasting her intention to not go dark, exactly, but at least shake off some of the bubbly. Annie has an abortion onscreen​ and throws a flowerpot through a car window, both in the name of non-bullshit, tampon-commercial self-acceptance and empowerment. Shrill also gave Bryant a chance to assert herself as a writer and an executive producer. When the series returns in January, Bryant's character will still be battling to find her self-confidence and see herself clearly, but off-camera, Bryant is already there.
Continue Reading with Magzter GOLD
Log-in, if you are already a subscriber
Get unlimited access to thousands of curated premium stories and 5,000+ magazines
READ THE ENTIRE ISSUE
January 20 - February 2, 2020