The Congress Woman From California
New York magazine|March 2–15, 2020
Katie Hill's rise heralded the arrival of a new and modern political generation. And then the pictures leaked.
Any chance you could grab us a bottle of wine or something? Lol," former California congresswoman Katie Hill texted. We settled on rosé. Hill and I had never met, but she was in the midst of a professional and personal crisis. It was 4:30 in the afternoon, and she would be going live on air with MSNBC's Chris Hayes that night. "rough day," she wrote. I brought wine as well as a bag of pretzels to Hill's Manhattan
hotel room. Wearing leggings and a hoodie, she took the wine and glanced down at her phone. An editor at the New York Times had questions about an op-ed the 32-year-old Hill wrote about contemplating suicide, one that's set to publish the next day; they'd been going back and forth for hours.
This was in early December as Hill scrambled to form a new life after photos of her—some of which she said were taken without her consent—were published online in mid-October. One shows Hill nude, brushing the hair of a junior female campaign staffer, Morgan (referred to here only by first name), in a hotel room. In others, there is Hill naked, holding a bong, with a tattoo of an iron cross—a Nazi-associated symbol used by white supremacists—near her groin; Hill and Morgan kissing. The articles accompanying them include private text messages among Hill, Morgan, and Hill's estranged husband, Kenneth Heslep, detailing a threeway romantic relationship, as well as a claim by Heslep from a since-deleted Facebook post that Hill had had an affair with her male legislative director, Graham Kelly.
Hill released a statement denying the relationship with Kelly and accusing Heslep of spreading the rumor. The House Ethics Committee soon announced it would investigate the allegation related to Kelly (who also denied the relationship). If true, a relationship with Kelly would have violated a Me Too–era rule prohibiting members from having sexual relations with congressional staffers. Immediately after, Hill then released another statement admitting to an inappropriate relationship with Morgan. "I had to admit that, yes, I had this relationship with a campaign staffer," Hill told me. "So, you know, I've admitted to that. And once you've admitted to that one thing, then it brings everything else into question."
When Hill decided to run for office in early 2017, she was part of a surge of first-time candidates who felt a new and urgent pull toward politics. Her ascent in particular was a great American story: Daughter of a cop and a nurse wins long-shot congressional race, becoming unlikely star in Washington. But some of the same aspects of Hill's personality that propelled her as a candidate—the risk-taking, the unfilteredness— were now at the center of a scandal that felt both ultramodern and like the oldest story ever told.
It was nine days from the publication of the first photos to Hill's announcement of her resignation— she'd heard there was a Google drive with roughly 700 images being passed around by political operatives. She was afraid that the photos would be released drip by drip. "I knew so much was still coming," she said. "The ethics thing, it was going to pull our office in, and specifically my staff in, in a really fucked-up way." And then there was the political risk to other House Democrats; she was confident that the scandal would be used against vulnerable colleagues running for reelection.
Hill recognized from the beginning that her relationship with Morgan, which spanned the majority of the campaign and her first months in office, could be problematic in her new role. Yet she did little to protect herself, failing to tell her chief of staff about the indiscretion. The photos and what they revealed about her personal life would have been damning for any politician but had the potential to be especially harmful to someone like Hill—young, female, openly bisexual. Having no plan in place put her at an immediate disadvantage. "You know, honestly, it was one of those things where it was like, Well, I'll just deny it," Hill told me. "Morgan is not accusing me of anything. She doesn't want it to come out any more than I do." Plenty of politicians lie, but it's rare for one to tell a reporter it was her game plan.
There is a story Hill's mother, Rachel Stevenson, likes to tell about her daughter. When Hill was a toddler, "I would ask her if she wanted to do things the hard way or the easy way, and she would look straight at me and say, 'The hard way,' " Stevenson says. Hill later told me the same story, not knowing I'd already heard it, and it became clear that this anecdote wasn't simply family lore but a point of pride—a foundation on which she had constructed both her personal sense of self and her public image as an underdog.
Hill spent most of her childhood in Antelope Valley and Santa Clarita, a mostly middle-class enclave just north of Los Angeles. She told me she had a happy childhood, one spent riding bikes with her younger sister and other kids in the neighborhood, who sometimes pushed one another down hills in barrels. Hill credited her parents with allowing her to be independent: "They really did foster in me … that confidence in knowing I was able to do anything I set my mind to and being willing to take a risk. The risk piece is a big element of this."
She was seemingly always on the fast track. "As a freshman, I was like, High school is dumb, and my closest friends were older than me," she continued. It pained her to think of being left behind, so she took extra courses in her sophomore and junior years in order to graduate by age 16. "I looked down on people who had to study," she said.
Looking back, Hill said she was perhaps too eager to rush through childhood. "If I were to say I have regrets, it would be that I was trying to grow up so fast," she told me. Behind the façade of the brilliant self-starter was a young woman with depression, a fractured family, and the aftermath of what she described as many sexual assaults. (The precise number changes. In two separate interviews in December, Hill recounted to me being sexually assaulted three times. In February, at the Makers Conference in Los Angeles, she told another reporter she'd been sexually assaulted four times "before I even graduated high school.")
Hill told me the first assault happened when she was 8 years old. "It was child on child," she explained, adding that she later found out the other girl, slightly older than she, had herself been molested. Hill didn't tell her parents. "I thought I would be in trouble for having a sexual kind of thing too young," she said. She can't remember if that's when the depression kicked in or if it was more around the time her parents divorced, a year later. Hill's mother remarried relatively quickly—which meant moving an hour away and transferring schools. Hill cried at the wedding, sitting with a female friend whom she now thought of as her first love.
At 15, Hill said, she was assaulted during a trip to France, by a man more than ten years her senior, while she was camping in a park with a friend. "[He] started making out with me and stuff like that. I was drunk, I was kind of like, whatever. But then he got much more handsy, and the other girl who was with me pulled me out of that situation," she said. "Later he came into the tent and got on top of me … We were able to unzip another zipper [on the tent] while I was fighting him off, and we ran." A year later, Hill said, she was sexually assaulted at a party she attended with people she knew from an after-school job. At the time, she perceived it as a consensual encounter, even though she was 16 and she said her attacker was in his early 20s. "I was blackout drunk, and he was a lot older, too, and yeah. It's funny because I say 'we' had sex, but I guess it's not—" Her voice trailed off. Hill told me that the fourth assault also occurred when she was 16, just months before the incident with her coworker. She was taking an EMT class after school, and, she said, the 20-something-year-old teacher's assistant touched and kissed her by the lockers. She ran away and said she was so shaken up that she got into a car accident afterward.
Later that same year, she went to Cancún with a friend, and they decided to get tattoos. Hill chose what she thought was a symbol of independence—a thick black cross that looked like the logo for the skater brand Independent Truck Company—and had the tattoo artist drill the symbol into her groin. "I was just stupid, drunk, and traumatized," she said. "There was a self-harm element to it that was, you know, marking this as my space."
Shortly after returning from the trip, she took a job at a Barnes & Noble, where she met Heslep, who was then 20. Even though Hill was going off to college soon and Heslep's future was more of a question mark, they fell in love. His dad was also a cop, and he and Hill bonded over their mutual love of books. (Heslep did not respond to multiple interview requests.)
At the end of the summer, she started college at Mount Saint Mary's University in Los Angeles, where she had been accepted to study nursing. One night, she was volunteering at a hospital when a teen gunshot victim was rushed in. "I ended up holding his hand while he died and comforting his sister afterward," said Hill. As she recalled it, the moment shook her into realizing that there were social problems she couldn't tackle as a nurse; it's a story she would eventually tell often on the campaign trail. Hill took a semester off to work, enrolled in a community college, and later transferred to nearby California State University, Northridge, where she earned a bachelor's in English and a master's in public administration.
In 2010, Hill and Heslep married. They'd already been active on websites for people seeking alternative relationships, and Hill said Heslep years before had introduced the idea of engaging in threesomes. "I was like, Well, if I'm in this committed relationship that I might be in for the rest of my life, like, how else am I going to be able to [be with a woman]? It never seemed like an option to me to have a separate relationship with a woman," said Hill. Not long after exchanging vows, Hill and Heslep entered their first three-person, long-term relationship with a woman they'd met on OkCupid. Hes lep had also been posting intimate photos of Hill on various websites, which Hill said she knew about at the time. Her face wasn't visible, she said, and she wasn't thinking about any future consequences. "I was a fucking college student, you know? And it was like, Okay, well, I'm down to try, right?"
Hill began a career in the nonprofit sector, first working at an organization that helps at-risk youth, then at People Assisting the Homeless (path), where she was employed for eight years. Hill worked her way up to executive director, managing a $50 million budget and earning $174,000 a year. Heslep briefly held a job as an EMT and also worked at path in a role Hill said wasn't under her purview. But from 2014 on, he was unemployed. They bought the small ranch where Heslep grew up, and while Hill worked, Heslep tended to their dogs, goats, and chickens. The couple tried to have children, but Hill said she was diagnosed with endometriosis and had to have an ovary removed.
Hill never thought about a career in politics until President Trump's win. But she did have relevant experience: At path, she'd worked on a $1.2 billion bond measure to provide homelessness relief in the Los Angeles area, which gave her a taste for legislating. She had management chops and genuine roots in the district. At the Women's March, among pink hats and feminist signs, she saw an opportunity. "I knew there was going to be an advantage to being the first one in the race," she said, "and generating excitement as the young woman running."
To kick off her campaign for Congress, Hill, then 29, organized a meeting at a local Chili's with family members and close friends to talk strategy. "I hate to say it, but I don't think anyone thought that it was ever going to happen," says Stevenson. Hill not only made it through the primary but went on to defeat the Republican incumbent, Steve Knight—in a district that had been represented by a Republican for more than two decades—by 9 percentage points.
Even in the earliest weeks of her campaign, Hill proved to be a charismatic natural, able to position herself as both progressive enough for the resistance and palatable enough for moderates and independents. She was openly bisexual but married to a man. She supported gun-safety legislation but owned a gun herself. Hill sold herself as a "pragmatic progressive," the scrappy daughter of a Republican who would cut through the bullshit in Washington and work across the aisle.
To talk about the opioid crisis, she wrote a piece for a local paper about her 17-year-old half-brother's drug use, detailing how she'd helped him recover. To address her views on health care, she wrote a story for BuzzFeed about how Heslep's lung had collapsed on the day of her bridal shower, putting the couple $200,000 in debt. In reaction to Knight's voting for a 20-week abortion ban, Hill posted a video to Facebook, detailing how she'd had an unplanned pregnancy at 18. In the video, Hill, who is pro-choice, says she contemplated having an abortion—only to suffer a miscarriage while deciding whether to continue the pregnancy. (It's a narrative that also doesn't alienate either side of the abortion debate.) When # WhyIDidntReport began trending on Twitter, Hill shared a video about surviving sexual assault. On World Suicide Prevention Day, she tweeted that it was the second anniversary of a friend's death from suicide by gun.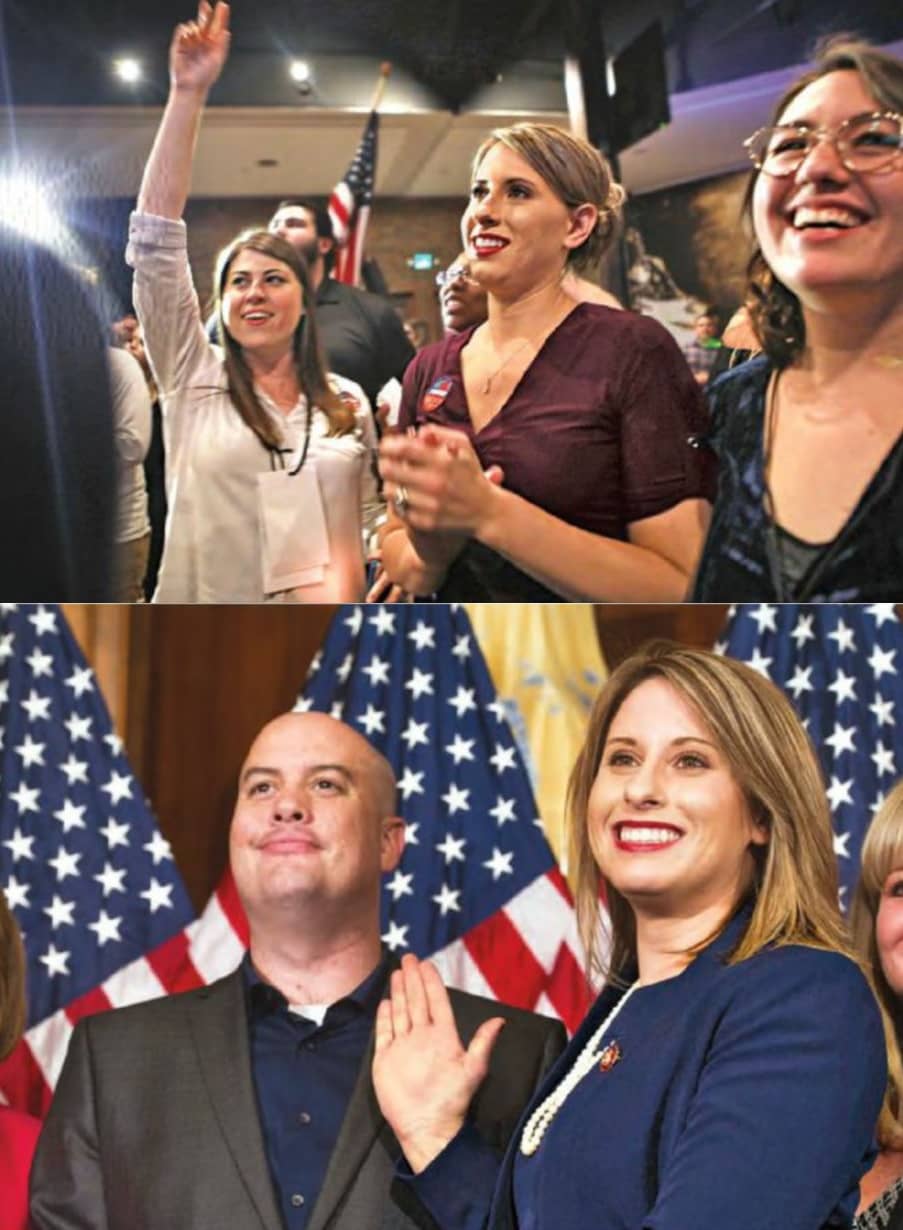 "I guess it was a conscious decision in the beginning when I decided to run. I wanted to share the stories I felt like people needed," Hill told me. "At some point, people were like, 'She's just got a story for everything,' and it feels a little ridiculous, but this happened to me, and it just keeps adding up."
You can read up to 3 premium stories before you subscribe to Magzter GOLD
Log in, if you are already a subscriber
Get unlimited access to thousands of curated premium stories and 5,000+ magazines
READ THE ENTIRE ISSUE
March 2–15, 2020