TRUMP INTERNATIONAL HOTEL WINNERS
New York magazine
|
October 26– November 08, 2020
Fifty-one insiders who profited off the Trump presidency. A collaboration with WNYC's Trump, Inc. podcast.
On April 30, 2018, nine top executives from T-Mobile checked in to the Trump International Hotel in Washington, D.C., with their names on a list of VIP arrivals. They landed in Washington at a critical moment: Just the day before, T-Mobile had announced plans for a merger with Sprint. To complete the deal, the company needed approval from the Justice Department, one block away on Pennsylvania Avenue. Hanging out in the lobby in his trademark hot-pink-and-black T-Mobile hoodie, then CEO John Legere was instantly recognizable to hotel guests. His company wasn't just patronizing the president's hotel. It was advertising that it was doing so.
That evening, in a closed-door suite just off the hotel lobby, a small group of political donors got to have dinner with the president of the United States. The guests included a steel magnate, who complained to the president about rules limiting the number of hours a trucker could be on the road, and a property developer, who suggested holding the next summit with Kim Jong-un at a site he had built near Seoul.
Also in the mix were two then-obscure businessmen, Lev Parnas and Igor Fruman. They had secured an invite to the dinner after promising a $325,000 donation to a Trump-aligned super-pac. Like the other guests, they came with an agenda. Parnas and Fruman wanted to build an energy business in Ukraine but felt the U.S. ambassador in Kiev, Marie Yovanovitch, stood in their way. Parnas fed the president a fabrication that was sure to get his attention: that Yovanovitch was an anti-Trumper. "She's basically walking around telling everybody, 'Wait, he's going to get impeached,' " Parnas told the president. Trump was enraged.
Parnas and Fruman and the T-Mobile executives were pulling the same lever that night. And they all got results. T-Mobile's merger was later approved, and Ambassador Yovanovitch was abruptly removed from the U.S. Embassy in Kiev. Later, Parnas and Fruman were indicted on a campaign-finance-violations charge (they had concealed the origins of their super-pac donation) and were arrested with one-way tickets to Vienna in hand. (They have pleaded not guilty and face trial in 2021.) Trump claimed he did not know them.
This is the Washington Trump has built these past four years, where people who patronize Trump businesses can expect preferential treatment, where a deputy secretary can oversee a bailout that benefits his family's company, where administration officials fly in private jets paid for by the public—and where top government officials don't bother to divest from industries whose policies they oversee.
It started at the top, of course. Just nine days before his inauguration, Trump held his first news conference as president-elect. Presiding over a table with towering stacks of folders, Trump's lawyer suggested there would be a "wall" between Trump's business and his presidency, even though Trump himself made it quite clear that he would not be divesting. "I have a no-conflict situation because I'm president," Trump said. "I could run the Trump Organization, great, great company, and I could run the company—the country," he added. "I'd do a very, very good job, but I don't want to do that."
Trump never separated himself from his company in any meaningful way. Trump's daughter Ivanka Trump and her husband, Jared Kushner, also didn't fully divest from their business interests. The couple made tens of millions of dollars from an array of limited-liability companies while also serving in the White House. Trump's Commerce secretary, Wilbur Ross, pledged to Congress that he would largely sell off his assets, then took dozens of meetings with executives to whose companies he had personal financial ties. Others did divest, but then proceeded to use their agency budgets as their personal piggy banks.
Friends, donors, and hangers-on also thrived. Top GOP financier Elliott Broidy leveraged his fundraising into access, including a meeting in the Oval Office. Broidy attempted to use that access as a calling card with foreign officials from whom he sought security contracts.
Like several other beneficiaries of Trump's generosity, Broidy eventually found himself in legal trouble, pleading guilty to violating foreign-lobbying laws on behalf of Malaysian and Chinese clients. But many Trump affiliates benefited in ways that are perfectly legal. Attorney William S. Consovoy, who argued before an appeals court last fall that Trump could shoot someone on Fifth Avenue and be shielded from all consequences (the judges were unpersuaded), brought in $2 million from the RNC and Trump-campaign committees. Others sought the ultimate benefit: freedom. Roger Stone, who would not turn on Trump despite the threat of jail time, was one of many Trump loyalists and allies to receive clemency from the president.
To be sure, a lot of people found ways to benefit from Trump's time in office: journalists, progressive nonprofits, high earners— Trump donors or not. But Trump profiteers went far beyond what used to count as standard-issue Washington swampiness. New York partnered with WNYC's Trump, Inc. podcast to identify 51 such insiders, whose unprecedented ability to gain from the Trump presidency will go down in history. Their schemes became ever more brazen these past four years, even as their goals shifted. The initial grifts tended to be strictly transactional on the model of the Trump Organization itself, through which the Trump name could be had by nearly anyone for the right price. Later on, not just money but power became the president's currency. The quids became subtler: shielding Trump from legal consequences, investigating a political opponent, providing an intellectual rationale for understanding the presidency as Trump sees it—not as a civic duty but as a business.
ANDREA BERNSTEIN AND ILYA MARRITZ
ADELSON, SHELDON
Republican megadonor and casino magnate
THE BILLIONAIRE casino mogul was one of Trump's largest donors in 2016, when he and his wife, Miriam, gave $20 million to a Trump-supporting super-pac and $5 million to the president's inaugural fund. This year, the Adelsons outdid themselves, giving $75 million to the pro-Trump Preserve America pac. Adelson and the president speak roughly once a month, often about a chief concern of Adelson's: Israel, where he has made huge media investments, including in the country's largest daily newspaper, the Trump-boosting Israel Hayom. Israel is an area where Trump has been uniquely decisive; he cut aid to Palestinians, moved the U.S. Embassy to Jerusalem from Tel Aviv, and hosted treaty signings with the United Arab Emirates and Bahrain.
Adelson, until recently, had one opportunity he called his "holy grail": a Japanese casino license. His close relationship with the president bore fruit in February 2017, when, according to ProPublica, Trump raised the issue of Adelson's casino bid with Japanese prime minister Shinzo Abe during a dinner at Mara-Lago. Although Adelson would drop the bid amid the coronavirus pandemic, opening a casino in Japan could have earned his company tens of billions a year.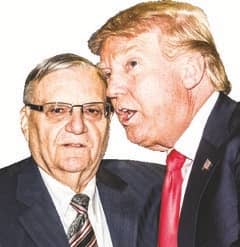 ARPAIO, JOE
Former sheriff of Maricopa County, Arizona
AS SHERIFF OF Maricopa County, Arpaio was maniacally focused on going after suspected undocumented immigrants—targeting Hispanic neighborhoods and detaining people without evidence they had broken the law. A judge ordered him to stop his immigration roundups, but he didn't, and in July 2017, Arpaio was found guilty of criminal contempt for violating the order.
Arpaio, who campaigned for Trump in 2016, faced up to six months in prison. Then Trump granted his first pardon. A White House statement praised the former sheriff for "protecting the public from the scourges of crime and illegal immigration." Arpaio thanked Trump in a tweet, likening his conviction to "a political witch hunt by holdovers in the Obama justice department." (Like Trump, Arpaio had promoted the false conspiracy theory that President Obama was not born in the United States.)
Pardoning loyal political allies has become the norm under Trump. According to an analysis by Lawfare, the majority of Trump's pardons or commutations have been self-serving in some way. (see also Blagojevich, Rod; Stone, Roger.)
BALLARD, BRIAN
Lobbyist
POLITICO CALLED HIM "the most powerful lobbyist in Trump's Washington," with a client list ranging from Amazon to Zimbabwe. Ballard's mystique flows from the fact that his clients really do get results; one of them, private-prison builder GEO Group, scored a number of big contracts after signing with Ballard. While representing Turkey and a Turkish-owned bank that was then under investigation for sanctions violations, Ballard's lobbyists had conversations with Trump attorney Jay Sekulow, a number of White House advisers, Mike Pence's chief of staff, and top people in the State Department and Treasury. Ballard makes sure the money flows back to Trump, too: He's a top Trump fund-raiser, and Ballard's clients are patrons of Trump properties.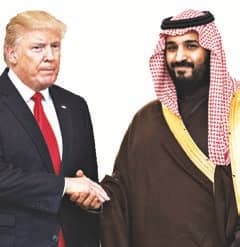 BIN SALMAN, MOHAMMED
Crown prince of Saudi Arabia
SAUDI ARABIA'S crown prince, known as MBS, wasted no time in cozying up to Jared Kushner—early in Trump's presidency, the two were said to have had long phone calls and multiple visits, during which they stayed up late into the night talking about the future. Trump has tolerated the kingdom's bombing campaign in Yemen, its decision to send oil prices plummeting, and, most notably, the state-ordered murder of Washington Post journalist Jamal Khashoggi in Turkey in 2018. And he made clear why: "They buy massive amounts … of military equipment," he told Meet the Press. "As long as they keep buying, you'll overlook this behavior?" asked NBC's Chuck Todd. Trump responded, "No, but I'm not like a fool that says we don't want to do business with them."
BLAGOJEVICH, ROD
Former governor of Illinois
WHEN TRUMP TOOK office, Blagojevich (whom Trump had fired on Celebrity Apprentice) was serving a 14-year sentence after being convicted of bribery, wire fraud, attempted extortion, and conspiracy. Then Blagojevich's wife, Patti, began appearing on Fox campaigning for her husband's early release. She flattered Trump, criticized President Obama's Justice Department, and drew comparisons between Blagojevich's prosecution and investigations into the Trump campaign. Trump took notice. When he commuted Blagojevich's sentence in 2020, he claimed the prosecution
BANNON, STEVE
Former strategic adviser
TRUMP CATAPULTED Bannon from fringe rightwing-media provocateur to household name. After being forced out of the White House in August 2017, Bannon sought to capitalize on his celebrity abroad, meeting with the likes of Marine Le Pen and planning a right-wing boot camp in an Italian monastery. Back home, he helped lead a crowdfunding campaign to construct a privately funded border wall that raised $25 million. But federal officials allege that Bannon, along with three other businessmen, in fact constructed fewer than five miles of shoddy, subpar wall and looted the campaign's coffers for themselves. (Bannon is alleged to have pocketed $1 million.) He has pleaded not guilty. had been perpetrated by "the same people." Blagojevich's commutation was one of many acts of clemency that served the president's personal or political interests. (see also Arpaio, Joe; Stone, Roger.) The former Democratic governor has since endorsed the president, declaring himself a "Trumpocrat."
BRANSTAD, ERIC
Former Commerce Department aide
"PRESIDENT xi of China, and I, are working together to give massive Chinese phone company, ZTE, a way to get back into business, fast," Trump tweeted on May 13, 2018. The unexpected declaration, coming one month after Trump's Commerce Department had banned ZTE from purchasing American-made parts because it had sold technology to North Korea and Iran, floored his own national security adviser, John Bolton, who later called it "policy by personal whim and impulse." But it must have delighted Branstad.
At the time, Branstad was working at the lobbying firm Mercury Public Affairs, which had a $75,000-a-month contract with a law firm hired by ZTE to roll back the sanctions. According to the Intercept, Branstad took the gig at Mercury just months after stepping down from his job at the Commerce Department. Even more troubling, Branstad's father, former six-term governor of Iowa Terry Branstad, was serving as ambassador to China.
Though Branstad never registered as a lobbyist for ZTE, in June 2018, he and a ZTE lobbyist at Mercury did travel to China, where they met with Chinese-government groups. In an interview with the Intercept, Branstad denied involvement with Mercury's ZTE account and said he had traveled to China to "culturally connect and show good feelings." (Ethics rules clearly prohibit former officials from lobbying their own departments for five years after they leave.) He now works as a senior adviser to the Trump campaign.
BROIDY, ELLIOTT
Republican fund-raiser
ON OCTOBER 20, the defense contractor and longtime Republican fund-raiser pleaded guilty to using his access to the Trump administration to make millions by secretly lobbying on behalf of foreign governments. Prosecutors allege that a Malaysian businessman paid Broidy $6 million to lobby President Trump and senior administration officials to end an investigation into the multibillion-dollar embezzlement scheme known as 1MDB; Broidy and his associates stood to make $80 million if their intervention was successful. This is just one-way Broidy tried to trade access to the president for contracts from foreign countries, including Romania, Angola, and the United Arab Emirates.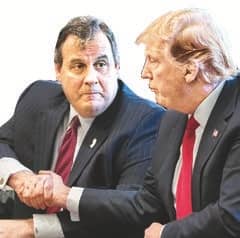 CHRISTIE, CHRIS
Former governor of New Jersey
CHRISTIE WAS OUSTED from Trump's transition team after Jared Kushner—whose father Christie had sent to prison—took "an ax" to Christie's head, as Steve Bannon described it, per the former governor. But Christie has maintained a channel to Trump, dining with him in the White House and prepping him for the first debate. That relationship came in handy during the pandemic, when Christie began lobbying the Trump administration on behalf of companies seeking coronavirus relief funds. He registered to become a lobbyist in June; since then, his firm has already collected $600,000 in fees, according to Senate filings. When he first started advertising his services earlier this year, he made it clear he was selling his unique access, saying in one pitch obtained by Politico that he had "worked closely during three presidential administrations with the executive office of the president and Cabinet-level officials across the U.S. government."
CONSOVOY, WILLIAM S.
Attorney and partner at Consovoy McCarthy PLLC
WHILE MANY OF Trump's lawyers work to translate the president's incendiary rhetoric into legalese, Consovoy, a former law clerk to Clarence Thomas, is one of Trump's fiercest defenders. He has fought to keep Trump's personal financial information private, defended Trump in an emoluments case over his D.C. hotel, and argued that a sitting president can't be criminally investigated. Work for the Trump campaign and the RNC has earned his firm more than $2 million.
DIGENOVA, JOE
(See TOENSING, VICTORIA)
ELLISON, LARRY
Co-founder and executive chairman of Oracle
You can read up to 3 premium stories before you subscribe to Magzter GOLD
Log in, if you are already a subscriber
Get unlimited access to thousands of curated premium stories, newspapers and 5,000+ magazines
READ THE ENTIRE ISSUE
October 26– November 08, 2020