Sleeping With Andy Warhol
New York magazine|July 20 - August 02, 2020
In 1962, a young poet named John Giorno met the Pop Art God, who in turn made him his first superstar. For a little while, they were in love.
I first saw Andy at openings at Dick Bellamy's Green Gallery and at the Pop Art show at the Sidney Janis Gallery on October 31, 1962. It was the very first show of the original seven Pop artists— Warhol, Lichtenstein, Rosenquist, Segal, Wesselmann, Dine, and Indiana—and it so outraged and offended the old-guard Abstract Expressionists (de Kooning, Rothko, Motherwell, etc.) that they all resigned from the Janis Gallery in protest. It was the Halloween that changed art history.
Several days later with my friend the painter Wynn Chamberlain, I went to the opening of Andy Warhol's first one-man show, at the Stable Gallery. It was right after the Cuban Missile Crisis, and everyone believed a nuclear war could actually happen at any moment. Gold Marilyn Monroe hung on the wall as you entered. This was it! Troy Donahue, Red Elvis, serial paintings of Campbell's soup cans, Coke bottles, and dollar bills. Everyone in the art world was there.
I stood in the very crowded gallery, a little dazed. I knew it was better not to have complicated thoughts about the art, but to simply be with it. Experience it beyond concepts, in the very noisy room. We walked up to Andy, and Wynn said, "I'd like to introduce a young poet, Giorno."
I took hold of Andy's soft hand, which dangled from his wrist, and squeezed it. We looked in each other's eyes. Something happened a spark.
"Ohhh!" hummed Andy. I dropped his hand. "I love the show," said Wynn. Andy was pleased. Over the next few months, I ran into Andy at art openings, parties, and Happenings. Sometimes I said hi to Andy, but there was almost no interaction.
Finally, in the spring of 1963, at the opening of Salvatore Scarpitta's show at Leo Castelli Gallery (paintings of abused found objects sunk into brownish, grayish paint), Wynn said to Andy, "Come to dinner tomorrow night. John and I are going to see Yvonne Rainer at Judson Church, and we can all go together."
"Oh, yes," said Andy. I was surprised, as Andy and Wynn didn't really know each other.
Beforehand, Wynn was having this small dinner in his loft on the top floor of 222 Bowery. He invited Bobo Keely, an Upper East Side friend, Andy, and me. Wynn cooked a wonderful dinner of coq au vin. We drank wine—I more glasses than anyone, and Andy almost none—and had a good time. Andy and I were getting to know each other.
The four of us rushed to Judson for the 8:30 performance.
Yvonne danced her brilliant new work. Andy and I sat next to each other, and it felt wonderful.
Afterward, saying good-bye, I said, "Good night, it's so great being with you. We should get together?"
"What about tomorrow night?" said Andy. "There's the premiere of Jack Smith's Flaming Creatures."
I was a little surprised at Andy's enthusiasm. Jack had already been screening Flaming Creatures in people's lofts, and everyone, including me, had seen it many times. It was already a cult classic. But this was the premiere, as in Hollywood premiere, which excited Andy. So, of course, I agreed.
"Here's my telephone. Do you have a piece of paper?" Andy scribbled his number on a matchbook cover. AT9-1298. AT stood for Atwater.
The next night, Andy and I went to the midnight premiere at the Bleecker Street Cinema.
"It's so beautiful." Andy was really interested in Jack Smith. Jack was a genius and a mess, and always fucked everything up for himself. Andy was able to take many important ideas from Jack, which then went into the making of "Andy Warhol." Among them, Jack coined the term "superstar."

Andy and I started going out all the time, cultivating and embracing our own peculiar vision of New York culture.
More pivotal things occurred in 1963 than any other year, except 1968, which was the end of the '60s. In 1962, all the Pop artists had had their first one-person shows, and in 1963, they were having their second shows and becoming more established. The Judson Dance Theater happened every Wednesday night. There were countless dance and music events.
Andy and I saw each other almost every night. We spoke on the telephone every morning and made a plan. I picked him up at his townhouse on Lexington Avenue and East 89th Street, and we went together to openings, Happenings, underground movies, and parties. There were so many things going on.
It was a sweet earthquake. I still had my job on Wall Street during the day, but it soon felt like the most important part of my life was Andy. Sexually speaking, we fell into an odd pattern: When I was drunk enough, he would blow me. Or when I was still in bed hung-over, he would call, ask me what I was wearing, and then show up. It didn't happen that often (I was going to the baths and hooking up with other people), but there was a flow of sexual energy between us.
ANDY WAS THINKING OF SHOOTING a movie called Kiss and wasn't sure he wanted to use Naomi Levine for the tight headshot kissing ten guys. I said, "Why don't you have two men kissing?" Andy turned slightly away and deemed it not worthy of an answer. I was a poet from the world of William Burroughs and Allen Ginsberg, and we were concerned with the sexual freedom of gay men and lesbians.
"Why don't you have two guys kissing, but like Doris Day and Rock Hudson?" Andy was silent and scornful. "Or two women?"
Andy said, "Ewww!" A week later, I asked again, and Andy sighed, "Oh, John!" which meant, Don't you get it?
Eight years earlier, in 1955, the Bonwit Teller department store in New York had commissioned artists to create displays in its front windows on Fifth Avenue. By chance, Andy's window was next to the window of Bob Rauschenberg and Jasper Johns; they installed them on the same night. In his design, Andy used a photograph of a gorgeous transvestite posed as a fashion model, who passed to the public as a woman.
"Bob and Jasper came and looked at what I was doing," Andy recalled, "and laughed at me. They pointed their fingers and laughed. They were so mean!" The old-guard Abstract Expressionists had been (and still were) notoriously homophobic. Only straight guys, like themselves, were great painters. Queers, like the friends of their fag-hag wives, were not eligible. Inheriting and internalizing that loathing, gay artists like Rauschenberg and Johns didn't talk about their sexuality and shunned homoerotic imagery in their work.
Against this, Andy was a gay man, undeniably swish, his work openly homoerotic. In the 1950s, this was daring and heroic. Andy made drawings for private view—a man's foot and a male head with a licking tongue, and a hard dick hanging from half-opened jeans. And those made for the public were full of innuendo— portraits of drag queens, fetishistic outline drawings of sexy male feet.
Then, in 1958, he was nominated for the Tanager Gallery, an artists' cooperative, but was turned down, rejected because he was too fey. Andy got the message and realized that being a gay artist was the kiss of death. Gay was a subculture and a dead-end; Andy wanted popular culture. To access a large commercial audience, he got rid of the gay content. In his most famous work, the homoerotic would be subverted and hidden.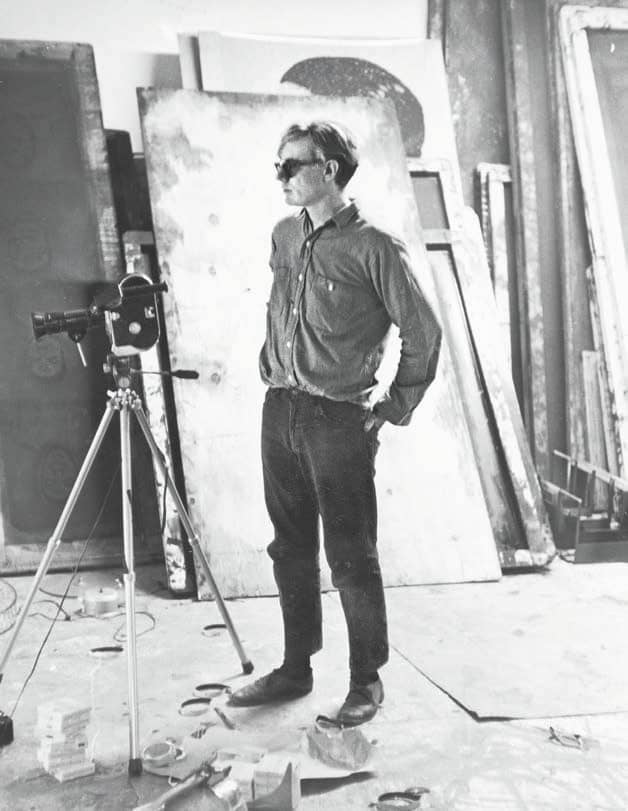 That year, Jonas Mekas coined the term and invented the phenomenon called "underground cinema." He pulled together a generation of young filmmakers by giving them venues and writing about them in his magazine, Film Culture. He rented small, run-down theaters around the city that happened to be empty for the night. Through word of mouth, everyone came. Andy and I went to the movies once, twice, or three times a week, every week for a year. There was Ron Rice's Chumlum, Kenneth Anger's Scorpio Rising, pieces of Ken Jacobs's Star Spangled to Death, a rough cut of Taylor Mead in The Queen of Sheba Meets the Atom Man and The Flower Thief, both by Ron Rice. We saw them many times, as Jonas replayed them in different combinations, always putting the new film last, so we had to see the others over and over again. Andy and I saw Flaming Creatures at least 30 times. These films had an enormous impact on Andy. It was where he got the idea to make movies. He saw what film was, what it could be.
On a long weekend in late May 1963, Andy, Bob Indiana, Marisol, and I went up by train to Old Lyme, Connecticut, to visit Wynn. He had rented a farmhouse for the summer.
You can read up to 3 premium stories before you subscribe to Magzter GOLD
Log in, if you are already a subscriber
Get unlimited access to thousands of curated premium stories and 5,000+ magazines
READ THE ENTIRE ISSUE
July 20 - August 02, 2020