Remembrance: Milton Glaser, 1929–2020
New York magazineJuly 6-19, 2020
IF THEY'RE TALENTED AND THEY'RE LUCKY, designer-artist-creators get to lob an icon out into the larger culture—the ultrafamiliar shape of Leo Fender's Stratocaster guitar, say, or Shepard Fairey's Obama poster. If they're great, maybe they create two. Milton Glaser, though, operated on another plane—he just kept hitting the bull's-eye, again and again, throughout his seven decades as an illustrator, graphic designer, art director, and visual philosopher and paterfamilias. He loved New York City and celebrated it in multiple ways: with a magazine, with posters, and (most visibly of all) with the three-letters-and-a-red-heart slogan he created. Almost incidentally, he also changed the way you eat.
Milton Glaser died on June 26, his 91st birthday, of natural causes after an extremely long and productive career. Around our office, of course, he will forever be recalled as one of the small team of men and women who, in the late '60s, yanked New York out of the newspaper morgue and turned it into a great American magazine. In 1966, the Esquire alumnus Clay Felker had been editing the Sunday supplement of the New York Herald Tribune—which was called New York—when the paper shut down. It came back for a few months at a merged entity called the World Journal Tribune, until that paper also crashed and burned. Over the next year, Felker and Glaser devised a plan to reincarnate it on its own, as a weekly glossy magazine, using the best and most inventive writers from the Trib and Esquire and various other places. It was a near-starvation operation when they launched it in the first week of April 1968, and it was also a hit. New York soon became the hottest and liveliest magazine in America, in large part because Glaser's design was crisp and understated and bright and poppy. He drew the logo that's on the cover of this issue, which has been tweaked over the years but is fundamentally the same one that appeared on Vol. 1, No. 1 (and also on the really wonderful poster, shown on page 12, that he drew for the launch).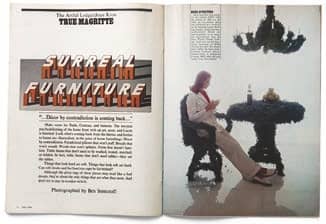 If you met him, you were probably struck by his voice, which was deep and chesty, simultaneously aristocratic and grounded, elevated in tone but capable of operating at street level. With his distinctive and gradually graying beard, he served as the cerebral, vaguely rabbinical foil to Felker, who could be, for all his better qualities, a shouty and mercurial boss. Felker would yell, Glaser would rumble back, and something good usually came of it. Their employees nicknamed them the Twin Towers.
You can read up to 3 premium stories before you subscribe to Magzter GOLD
Log in, if you are already a subscriber
Get unlimited access to thousands of curated premium stories, newspapers and 5,000+ magazines
READ THE ENTIRE ISSUE
July 6-19, 2020