Michaela the DESTROYER
New York magazineJuly 6-19, 2020
How a young talent from East London went from open-mic nights to making the most sublimely unsettling show of the year.
By E. Alex Jung / Photograph by Ruth Ossai
Michaela Coel is not a Christian anymore, but the spirit has never left her. The Bible is the reason she started writing. Her first poem, "Beautiful," was inspired by Psalm 139, and it's still as clear as crystal. "I am fearfully and wonderfully made," she recites. When she writes, she gets the same feeling she did one Sunday when she was 18 years old and her hand shot into the air during the altar call. She ran to the pulpit, tears streaming down her face, ready to accept Jesus Christ as her personal lord and savior. She cries and cries and cries as she writes because it all feels so big—the pain, the ecstasy—and whether you call that thing God or the cosmos or simply inspiration she isn't sure, but she knows it is holy and precious. "I can't name what that is, because I'm never going to know," she says. "I open myself up as a vessel for the story to come through."
She writes until there is no time left to write. "I go up into a mountain, and I come back with 12 containers of vomit and these are the episodes," she says. "My team acts as if it's a great takeaway, like, 'Wow, this food is really interesting! What are these aromas? What's here?' " She takes notes and retreats to another secluded area—often the vacant pied-à-terre of a wealthy benefactor—where she'll write and cry and expel her guts again. She wrote 191 drafts of I May Destroy You, her sprawling, 12-episode HBO-BBC series that fictionalizes the story of her sexual assault. There is no writers' room; she is her own fuel and engine. As she imagines her onscreen character, Arabella, she considers her own life and the lives of others. She has revelations. She calls exes who have wronged her; she tells them that whatever happened between them was an inevitable collision, like two intersecting comets, and she releases them. She realizes she's still holding on to the hurt of her father's absence during her childhood, and she releases herself.
I May Destroy You feels possible only because now, at the age of 32, Coel is in full creative control as its showrunner, director, star, and writer. She broke into TV at 28 with the first season of her fourth-wall busting, bafta-award– winning comedy Chewing Gum, about a girl desperate to lose her virginity. While pulling an allnighter drafting its second season in 2016, she took a break to meet up with a friend at a bar; Coel's drink was spiked, and she was sexually assaulted by two men. She found herself returning to consciousness at the Fremantle Media production office, where she'd been working, her phone smashed, and finished the episode in what she would later learn was a drug-induced fugue state. Over the next 24 hours, she slowly began to piece together that the image of a man in her head with a pink shirt and flaring nostrils wasn't something plucked from the ether but a memory of the night before. I May Destroy You is the culmination of her attempt to make sense of the senseless—an epic journey of autofiction that manages to somehow be both of the moment and beyond it.
Watching it is like entering a pool of Coel's consciousness. Her performance as Arabella, a Twitter-famous writer who is on deadline to finish a draft, feels like truth telling, though the truth of the thing is not in "what happened" but in how it feels. There's an expansive, long-limbed, genre-casual energy held together by Coel's performance. The way her face flickers from placidity to horror and levity to devastation reflects the mercurial nature of trauma itself. Even though the show has been marketed as a "consent drama," the label feels insufficient, maybe a touch misleading, because she is less concerned with political correctness or the failures of the criminal-justice system than with the psychology of the self: How do you become whole again after trauma breaks you open?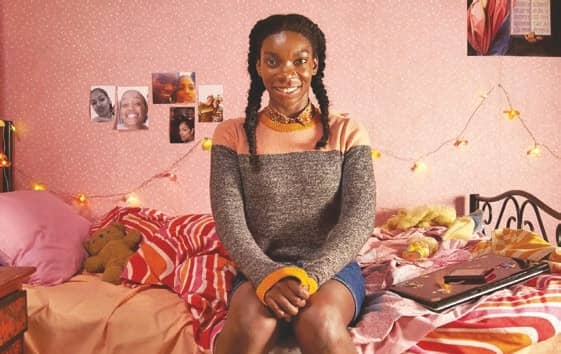 In the pilot, like Coel, Arabella comes to after her assault, while working on her manuscript. Coel felt it was important to imagine what she would have written, even if the viewer never sees it. She recites aloud from the passage:
We became the generation interested in ourselves. We have no problem with self involvement. They call us vain; we say we must have got it somewhere, so technically we're blameless, so we're monstrous and shameless, look at us while we're talking to you. We are the generation that decided we should be looked at. No more to documentaries of undiscovered worlds, of undercover investigations, of unreported people. We are the generation that decided, if you won't look at us, we'll look at ourselves.
"The show is calling for introspection," explains Coel, sitting in her East London home in a well-worn T-shirt. Speaking with her can feel unusually intimate, like you are enclosed inside a white cube on an alternate plane. "We know how to look out," she continues, referring to a culture that often encourages us to point fingers and cast aspersions. "We've been doing that. Don't forget: Also look in."
COEL RECENTLY bought an apartment, the first she has ever owned. She moved in June and hasn't had time to fully unpack or decorate, but she gives me a tour through the three-bedroom home, first pointing out the mattress on the floor in her office where she's been sleeping (and video-chatting). Thoughtful touches permeate the space: floors made of recycled rubber, built-in closets of curved blond wood manufactured by a woodworker who keeps waste to a minimum, exposed-plaster walls and concrete ceilings, incense sticks in the bathroom for "when you poo." (Coel once wrote a blog post about people who talk about poop and those who don't; she is firmly in the former camp.) She takes me outside to the balcony to see where a church spire crests overhead. She loves it. "It feels like a wink to my life," she says, laughing.
Perhaps it's too convenient a metaphor, but Coel grew up on a boundary. She lived in a public-housing complex in Aldgate, built in 1977 on the edge of both Tower Hamlets, a multiethnic, working-class neighborhood stocked with supermarkets and wholesale shops selling fabric and grain, and the City of London, home of the stock exchange, the banks, and the rich. Her parents, Ghanaian immigrants, separated before she was born, so Coel lived with her mother and older sister, Jasmine. They were one of a handful of Black families in the building. It wasn't until secondary school that she met other Black kids her age—children of the African and Caribbean diaspora, mainly from Ghana and Nigeria.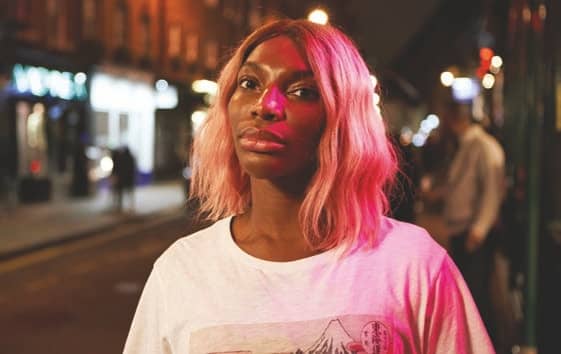 She had found her crew; they weren't popular but not outcasts, either. "They were the people who were not cool enough to love or hate," she says. "We were just there having fun, making up songs, being stupid." That was also when she and a generation of other young girls began to wield the fearsome power of the internet. Making web pages was the thing then, and while most of her classmates started anonymous ones, there was no mistaking that Coel's belonged to her. "There was a lot of like, 'So what? I don't have name-brand trainers. So what? I know my lips are big,' " she says. "I was cussing myself out to make people laugh."
When she was 18, she joined a dance group that she eventually learned was part of a Pentecostal church. She became a convert to the faith, which demands a full mind-to-body-to-soul commitment. Coel dropped out of the University of Birmingham, where she was studying political science, to devote herself more fully to the Good Word. Religion coincided with her first spoken-word poetry, inspired by the love of Jesus Christ: "I'm God's image in fact / I'm His next top model / I strut the runway of His light with style / His Love, my faith, my strength, His might." She began performing at clubs and cafés around London, where she met the playwright Ché Walker, who hosted a weekly cabaret. He was struck by the wisdom and clarity that came through in her work at such a young age. "There was a tremendous self-belief," Walker says. "She was very watchful, like she was seeing all the things you don't want anyone else to see." He encouraged Coel to take acting classes, and she soon quit university for a second time to study at the Guildhall School of Music & Drama.
When Coel entered the school in fall 2009, acting began to replace the church as her primary calling. She kept writing, too, starting a (now private) WordPress blog called Michaela the Poet with a running series of posts known as the "Drama School Diaries," or the DSD, that had everything you would expect from an aughts blog: personal accounts mixed with reviews of a Janelle Monáe concert, promotions for upcoming gigs, and stray bits of poetry and fiction. The DSD ultimately had 41 installments, each with its own narrative arc. Once again, she wrote, she found herself the "only black girl in the village" (the first Guildhall had accepted in five years). Still, she loved everyone and thought everyone was lovely. She played Eve in the Creation story in her first year and wrestled to contort her tongue into the sounds of Middle English. She absolutely adored Shakespeare and would do him 24/7. She was less enamored with the other stuff: the Restoration comedies and stuffy period dramas.
You can read up to 3 premium stories before you subscribe to Magzter GOLD
Log in, if you are already a subscriber
Get unlimited access to thousands of curated premium stories, newspapers and 5,000+ magazines
READ THE ENTIRE ISSUE
July 6-19, 2020