Mariah After Midnight
New York magazine
|
August 31–September 13, 2020
Thirty years into an epic career, Mariah Carey is still trying to explain herself.
By Allison P. Davis. Photographs by Dana Scruggs
MARIAH CAREY LOVES CHRISTMAS. She loves it with a fanatic's strict adherence to the laws of Christmas joy. She loves it like no one has ever loved Christmas before. (Did you have an actual reindeer at your holiday festivities last year? Did you hang out with Santa? Didn't think so.) Christmas is also a cornerstone of the Carey complex. Frank Sinatra might have made the holiday classically jolly, Sufjan Stevens might have made it indie whiny, and Ariana Grande might have made it horny, but no artist has come to define our commercially driven holiday fantasies more than Carey has with "All I Want for Christmas Is You." Since the song dropped on her 1994 holiday album, it's made an estimated $60 million-plus in royalties. It's stayed relevant, thanks to fans, of course; a cover on the 2003 Love Actually soundtrack; an album reissue; an annual "All I Want for Christmas Is You" holiday-concert series that sold out a show at Madison Square Garden last year; an animated film; an Amazon Music mini-doc about the undying meaning of the song; and streams on streams on streams. Last year, it finally hit No. 1 on "The Hot 100" chart, after a record-breaking (for its slowness) 25-year journey. Who cares how long it took? It's her 19th No. 1 hit—putting her above Elvis and one away from tying the Beatles. Does it matter if you like the song? (Full disclosure: I don't.) No! It is the omnipresent anthem of holiday happiness.
And so this year, this exceptionally shit year of 2020, Carey, who always wants everyone to have a good Christmas, really thinks everyone should have a good Christmas, and she's got 15 executives assembled in a Zoom war room at 10 p.m. to make damn sure everyone does. They've been going for two hours now, plotting ways to bring the merry and bright, no matter what it takes.
"I will sing with a puppet if it's incredible," I hear her say with deadly seriousness, that raspy, built-for-a-torchy-ballad voice floating in from one of many nearby rooms in the house she's renting for the summer. She goes on to suggest possible puppets, determined to sing only with the best one or none at all.
Carey tippy-toes across the marble floors, carrying the Zoom meeting with her as she hovers in the entryway behind me. She's in her comfies—black leggings, a black off-the-shoulder peasant blouse, and full makeup—but even dressed down, she's walking like she's in six-inch strappy Louboutins (a habit she references in the song "Crybaby"). She mutes her iPad mic to greet me quickly. "Hi! A.D.!" (Everyone in her immediate orbit is reduced to first and last initial. Stories sound like mathematical equations in which M.C. and M.R. meet J.D.) "I'm so sorry this is running late!" She'll be with me soon, she says. She just has to find a diplomatic way to let these men know something they are suggesting is ugly! She goes back to the call. "It just isn't giving me Christmas warmth," she says, delivering her criticism as delicately as one of her famous vocal trills.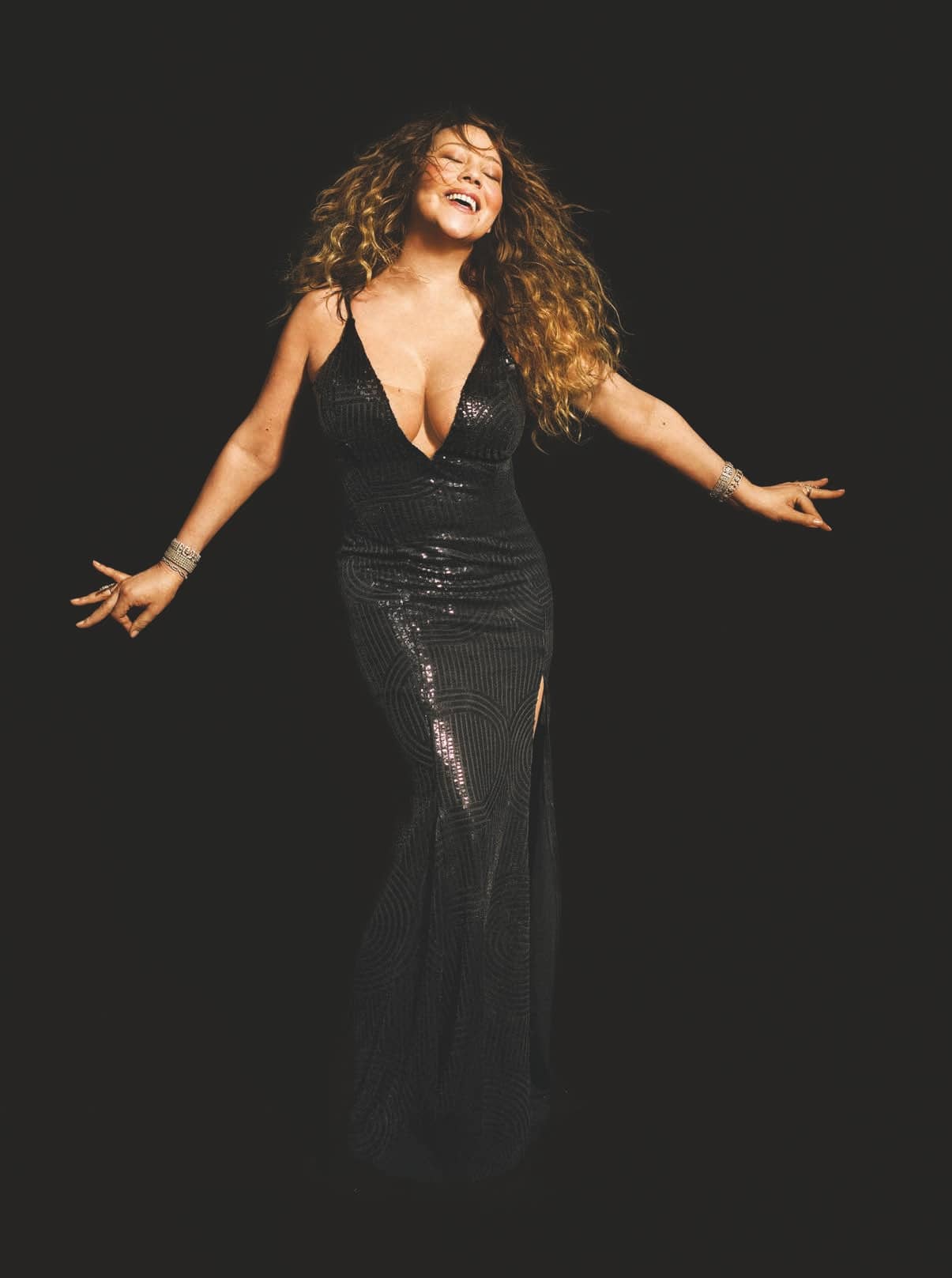 Carey is running 30—well, 45—okay, we're going to be real with you: We don't know how many—minutes late. This is what we expect of her, no? The Diva who bathes in milk and will only be photographed from the right side. We think of these indulgences as readily as her vertiginous notes, or those athletic vocal runs, or her belting "Juust. Liiike. Hoone-aaay," while she holds her finger to her ear to keep pitch. So it's hard to be mad at Carey for fully embodying all the various Mariahisms that define her.
Anything less would feel like short shrift, to be honest. Plus she's a generous diva. She's dispatched her five-person team, her COVID-quarantine pod, to tend to me while I wait. They'd been together since March, without any outsiders, until I was permitted to come tonight (with mask on face and fresh negative COVID-test results in hand). The excitement of a newcomer has everyone bustling around like a live-action reenactment of the "Be Our Guest" scene in Beauty and the Beast. "Allison, can I get you wine?" asks her longtime tour manager Michael, as he shows me to a couch and lingers to tell me, in his languid, Idris Elba–British accent, about the first time he met Mariah, decades ago, as she was glamorously coming off a Concorde. "Allison, it would be more comfortable if you sit in here—the lighting is better," says Ellen, her longtime house manager. "Allison," Kristofer, her Ken-doll-handsome makeup artist, calls out to me as I'm walking from one great couch to an upgraded one, "I'm making fresh shortbread. Would you like it with jam or powdered sugar?" Her ex–backup dancer and current boo, Bryan Tanaka, smiles at me, doing his part by just being charming. Ellen fluffs a pillow, pours a glass of wine and a glass of room-temperature water, and puts them down in front of the seat Carey will eventually occupy. I am left to sit in a luxurious beige-toned room that smells lightly of vanilla and gardenias— exactly like my rich childhood friend's suburban home.
The house is still daytime bustling even though it's now edging on 11:30 p.m., which, according to Mariah Carey Standard Time, is the middle of the day, not the end. Carey is a self-proclaimed vampyyyyra. She loves a sunset, loves a sunrise, and would prefer to exist exclusively in those shadowy hours in between. (She has a sun allergy, she insists.) Her time zone has other quirks: True Love only occurs in summer, underneath the stars. Winter is always joyous. Any day has the potential to be Christmas. And she is eternally 12 years old, as she has been saying since at least 2008, which explains the recurring themes of butterflies, Christmases, dolphins—epic, song-worthy romantic fantasies. It's in direct opposition to the other version of extreme femininity she likes to play with, that of the diva in heels on the stair-stepper. Neither persona fully explains how effortlessly she can command a platoon of professionals to execute her vision until you consider that this dualism may be her secret to career control. One cannot be dismissed if one demands what one needs operatically. One cannot be told what is or is not age-appropriate if one doesn't acknowledge age.
Anyway, the whole 12 thing—it's sort of a joke and it's sort of not. Carey turned 50 in March, and Moroccan and Monroe—a.k.a. Roc and Roe, a.k.a. DemKids—her 9-year-old twins with ex-husband Nick Cannon, presented her with a cake with an enormous 12 candle, complicit in her continued crusade against getting older. One milestone is colliding with another. This year marks both half a century of existence and her 30th year in this business—30 years since her first album, Mariah Carey, came out. In those three decades, she's produced 15 studio albums, been nominated for 34 Grammys (and only won five—don't get her started), and done everything a star can do (an HSN jewelry line, a Champagne brand, world tours, a reality show, a Vegas residency, an American Idol judging stint). This year, she's been taking something of a victory lap with a celebration she's calling MC30, opening the vaults on never-before-seen video footage and an album of unreleased songs and demos called The Rarities, and she's finally put all that legendary shade to paper with a memoir, The Meaning of Mariah Carey. She's still ignoring her age, but she's at least letting herself acknowledge the passing of time.
She's been teasing this memoir for more than a year, mentioning it at a "Genius Q&A" during the press tour for her last album, Caution, but thinking about it for ten. It's 300-plus meaning-packed pages, and, yes, what she didn't include has meaning too. Eminem, who was reportedly "stressed" over what Carey might say about their rumored 2001 fling, doesn't have to worry. "There's some songs that I can sing in response to that, but I will not do it," she'll say when I ask. And then, with a roll of her head: "If somebody or something didn't pertain to the actual meaning of Mariah Carey, as is the title, then they aren't in the book."
What's in the book is "for the fans" (of course) but mostly for herself, or at least a version of herself. It's her turn now to "emancipate that scared little girl," she says. It's why she spent two years telling stories to her co-writer, Michaela angela Davis, turning the famed Moroccan Room in her Tribeca penthouse into an emotional vomitorium, in hopes that finally, after a career of people misinterpreting her, she can make it all clear. In a way, though, the story she tells in the memoir is the story she's been telling herself, her fans, her critics—everyone—over and over again for years. And after 30 years of telling these stories, in different ways, you have to wonder why she still feels so misunderstood.
"HIT IT, TANAKA!" yells Roe, getting into position as Ellen and Kristofer pull open the French doors leading to the terrace overlooking the pool. Carey strolls out to where Roc and Roe are waiting to surprise her. The conference Zoom is over, but there's one more thing to attend to before we can sit down.
Carey's latest single, "Save the Day," dropped just a few minutes ago, at midnight, and the twins want to celebrate. The opening violins of the song swell over the outdoor stereo system, and they launch into choreography they've spent all day perfecting. The song is a long-delayed collaboration with Ms. Lauryn Hill they conceived of in 2011. They decided to release it now, since its message about the importance of coming together to fix the world felt relevant with national Black Lives Matter protests and the lead-up to the election. "It's very auspicious," she says, musing that it would have been the perfect song to play during the Democratic National Convention.
Roe executes a string of cartwheels while Carey looks on, hands raised to her face in beatific surprise, and Tanaka captures the moment on two iPhone cameras on tripods with lighting rigged. Rocky hits every dance currently popular on TikTok.
Rocky loves TikTok, but Carey thinks he's too young to be on it. Recently, she had to put him on a "time-out" after he made a video asking his mom to say hi to "his fan." Carey can be heard off-camera saying, "I'm on a business call," and Rocky turns back to the camera and says, "My mom is not ready to be shot on TikTok," sticks his tongue out, and blows a raspberry in disappointment.
"Okay, I was really on a business call," Carey says, mildly annoyed at the whole situation. People assumed she just declined because she wasn't wearing makeup. Plus she wasn't the one who set up the account for him. "Co-parenting," she says, then sings, "'Yeah, it ain't easy, baby. It ain't easy.' But you know what? It's important. We keep it good for them," she says of Cannon, whom she divorced in 2014. She won't comment on his recent career drama (he was fired from his longtime gig hosting Wild 'N Out for making anti-Semitic remarks on his podcast, Cannon's Class) but speaks fondly of him in her memoir in the chapter called "Dem Babies."
The performance ends. Carey runs to them, arms wide open, tears in her eyes, cooing over how lovely everything is—the dance, the sunflowers, the sign. She brings them in for a hug and photo op, but before the shutter can snap, Roe moves away too fast, ensnaring Carey's large diamond butterfly ring in her hair. "Roe, wait, I'm tangled," she screams, while Rocky emits a loud belch and giggles.
Carey says good night to the twins. It's an atmospherically nice night, and she decides she wants to go outside to talk. "It's better, right?" she says as we sit down at a long wooden table next to the violin-shaped pool (a Stradivarius, with a six-foot koi pond as the bow). Her people are again bustling, setting up the table for us, slipping out of the shadows, putting down drinks and candles, moving the whole setup outside.
"Ellen, will you make us some 'horse devoirs,' " Carey asks, intentionally mispronouncing the word. "That's what we call 'em."
"Are you cold, Mariah?" asks Kristofer, who exits to grab her a little throw.
"Are you guys warm enough?" asks Ellen, who enters to put down snacks. More candles are placed around us.
You can read up to 3 premium stories before you subscribe to Magzter GOLD
Log in, if you are already a subscriber
Get unlimited access to thousands of curated premium stories, newspapers and 5,000+ magazines
READ THE ENTIRE ISSUE
August 31–September 13, 2020