Lee Daniels On Getting Vomit On Your Tux At Cannes
New York magazine
|
June 10-23, 2019
The director and provocateur on the afterlife of Empire, the limits of woke culture— and why Precious was really a comedy.
ONE AFTERNOON IN MAY, inside his modern Beverly Hills home, Lee Daniels digs his toes into a sitting room's biscuit-colored flokati, visibly restless as he toggles between two iPhones while waiting for Fox to announce the fate of Star, his Empire spinoff. He's in jeans and a black hoodie embossed with the word blackman in black letters. " 'Nothing so far,' " Daniels says, reading from his phone. " 'No love yet for Star.' " By day's end, Star would be canceled. The following week, Fox announced that the upcoming sixth season of Empire would be its last and that, in light of his assault scandal, Jussie Smollett would not be returning as Jamal Lyon, the embattled gay son of the Berry Gordy–like Lucious Lyon. That the network declared his shows dead and dying could easily be seen as a career- torpedoing setback, but Daniels, a self- described "hustler," views cancellation as just an invitation to test his ingenuity and nerve. "I'm NOT letting them STOP the CULTURE. SORRY!" he wrote on Instagram a week later (handle: @ theoriginalbigdaddy), when announcing his ultimately fruitless effort to locate a new home for Star.
Daniels is a certain breed of Hollywood magician, serially pulling career rabbits out of his hat beginning in 1983, when, flush with cash from a nursing business he'd sold, the Philly native, decked out in Armani, drove his Porsche to the Purple Rain set on the Warner Bros. lot and officially entered show business as the world's fanciest production assistant. Decades of bootstrapping as a talent manager, movie producer, and indie-film director followed, until his 2009 breakout, Precious, made him the first African-American to be nominated for both the Best Director and Best Picture Oscars. Precisely what his postEmpire career will look like isn't certain, but the perennially restless Daniels is nurturing a number of seedlings. There's his politicalcorrectness comedy for Amazon and a growing list of not-quite-green-lit projects, including a Terms of Endearment remake with Oprah in the Shirley MacLaine role, a gay-superhero comedy called Superbitch, and a Billie Holiday bio starring Andra Day.
Andrew Goldman: You have never been pigeon holed, but I read about this Whitney Cummings–and–Lisa Kudrow comedy 1 about #MeToo and it didn't seem to me like it had Lee Daniels written all over it.
Lee Daniels: It is, because it rattles the cage. It's not a #MeToo comedy. It's a look at the world and the crazy that we're living in right now. It's what this whole movement means to three different generations of women and just where we are in society with being woke.
Is it an issue you have strong feelings about?
I've been itching. You know what happened to me? Around the time of the whole Harvey Weinstein thing, I was brought into Fox HR. They were saying, "This is all preventative," but I literally saw my career gone in front of me as these two white women and one Asian-American woman basically were saying you can't use certain words. Like, you couldn't use the B-word.
B for bitch?
Mm-hmm. I said, "Okay." And I think they said, "You can't look people in the eyes too long. Be careful with touching." These are all things that I do in my room when I work. And then they said, "And you can't say the N-word." I was shook.
Shook because you thought what they were saying was silly?
I thought it was inappropriate to tell me that. I said, "Hold on. If I can't say nigga to a room of niggas, you wouldn't be here. Because Empire wouldn't be created. You two white ladies and you Chinese, Asian lady, rather, you cannot tell me how it is that I can create." Then it led to a bigger conversation of me being afraid to be me on the set and how I make my movies. I said, "I can't have this conversation. I need to know who I can call on you. Because you have me triggered. You're not going to play these games with me."
What was their response?
What could they say? I mean, they turned red-faced. Listen. You're not going to tell me what [the N-word] means to me. I have a play right now 2 where the whole first five minutes is a preacher saying, "Nigga, nigga, nigga, nigga, nigga, nigga, nigga, nigga, nigga. Obama is my nigga. Obama is your nigga. Obama is the nigga."
It's interesting because one of the things you notice immediately in Empire is you don't hear the N-word, at least in the first seasons. Why not?
I go through phases. I go in and out of owning it, and I think that we chose purposefully in the very beginning of that. It's a really tricky word. But we did use faggot, which had never been done since Archie Bunker. 3 So that was a big accomplishment, and I fought tooth and nail for that because it warranted it.
In the first episode, Lucious tells his son Jamal, who is a singer, that he needs to stay in the closet because the black community will never accept a "sissy." Do you think homophobia is different in the black community?
I can't speak for today's generation, but that has been my experience. My son, who's 23, came home with a guy once who was clearly gay. I knew my son was terminally heterosexual, but I go to my boyfriend, 4 "He's out there with a gay guy." And so he says, "Do you have a problem with it? Go out and ask him." So then I finally mustered up the courage to go out and say, "Is there something you want to share with me? You know he's gay." He's like, "And?" I said, "Are you?" He goes, "What if I were? Is that bad? You're gay, what are you getting at here?" I felt so stupid. I mean, he dates women, and he made me look a fool.
So at that moment, did you feel like you had actually inherited some of that homophobia you had been a victim of as a kid?
A little bit of that and a little bit of fear for him going through what I went through as a gay black man. Fear is what my mom felt for me, for sure. My mother didn't want to admit it, but she knew I was gay. It was in the '70s, and my daddy had just died. She instinctively knew that I was either going to get bullied, shot, or end up in jail. So she took me out of the ghetto and put me into this all-white environment, Radnor, which is on the Main Line in Philadelphia.It's very fancy, wealthy, and it might as well be private. I was probably one of two or three blacks in my class. Radnor introduced me to theater; it introduced me to an awakening of what wasn't there for me in public schools in Philadelphia. You're looking at somebody that's supposed to be in jail, a statistic. My brother didn't stay out of jail.
You adopted your brother's two infant children when he went to jail and their mother was unable to take care of them. You've said he's homophobic to the point where your kids don't see him.
I don't think he's that way anymore, though. I think that's the beauty of Empire.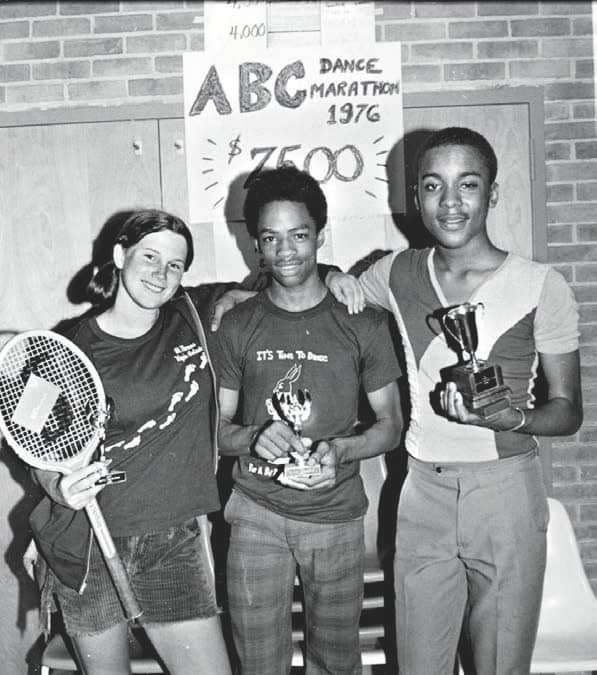 Empire changed him?
Oh, for sure. I think that he embraces his celebrity, because when Empire comes on in the prison, you'd better not fucking make a move. Thousands of men throughout every prison in America sit and watch silently. Because of Empire, he saw me as something other than somebody gay. I think that's beautiful, and I love my brother very much now.
The reporting that's emerged about the Jussie Smollett case suggests that he faked a racist, homophobic mugging in order to get paid more money on Empire. You initially publicly supported his story. 5 Are you embarrassed?
I'm beyond embarrassed. I think that when it happened, I had a flash of me running from bullies. I had a flash of my whole life, of my childhood, my youth, getting beaten.
Knowing Jussie, would you have suspected this from him, or did this come out of the blue?
Blue. Blue.
It's got to feel like a huge betrayal.
If it turned out that he did it, was guilty, and all of it's accurate.
Wait, there's really doubt in your mind that he didn't make the whole thing up?
Of course, there's some doubt. I'm telling you that because I love him so much. That's the torture that I'm in right now, because it's literally if it were to happen to your son and your child, how would you feel? You would feel, Please, God, please let there be that glimmer of hope that there is some truth in this story. That's why it's been so painful. It was a flood of pain.
Did you read the Chicago Tribune's coverage of it?
I didn't read any of it. I was too busy putting out fires.
Because to me, the Tribune's reporting didn't leave much in the way of doubt about its being anything other than a hoax. What would the scenario look like of him telling the truth?
We weren't there. I can't judge him. That's only for the fucking lady or man with that black robe and God. I had to detach myself and stop calling him, because it was taking away the time I have for my kids, the time I have for my partner. It was affecting my spirit and other shows, everything.
You are a showman and a provocateur. A friend of mine remarked that she'd never heard of Smollett and all of a sudden he was the most famous guy in America.
What do you make of that? Think about it. If he didn't do it, he'd be Martin Luther King right now. He'd be some sort of god.
You mean if he'd gotten away with it? I wondered if any part of you, as a showman, thought, Hats off to this guy for making himself a household name.
Yeah. Kudos. Yeah.
In the first episode of Empire, we learn that Lucious Lyon has ALS, a terminal disease. Eventually, we find out it was a bad diagnosis. But wasn't it a bad idea to announce that your leading man has to die? I mean, you could have just given him melanoma or something.
I didn't know the show was going to be picked up. Directly after the pilot, I was supposed to go off to do Richard Pryor with Mike Epps. I just assumed somebody would take over the show.
So you didn't worry about what was going to happen to him?
No. I didn't think about that, and they said, "Your show is picked up," and I said, "Huh?"
Who called you and said, "You can't kill​ Lucious"?
We called us and said we can't kill Lucious. There was no show without Lucious. Are you kidding me?
Making Terrence Howard a lead in a network show seems like a risky call. He's somebody who has been described for 20 years as difficult.
He's one of my best friends. And I can count on my hands how many friends I have.
He's quite eccentric. He developed his own mathematics in which he believes one times one equals two.
Sometimes I don't know whether it's a show. I do believe that he believes it, so maybe it's not a show. So I protect him, because he's like my brother and I trust him. I trust him with my life.
He's a great actor, but he was also accused of hitting women on at least six separate occasions. 7 Should Terrence have kept his show, considering what he'd been accused of?
I have no comment. I have nothing really to say about that.
Jeffrey Tambor and Kevin Spacey lost their shows after they were accused of improprieties. Should they have lost their shows, then?
You can read up to 3 premium stories before you subscribe to Magzter GOLD
Log in, if you are already a subscriber
Get unlimited access to thousands of curated premium stories, newspapers and 5,000+ magazines
READ THE ENTIRE ISSUE
June 10-23, 2019