"I Said to My Mother, 'Did You See the Blood?' She Said, 'I Hoped You Hadn't Noticed.'"
New York magazine|May 25 - June 07, 2020
We're offering this story for free to read so that you can stay updated on the COVID-19 outbreak
Marga Griesbach was sent to Stutthof concentration camp in 1944. This past February, she left Washington State to take a cruise around the world.
IN EARLY FEBRUARY, Marga Griesbach took a fall as she was packing for a cruise. In her home in Silverdale, Washington, across the sound from Seattle and the Kirkland nursing home in which COVID-19 was then silently spreading, the 92-year-old twisted too quickly while reaching for some T-shirts. As she fell, she felt her ribs crack and, for a split second, could not breathe. Though the pain was tremendous, Marga was determined not to let anything keep her from the cruise that was to take her, along with her longtime German companion, Dieter, and next-door neighbor Selma, around southern Australia, New Zealand, and Hawaii through early May. So she just kept filling her suitcase. On the 15-hour flight from Vancouver to Auckland, Marga passed out as she was exiting the bathroom. When she deplaned in Auckland, she was greeted by a welcoming committee: airline employees who told her she could not fly on to Brisbane, where she was to board the boat, without first getting checked out at a hospital. At a local hospital, she received a battery of tests, though not one for the coronavirus; it would be another nine days before New Zealand reported its first case. The doctors proclaimed that her blood work showed no reason that she couldn't fly on. But when she returned to the airport, she was told by an airline representative that her sodium levels were still too low to make the trip. She was put in a hotel, and the next day taken back to the emergency room, where the same tests were performed; again, the doctor said she was fit to fly; again the airline representatives told her she couldn't board the plane. For a third morning, she received the same battery of tests, which she passed, and was told by airport staff for a third straight day that she could not board.
In those late-February days in Auckland, stymied by authorities working at cross-purposes, unable to exert control over her situation, Marga experienced a bad bout of PTSD. She knew rationally that she wasn't a prisoner, that she was free to come and go from the hotel in which she'd been housed between ER visits, but the feeling of being trapped in a country she wasn't permitted to leave was chillingly familiar.
MARGA STEINHARDT was born in Witzenhausen, a town in central Germany, in 1927, five years before Adolf Hitler came to power. I met her in November 2019, when we spoke for hours in the Brooklyn living room of her daughter, whom she was visiting. As we'd parted, I'd asked if I might visit her in Washington in the spring to talk more, but she'd waved me off: She'd be on a lengthy cruise, she told me. If I wanted to come later in the year, when the weather was better, I'd be welcome; "That's if," she said, laughing, "I'm still alive."
The Steinhardts lived on the Markt platz of Witzenhausen, and Marga said she can remember looking out the window as a very little kid and watching Nazis and Communists "beating each other bloody" until her parents told her to come away. The only Jewish child in her class, she was forced to sit in a corner, but, she said, she wasn't bothered by the isolation. "You just adapted to it."
Therese, Marga's mother, who was from a tiny village near Witzenhausen, had worked as a bookkeeper in the nearby city of Kassel, where she had fallen in love with a man who was later killed in World War I. She was, Marga told me, "a big Zionist" and remained religious into adulthood. Marga's father, Max, had "forsworn all religions" as a boy, Marga said, having watched his own father, a Talmudic scholar, leave his mother to support the family while he immersed himself in religious texts. In the Steinhardt home, there was compromise: Therese insisted the family keep kosher at home, but she did not light Shabbos candles on Friday nights.
When she was young, Marga and her father often spent time together. A former interior decorator, Max had designed store windows all over Europe, including France and Switzerland. But after losing almost all of his hearing in World War 1, he had been forced to change professions, selling equipment to home butchers in neighboring towns. Marga would accompany Max on some of his work trips. "Sometimes we walked for hours to get to a village," she said, "and he'd try to convince me to eat not-kosher salami, and I'd refuse. Then I'd rat on him, tell my mother." Marga recalled a day when she told her father she wanted to be a librarian because she loved books and he shook his head: " 'You're going to be a mathematician or a physicist!' " he'd crowed; she had been so good with numbers.
When she spoke of this memory, she paused and said: "In the end, I was nothing. I didn't even finish school."
Before his hearing loss, Max had had a musical ear; he loved opera and had picked up some French in his travels. But he resisted fleeing to either France or Palestine, arguing that the family would not find safety in either place. Max was also ambivalent about the United States, where some of the Steinhardts' family had already resettled, because he spoke no English and couldn't hear well enough to learn it. "He was very afraid about how he'd make a living if he couldn't understand anybody," said Marga. As circumstances worsened, Max relented and applied for a U.S. visa in the late '30s. The Steinhardts were the 27,900th on the waiting list.
"I remember overhearing talk between my parents, and my father said, 'You worry too much. It's not going to get that bad. Hitler talks a lot. The world will not tolerate for Hitler to do what he's saying he's going to do.' He just couldn't believe it. Even later, when we were already deported, he would not accept that there were mass killings. He'd say, 'Have you seen it? Can you prove it?' "
In 1937, an offer came: Marga could be adopted by a family in Hawaii. "They said, 'It's up to you, but then you'll be their child.' "
"I was already 10," said Marga. "So I said, 'No, I'm not going to be adopted.' "
IN THE EARLY EVENING of November 8, 1938, Marga and her brother, Alfred, five years her junior, were playing in the backyard of a Jewish friend when Therese arrived to collect them. " 'Something's going to happen tonight,' " Therese said. " 'You and your brother have to come home.' " As they followed, Marga noticed that their landlord, who usually kept the lights dark in the evening, had left them on—a signal, she presumed, that there were Jews living there. The family barricaded themselves inside Max and Therese's bedroom, a chest pushed against the door.
When Marga left for school the next day, she saw torn prayer books in the market square. As she walked on, she saw people gathered in front of the synagogue. "As I came down, a couple of people upstairs threw a piano through the window from the Jewish teacher's apartment." Then she saw the synagogue itself. "The front door was open, some pews had been pulled out and were smashed; every place prayer books, prayer shawls. I was petrified. Then somebody saw me and yelled, 'A Jew girl!' A couple of them started running after me. I turned around and ran to get home."
That afternoon, Marga, who described herself as "a very curious child," walked back to the synagogue and went in through the women's entrance, then into the genizah, the area where the congregation kept old books that, according to the Jewish faith, could not be destroyed because they might contain the name of God. Marga looked at all the religious texts and schoolbooks going back decades. "I was only 11 years old," she said, "and it just hit me how old the Jewish congregation was and that there was no future." That night, as the violent Kristallnacht pogroms swept Europe, the Witzenhausen synagogue was burned to the ground.
IN THE FALL OF 1941, the Steinhardt's received their yellow stars and were informed that they were being relocated to Latvia. Everyone had been instructed to pack a large suitcase, a carrying case, and a knapsack. "We never saw the suitcases again," she said. When the train stopped in Riga, the Jews were told their hand luggage would be brought to them once they'd settled into the ghetto. "That's the first we heard that we were going to be in a ghetto."
The ghetto they were going to be in had most recently been home to tens of thousands of Latvian Jews, who themselves had been relocated there earlier that fall. In the days before the arrival of the German Jews, around 30,000 of the Latvian Jews who'd been living there had been taken into the nearby Rumbula Forest and shot.
The Steinhardts' group began a long, silent march from the station through deep snow in the early-morning hours of December 11. "We suddenly came to this barbed wire, very high, double row," Marga said. "Men with machine guns were marching up and down along this. There was a big gate, and ahead of us, the whole street as far as you could see, it was red ice. And still nobody said a word."
The Steinhardts were directed to a narrow room along with 16 other people. Inside, they found a set table, forks still in potatoes, a now-frozen tableau of the meal that had been in progress when its eaters had been ordered to walk into the woods. "I said to my mother, 'Did you see the blood?' She said, 'I hoped you hadn't noticed.' "
Some members of the Steinhardts' transport would go on to pillage the belongings of the ghetto's former residents, illegally bartering the clothing and shoes they found for more food. "Except for my stupid family," Marga said. "We didn't take anything; we had not totally realized what was going on."
The relocated Jews shared a communal kitchen, subsisting on ever-thinner soups. In January, they began receiving small portions of rotten potatoes, fish heads, and, in spring, rhubarb leaves. Adults were put to work, and Therese's job was in the kitchen; she could bring some potato peels home. Later, when she baked rolls, she was allowed to shake out flour sacks and take that flour home.
That first spring in Riga, observant Jews gained permission to celebrate Passover. "They got some flour. They baked matzo," Marga remembered. Just as miraculous to Marga was that her father, who'd spent his life rejecting religion, led the community's seder. "He knew it all by heart, and he sang beautifully," she remembered. There were other glimpses of normalcy: Someone in the ghetto had a record player, and a handful of musicians, Latvian Jews who'd survived the massacres, occasionally put on chamber music concerts. In her memory, there were teens who met up in an empty house, ate black market candy, and danced. Marga didn't approve at the time. "Maybe I judged them too severely."
The SS regularly held Appells in which everyone in the ghetto was forced to stand in the street and sometimes were selected for transport. In March 1942, families in which fewer than half their members were working had to step forward; more than 2,000 were selected, told they were being sent to clean fish; they were instead driven by truck into the forest and shot. Marga, though she was still technically in eighth grade and attending the school that had opened in the ghetto, figured that the next selection would cull families in which fewer than 75 percent were working, so she asked to be given a job and was soon washing windows in an industrial laundromat. There, she ate better. "We had wonderful soup at lunch every day and some of the old Latvian women took pity on me—I was very skinny, not 15 yet. I would get half of their sandwich; it was paradise."
One morning in November 1943, Marga heard people whispering that something big was about to happen. By then, she was working at the army clothing depot, outside the ghetto, and at work, she and a small group snuck away to find out what was going on. They saw trucks of people being taken out of the ghetto and worried they were going to be killed. That evening, as the workers were being driven back to the ghetto, their bus driver turned from the usual route toward a forest where Marga knew Jews were often shot. She briefly believed that she and her group were being taken to be killed—"I tell you, that feeling … you don't even think anymore; you just turn to stone." They weren't, but when her truck returned that night, she found the ghetto empty. Her parents and Alfred were not in their dwelling; everything was dark. "I thought, Well, they're gone. They're gone." Marga searched, checking in with the few others who'd been left. On the verge of giving up, she saw three people walking toward her across a square. It was her parents and brother. "We were the only intact family left."
In that moment, she said, she felt "a great warmth." During their years in the ghetto, she and her father "were not the best of friends," she said. "I blamed him in a way for us still being there." Plus, she said, "I was a teenager. We were rubbing each other the wrong way, living in close proximity."
The night their family was spared selection, they raided the belongings of their former neighbors, whom they would later learn had been sent to Auschwitz. "We opened the suitcases because we had nothing," she said. "That was when we finally robbed the dead. We had learned."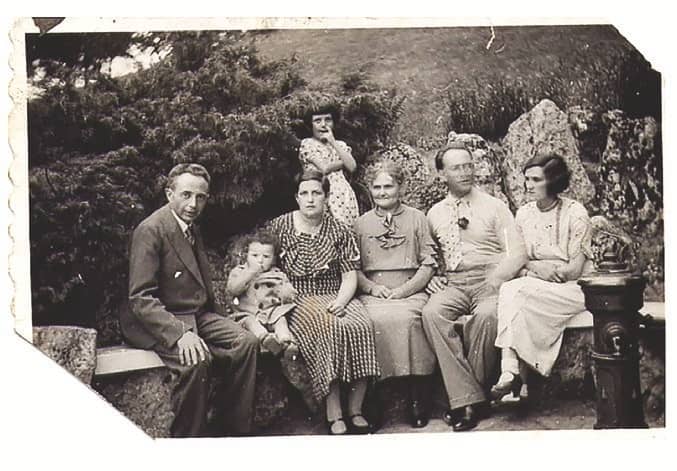 MARGA TURNED 17 on August 5, 1944, in Riga. The next day, at five in the morning, the Steinhardts were brought with the rest of the remaining inhabitants into a courtyard. The Soviet army was drawing so close that they could hear the cannons, she said, and the Jews had recently had their heads shaved.
"Our name was called," Marga said. The Steinhardts were sent to Stutthof, a small concentration camp originally built in 1939 to house Polish prisoners but expanded in 1943 to include a gas chamber.
You can read up to 3 premium stories before you subscribe to Magzter GOLD
Log in, if you are already a subscriber
Get unlimited access to thousands of curated premium stories and 5,000+ magazines
READ THE ENTIRE ISSUE
May 25 - June 07, 2020