EVERYBODY HATES Bill
New York magazine|June 22 - July 05, 2020
Weeks into the George Floyd protests, Mayor de Blasio has alienated his constituents, the police, and even his own staff.
THE PROTESTERS lined up, hundreds deep, hoping to rally on the steps of City Hall and raise a ruckus loud enough for the mayor to hear from his corner office. They hoisted signs that read bdb: what happened to being the fairest city? and stop killing black people and no racist police. They chanted about how they wanted justice, chanted about when they wanted it, and about what they would do if they didn't get it now: "Shut! It! Down!"
Unlike most of the tens of thousands of protesters who have poured onto city streets over the past several weeks, the members of this group could probably have just told the mayor himself, or at least sent an email. They were his former and current administration employees, people who worked in either City Hall or one of the dozens of municipal agencies that make up city government, and they were boiling mad. This made the protest pretty much unprecedented in the history of New York civil unrest.
It was the second Monday in June, a postcard-perfect afternoon, and after three long months of lockdown, the city was at last scheduled to begin the slow process of reopening. And so the protesters were screaming at an empty building. The mayor was on the other side of the East River, at the Brooklyn Navy Yard, hailing the progress New York had made against covid-19, announcing new protected bus lanes and an extension of the alternate- side-parking suspension. "It's a day to celebrate," he said.
Meanwhile, back at City Hall, Ifeoma Ike, who had been deputy executive director of the city's Young Men's Initiative until 2017, was accusing the mayor of presiding over "a racist administration."
"I am standing here on the backs of so many people that have been pushed out of this administration for raising the reality of what they have to endure when they go home," she told the crowd. "Do you know how crazy it is to work for this city and then explain to your community why you work for a man who pimps out his family? Because that's what the fuck it is! You use your family to then have us vote for you. And then you expand the police!
"You may think you are a lame duck, but everybody who is behind us is going to make sure that you are accountable to the promises that you claimed you believed in!" she continued into a bullhorn, while the bureaucrats, government-affairs specialists, and political operatives behind her roared their approval. "You claimed you believed in a 'Tale of Two Cities.' But that is not a story about rich and poor; it is a story about the police and the rest of us!"
It was an extraordinary moment, capping off a period unlike any New York has ever undergone, in which a video of a brutal police killing 1,000 miles away ricocheted into a city where nearly a million people had lost their jobs, millions more had been living in home confinement for months, and a video of a white woman falsely accusing a Black man of threatening her in Central Park had racked up 40 million views in 24 hours.
And the mayor, who stormed into office in 2014 promising to make the city more equitable and fair and who was buoyed by dissatisfaction with the liberal status quo, seemed exposed and out of touch. It began even before this recent spate of protests, as the police began enforcing social-distancing guidelines and 90 percent of those arrested were Black or Latino. Social media was awash in images of crowded parks in white neighborhoods of Manhattan, where friendly police officers handed out masks to those who didn't have them, while a young Black mother was pinned to the ground in a Brooklyn subway station after cops attempted to get her to cover her face and, on the Lower East Side, an officer was videotaped with his knee on the neck of an African-American man for the crime of failing to keep six feet apart.
The mayor denounced the handling of these incidents but initially defended the enforcement of social distancing and bristled at critics who compared it to the police practices of Mayor Michael Bloomberg. "What happened with stop and frisk was a systematic, oppressive, unconstitutional strategy that created a new problem much bigger than anything it purported to solve," de Blasio said on May 7. "This is the farthest thing from that. This is addressing a pandemic."
Then the protests got underway. The mayor defended police officers who drove their cars through a crowd of protesters surrounding them, saying, "I'm not going to blame officers who are trying to deal with an absolutely impossible situation." As mayors around the country marched or took a knee, de Blasio didn't. During a period when activists surrounded Gracie Mansion for a silent vigil, he mostly stayed inside, favoring virtual press conferences with a socially distant press corps that had long grown tired of him.
And on this day in June, when hundreds gathered downtown, the mood was raw and urgent as workers spoke of their frustration. They called for the mayor to live up to his promises on policing and be the kind of reformer they believed him to be when they joined his government. The group ranged from some who had worked only on his first campaign to others who had spent the past six years working on his behalf. The protest grew so big that senior managers said they felt obligated to go just to show support for their staff.
"We can't afford for someone to put a video of their Black son on a campaign ad and then talk about how they are going to stop police brutality and reform criminal justice and then just turn around and betray the Black community and betray New Yorkers," Michael Cox, a former senior policy adviser in the office of the mayor, told me. "At some point, it has to stop."
"The mayor's comments have been hurtful and tone-deaf to the cry of the people that voted for him and worked for him," shouted Jeremiah Cedeño, who works in Census outreach for the city, as hundreds behind him cheered. "We as a city are done!"
The group marched over to One Police Plaza, where members of the NYPD looked on as everyone took a knee, raised a fist and then continued over the Brooklyn Bridge to Cadman Plaza. Bill de Blasio is a mayor who sees himself as a revolutionary. Early in his tenure, he fought with the police unions and tried to reform the NYPD, but he seemed to back off as the unions indicated they would show no mercy in this battle and the department itself proved unmovable. Now there was a real uprising happening in the streets, one that caught City Hall unawares and was coming right to, and out of, its front door.
"My concern is not for my job. My concern is for the future of this city," said Manvir Singh as he leaned against the Municipal Building across the street from City Hall. Working for the mayor had been his first job out of college, and he was now in intergovernmental affairs, working closely with City Hall. "I didn't know what change could look like until I worked here, but I also didn't know what systemic racism could look like until I worked here."
Catherine Almonte worked as close to the mayor as possible; as his "body person," she was with him all day. She worked for his campaign and went on to the city's Census outreach bureau. She had been in small meetings the mayor had with police brass. "The NYPD just creates a fog around the mayor, and they keep him from seeing clearly," she told me as the march made its way over the bridge. "I'm hoping this is the way to pull him out of that and actually create change."
IT MAY BE HARD to believe, but de Blasio was elected mayor at a time of relative peacefulness, with the city's crime rates plummeting. The trend continued through his first term, even as the NYPD went to war with him over rhetorical slights and modest efforts at further reform. But, like the cops, he sees the city as still shadowed by the 1980s. He got his start working for the David Dinkins campaign in 1989. He then went to work for the Dinkins administration in City Hall, where he met Chirlane McCray, the future first lady.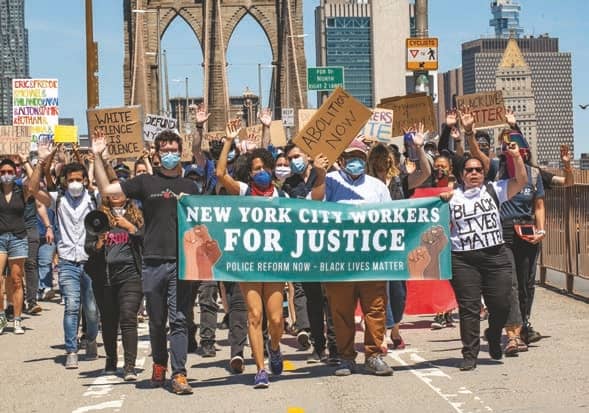 Twice during de Blasio's four years under Dinkins, the city erupted. The first time, in Crown Heights, a neighborhood seething with racial tensions, a car carrying the leader of the Orthodox Jewish Chabad movement struck two Guyanese-American children playing on the sidewalk. As one of the kids lay pinned underneath a car, police and private Orthodox EMTs whisked the driver safely away. Ethnic battles broke out on the streets. A crowd of Black youths surrounded Yankel Rosenbaum, a Hasidic doctoral student, and stabbed him to death. The neighborhood shook for three days. The press reported that the police were told to stand down, and they later retreated in the face of overwhelming numbers of rioters. There were reports of cries like "Hitler didn't finish the job," and Jewish residents said what was happening was a pogrom.
Former colleagues recall de Blasio, the kid from Boston who went to NYU and then volunteered in Nicaragua, walking through the neighborhood afterward in shock. "He is carrying that lesson into this moment," says one. "He is looking at what was happening over these last few weeks and saying, 'I'm going to have my own Yankel Rosenbaum. That is going to be the story of my mayoralty. There is going to be another pogrom.' Then, they didn't let the police strike back, and now, he figures he has to trust his own cops."
The second eruption happened little more than a year later. This time, the police themselves revolted. Ten thousand of them swarmed downtown Manhattan to protest what they saw as unfair treatment by Dinkins and his call for civilian oversight of the police. Cops knocked over police barricades and stormed the steps of City Hall, spilling onto the Brooklyn Bridge. Led by the soon-to-be Republican mayoral nominee Rudy Giuliani, they held signs that read dump the washroom attendant and mayor, have you hugged your dealer today? A pair of police officers stopped Una Clarke, the first Caribbean-born woman elected to the City Council, and one, cupping a beer in his hand, said to the other, "This n----- says she's a member of the City Council."
You can read up to 3 premium stories before you subscribe to Magzter GOLD
Log in, if you are already a subscriber
Get unlimited access to thousands of curated premium stories and 5,000+ magazines
READ THE ENTIRE ISSUE
June 22 - July 05, 2020