Buying Myself Back
New York magazine
|
September 14 - 27, 2020
When does a model own her own image?
MY MOTHER'S EX-HUSBAND, Jim (who, until I turned 8, I'd thought was my uncle), had Google alerts set for me. Every time my name appeared in the news—if you can call gossip websites "news"—he was notified immediately via email. Jim was well meaning but an alarmist; he wished to maintain a relationship with me, and these alerts provided him with perfect opportunities to reach out. I was walking through Tompkins Square Park with a friend and her dog and sipping a coffee when Jim's name lit up my phone. "See you're getting sued. My advice …" he began. Jim was a lawyer, familiar with people calling him up to ask for legal advice and therefore used to doling out his opinion even when it wasn't solicited. "I guess this comes with the territory of being a public persona," he wrote in a follow-up text. I guess, I thought.
I sat down on a bench and Googled my name, discovering that I was in fact being sued, this time for posting a photo of myself on Instagram that had been taken by a paparazzo. I learned the next day from my own lawyer that despite being the unwilling subject of the photograph, I could not control what happened to it. She explained that the attorney behind the suit had been serially filing cases like these, so many that the court had labeled him a "copyright troll." "They want $150,000 in damages for your 'use' of the image," she told me, sighing heavily.
In the photo, I'm holding a gigantic vase of flowers that completely covers my face. I'd purchased the flowers for my friend Mary's birthday at a shop around the corner from my old apartment in Noho. The arrangement was my own; I'd picked flowers from various buckets around the shop while telling the women behind the counter that my friend was turning 40. "I want this bouquet to look like her!" I'd said, grabbing a handful of lemon leaves.
I liked the shot the paparazzo got but not because it was a good photo of me. I'm completely unrecognizable in it; only my bare legs and the big old-fashioned tweed blazer I was wearing are visible. The wild-looking flowers substitute for my head, as if the arrangement had grown skinny legs and thrown on dirty white sneakers—a bouquet hitting the concrete streets, taking a walk out on the town.
The next day, after I'd seen myself in the picture online, I sent it to Mary, writing, "I wish I actually had a flower bouquet for a head."
"Ha! Same," she wrote back immediately.
I posted the image to Instagram a few hours later, placing text on top of it in bold white caps that read mood forever. Since 2013, when I appeared in a viral music video, paparazzi have lurked outside my front door. I've become accustomed to large men appearing suddenly between cars or jumping out from behind corners, with glassy black holes where their faces should be. I posted the photograph of me using the bouquet as a shield on my Instagram because I liked what it said about my relationship with the paparazzi, and now I was being sued for it. I've become more familiar with seeing myself through the paparazzi's lenses than I am with looking at myself in the mirror.
And I have learned that my image, my reflection, is not my own.
WHILE WE WERE TOGETHER several years ago, my boyfriend befriended a guy who worked at an important international art gallery. The gallerist said we might want to take a look at its upcoming show of Richard Prince's "Instagram Paintings." The "paintings" were actually just images of Instagram posts, on which the artist had commented from his account, printed on oversize canvases. There was one of me in black-and-white: a nude photograph of my body in profile, seated with my head in my hands, my eyes narrowed and beckoning, an image that was taken for the cover of a magazine.
Everyone, especially my boyfriend, made me feel like I should be honored to have been included in the series. Richard Prince is an important artist, and the implication was that I should feel grateful to him for deeming my image worthy of a painting. How validating. And a part of me was honored. I'd studied art at UCLA and could appreciate Prince's Warholian take on Instagram. Still, I make my living off posing for photographs, and it felt strange that a big-time, fancy artist worth a lot more money than I am should be able to snatch one of my Instagram posts and sell it as his own.
The paintings were going for $80,000 apiece, and my boyfriend wanted to buy mine. At the time, I'd made just enough money to pay for half of a down payment on my first apartment with him. I was flattered by his desire to own the painting, but I didn't feel the same urge to own the piece as he did. It seemed strange to me that he or I should have to buy back a picture of myself—especially one I had posted on Instagram, which up until then had felt like the only place where I could control how I present myself to the world, a shrine to my autonomy. If I wanted to see that picture every day, I could just look at my own grid.
To my boyfriend's disappointment, his gallerist friend texted him only a few days later to say that a big-time collector wanted it.
I knew of the gallerist through a bunch of different people and had met him once or twice, so it didn't take long to find out what actually happened to the piece. The giant image of me was hanging above the couch in his West Village apartment.
"It's kind of awkward," a friend of mine said, describing the painting's placement in the gallerist's home. "He, like, sits under naked you."
But it turned out Prince had made another Instagram painting of me, and this one was still available. The piece was a reproduction of a photo from my first appearance in Sports Illustrated. I was paid $150 for the shoot and a couple grand later, when the magazine came out, for the "usage" of my image. I hated most of the photos from that spread because I didn't look like myself: The makeup was too heavy, there were too many extensions in my hair, and the editors had kept telling me to smile in a fake way. But I did like a few of the images of me in body paint and had posted one of those pictures, which Prince then reused for this "painting."
Prince's comment on that post, included among several others at the bottom of the painting, alludes to an imagined day he has spent with me on the beach: "U told me the truth. U lost the [anchor emoji]. No hurt. No upset. All energy bunny now that it's sunny," it reads. I liked the comment he left on this one far better than his comment on the black-and-white study, where he asks, "Were you built in a science lab by teenage boys?"
When I realized we had the opportunity to procure this one, it suddenly felt important to me that I own at least half of it; we decided to purchase it directly from the artist and split the cost down the middle. I liked the idea of getting into collecting art, and the Prince seemed like a smart investment. But mostly, I couldn't imagine not having a claim on something that would hang in my home. And I knew my boyfriend felt like this was some kind of conquest; he'd worked hard to get it. I should be appreciative, I thought. Just split it with him. Besides, I was 23; I hadn't made enough money to comfortably spend $80,000 on art.
When the piece arrived, I was annoyed. I'd seen online that other subjects of the Instagram paintings were being gifted "studies," the smaller drafts of the final works. My boyfriend asked the studio, and some months later, a 24-inch mounted black-and-white "study" arrived. It was a different shot than the large piece we had purchased, but I still felt victorious.
When our relationship ended, about a year and a half later, I assumed he wouldn't want the canvas—a giant picture of me, now his ex—so we began to make arrangements to divide our belongings, including the artwork we had bought together. In exchange for two other pieces of art, I received ownership of the Prince.
A few weeks later, I realized—sitting up straight, half-asleep in my bed with my jaw clenched in the middle of the night— that I hadn't collected the black-and-white study the studio had gifted to me. My ex told me he "hadn't thought about that" and told me he'd moved the piece into storage. We went back and forth via email until he told me I needed to pay him $10,000 for the study, a price he'd arrived at from his "knowledge of the market."
"But it was a gift to me!" I wrote.
I reached out to Prince's studio. Could they offer some clarity or assistance? Help me get him to back off this ridiculous ransom? Through my contacts, I was assured that they would reach out to him to confirm that the study had been a gift from Prince to me and me alone. He didn't respond well to this assertion.
All these men, some of whom I knew intimately and others I'd never met, were debating who owned an image of me. I was considering my options when it occurred to me that my ex, whom I'd been with for three years, had countless naked pictures of me on his phone.
I thought about something that had happened a couple of years prior, when I was 22. I'd been lying next to a pool under the white Los Angeles sun when a friend sent me a link to a website called 4chan. Private photos of me—along with those of hundreds of other women hacked in an iCloud phishing scam— were expected to leak onto the internet. A post on 4chan had compiled a list of actresses and models whose nudes would be published, and my name was on it. The pool's surface sparkled in the sunlight, nearly blinding me as I squinted to scroll through the list of ten, 20, 50 women's names until I landed on mine. There it was, in plain text, the way I'd seen it listed before on class roll calls: so simple, like it meant nothing.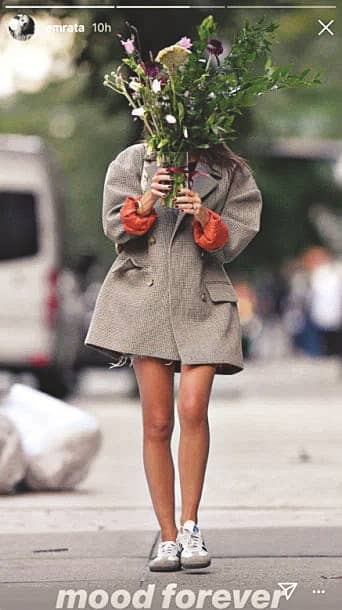 2019 The Instagram post I was sued for sharing.
Later that week, the photos were released to the world. Pictures meant only for a person who loved me and with whom I'd felt safe—photos taken out of trust and intimacy—were now being manically shared and discussed on online forums and rated "hot" or "not." Rebecca Solnit wrote recently about the message that comes with revenge porn: "You thought you were a mind, but you're a body, you thought you could have a public life, but your private life is here to sabotage you, you thought you had power so let us destroy you." I'd been destroyed. I'd lost ten pounds in five days and a chunk of hair fell out a week later, leaving a perfectly round circle of white skin on the back of my head.
The next day, I wired my ex the money. I didn't think I could survive going through what I'd been through again. I exchanged the safety of those hundreds of Emilys for one image—an image that had been taken from my platform and produced as another man's valuable and important art.
I hung the giant Instagram painting, the image from the Sports Illustrated shoot, on a prominent wall in my new home in Los Angeles. When people visited, they'd rush toward it and yell, "Oh, you got one of these!" Watching my friends ooh and aah over the piece and gush about Prince's genius made me bitter. I couldn't help but wonder if everyone had forgotten about my role in its creation. After all, it was my face, my body, my filter, and my crop.
My guests would cross their arms and study the painting, read Prince's comment, and smile. They'd often turn back to me to ask if I knew what the comment above Prince's, from some unknown user, said. "Is it German?" they'd ask, squinting.
You can read up to 3 premium stories before you subscribe to Magzter GOLD
Log in, if you are already a subscriber
Get unlimited access to thousands of curated premium stories, newspapers and 5,000+ magazines
READ THE ENTIRE ISSUE
September 14 - 27, 2020