Boss of the Beach
New York magazine|June 22 - July 05, 2020
For 40 years, the city's LIFEGUARD CORPS has been mired in controversy—falsified drowning reports, sexual-assault allegations, drugs, and alcohol—and for 40 years it's been run by one man: PETER STEIN.
ON 106TH STREET in Rockaway Beach, a lime-green bunker faces the sea. From this concrete outpost, Peter B. Stein oversees the largest lifeguard corps in the United States. His 1,374 guards protect 13.3 million annual visitors to 14 miles of beach and 53 outdoor pools, from Coney Island to the Bronx. In a city flush with generous contracts for civil servants, Stein, 75, has earned New York Post headlines for his outsize pay. He earns about $230,000 a year combined in lifeguard and union salaries. In the early aughts, when he drew a third paycheck as a gym teacher, Stein made more than the police commissioner.
An empire this lucrative must be stitched together—and then protected. In the 19th century, William "Boss" Tweed created a vast patronage network and enriched himself through kickbacks and bribes. Gus+ Bevona, leader of the building- maintenance workers union in the 1980s, earned a $450,000 salary and lived in an extravagant Soho penthouse. Like them, Stein relies on a playbook of patronage, power-brokering, and intimidation. Since 1981, his supervisors have rigged swim tests, shielded sexual predators, and falsified drowning reports. One lifeguard refers to his crew as "La Cosa Nostra." Through tabloid scandals, wrongful-death lawsuits, and 79 on-duty drownings since 1988—at points, the city's drowning fatality rate has been three times the national average—Stein has hung on like a barnacle from a bygone New York, successfully sidelining anyone who challenges him.
Then last summer, a flyer appeared at Connolly's, a Rockaway bar popular with lifeguards. It had a photo of Stein. "Meet the godfather and mastermind," it read. "Let's make lifeguarding great again." Only a few people knew who had created the sign, and it wasn't obvious what was being proposed. But its existence alone sent a clear message: Someone had calculated that Stein was vulnerable enough to be challenged. His Tammany Hall by the Sea was in trouble.
In the summer of 1960, Peter Stein was a new 15-year-old lifeguard patrolling Manhattan Beach. The South Brooklyn neighborhood, full of middle-class families and brick buildings, was no Baywatch, and Stein—a squat Jewish kid with caterpillar eyebrows—was no David Hasselhoff. But it was on this sand that he would build his castle.
Stein endured a tough adolescence. His father died when he was 17, and he and his mother lived off Social Security. He was an unremarkable student, kept to himself, and quit the swim team after sophomore year. His lifeguard job was degrading. "The city treated us like garbage," he later said. On hot summer days, his boss would send him to the parking lot to line trash cans. The indignity chafed.
While classmates became doctors and lawyers, Stein stuck with lifeguarding. He paid for college with his lifeguard salary, became a gym teacher at J.H.S. 223, a middle school in Borough Park, and continued to work the beach. Whatever kept him showing up each summer, it wasn't a love of swimming. In his 20s, Stein worked at the lifeguard school on East 54th Street in the late winter and spring, teaching young recruits how to spot heatstroke, break free of a panicked drowning person, and revive unresponsive bathers using the Silvester method, a 19th-century precursor to CPR, which was still used at the time. During lunch, instructors ran, swam, and played basketball—everyone except Stein.
"I never saw him even put on a bathing suit," says Ernie Horowitz, who attended Adelphi Academy high school with Stein and later worked with him at the lifeguard school. Stein arrived every day wearing a white button-down shirt. His training courses started last and ended first— Stein's main occupation seemed to be arguing with his bosses.
In the mid-1960s, Victor Gotbaum, the table-thumping executive director of District Council 37, was growing this municipal-employee union. He lobbied lifeguards to join. Soon, two new locals were born: Local 508, for supervisors, and Local 461, for rank-and-file lifeguards. That the lifeguards had separate unions for management and labor would be key to Stein's power. The president of Local 508 needed only to corral a few dozen supervisors in union elections to retain the post, rather than hundreds of unpredictable teenage lifeguards.
Colleagues from that era recall, with varying degrees of diplomacy, that Stein could be difficult. "He had a big mouth," says Frank Pia, who worked alongside Stein for two decades. "He was very militant, a very tough guy," says Alan Viani, a top DC 37 negotiator from 1968 to 1985. Horowitz is blunt: "He was a nudnik."
Even as he alienated his peers, Stein cultivated a friendship with Gotbaum, who had earned the moniker "Mr. Labor" as he tripled DC 37's membership rolls and negotiated with financiers and politicians to keep a nearly bankrupt New York City afloat in 1975. The exact circumstances of Stein's ascent are hazy. Some who would know declined to speak on the record for fear that Stein might imperil their pension or a son's job with the city. The rest are still on the payroll or dead.
By 1981, Stein, then 36, had become the citywide lifeguard coordinator—and the president of Local 508. By stocking the leadership of Local 461 with members of his inner circle, he would eventually control that union, too, in a brazen conflict of interest. Lifeguards who complained to their union representative about their boss found themselves speaking to the same man. Stein finally had real power.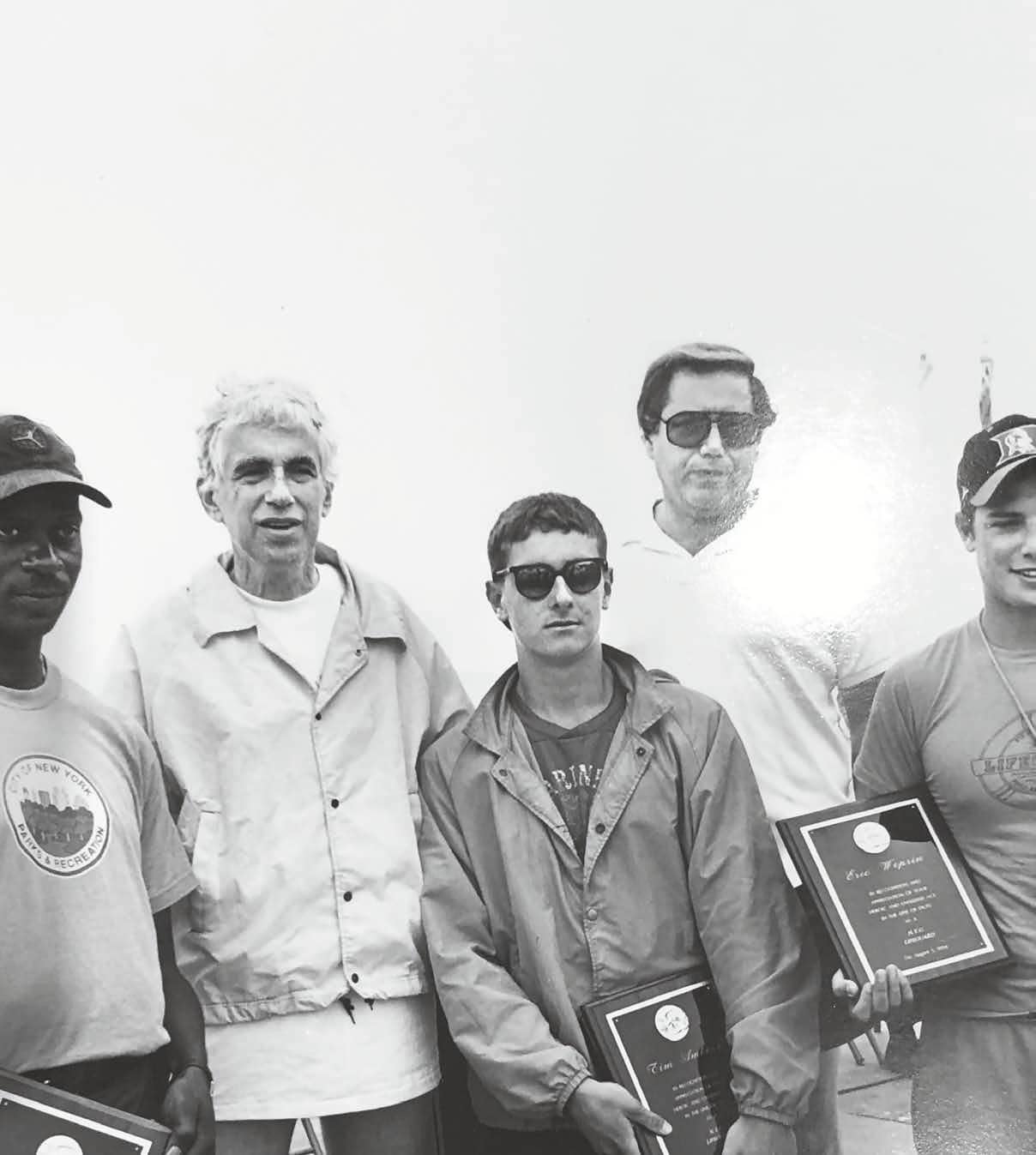 New York City in the 1980s was a far more dangerous place than it is today, and beaches and pools were no exception. Lifeguards dove into the water to escape drive-by shootings. Teenagers hopped pool fences and hosted all-night parties with motorcycles, drugs, and water snakes. Lifeguards arrived at work to find floating corpses in pools and body parts washing up on beaches.
Lifeguards were out of control too. They ordered kegs at pools and tapped them while on duty. Coney Island guards threw cocaine-fueled parties and made T-shirts that read we drink, you sink.
There was, and there remains, a lifeguard hierarchy: first pools, then bay beaches, then open ocean. Rockaway Beach and its dangerous surf attracted the alpha lifeguards— and featured the wildest parties. The 117th Street shack had arguably the most notorious reputation. The staff there used 50- gallon trash cans to mix "bash," a devastating concoction of vodka, rum, tequila, and Hawaiian Punch. At their Fourth of July party in 1984, hundreds of lifeguards drained 40 kegs, the equivalent of 6,600 cans of beer. On duty, they lured women off the beach and had sex with them in a nearby motel, in their cars, and even in the shack. Lifeguards regularly reported to work still hammered. "If you lit a match when people were signing in, it would go off," recalls Edward Figueroa, a lieutenant lifeguard at the 117th Street shack for most of the 1980s. (He says he sent drunk subordinates home.)
But beach life was also alluring, even to more-buttoned-down teenagers. Janet Fash remembers visiting Rockaway Beach with her family in the late 1970s as a Park Slope teenager, when Park Slope was still a largely Irish-Catholic working-class neighborhood. She watched lifeguards tear off a female colleague's bathing suit and throw it onto the jetty.
"Jesus, Mary, and Joseph," her mother said. "You'll never become a lifeguard." But in 1979, Fash did. She loved the rescues and the camaraderie. In 1985, she made lieutenant and three years later became the city's first female chief lifeguard. Fash met her future husband on the beach, and the couple moved to the Rockaways. She loved smelling the salty sea air as she drove home over the Marine Parkway Bridge. It helped that Stein knew how to take care of his own; they got pay raises, job protections, and pensions. In 1986, Fash got a dollop of Stein's famed patronage when he hooked her up with a teaching position at 223.
Stein's own teaching job was a point of contention in the press. In 1989, the New York Post questioned how Stein could keep beaches safe while also working as a gym teacher making $86,000 a year. But in a city grappling with a crack epidemic and annual murder rates up to eight times today's, Stein gave the lifeguards a patina of competence, which charmed city officials. Stein attended to appearances, demanding that umbrellas with the Parks Department's sycamore-leaf logo face the boardwalk. "We feel he's doing a bang-up job," a Parks Department spokesperson told the Post. "I can explain a drowning," Stein once told Fash. "But I can't explain why lifeguards aren't in uniform."
Off the beach, Stein was strategic in courting his political benefactors. He organized celebratory dinners at La Mer, a lavish catering hall on Ocean Parkway in Brooklyn, with VIP guests that included Mayor Ed Koch and Stein's new boss at DC 37, Stanley Hill, who had replaced Gotbaum as executive director in 1987.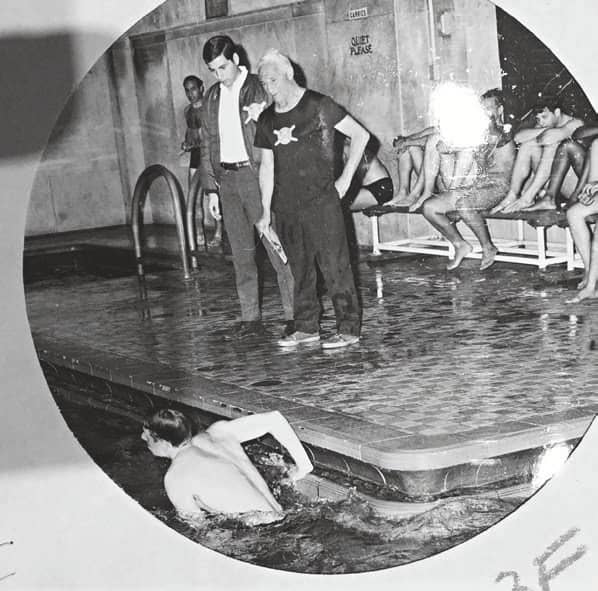 Stein had learned quickly how to leverage the union's power. Just a year after becoming citywide lifeguard coordinator, he created a pac called Politically Unified Lifeguard Labor, or pull. According to a former lifeguard's civil suit and a 1989 investigative report by the New York Post, Stein demanded $10 from every lifeguard in the city and threatened that any who refused would fail the swim test. Over the next several years, pull made campaign contributions to Governor Mario Cuomo and Mayor Koch. "He was extremely, extremely savvy," says Sal Albanese, a city councilman from 1983 to 1998 who also received pull donations. "Love him or hate him, he was a presence."
Even Stein's critics admit that his job is mind-bogglingly difficult: Recruit the nation's largest seasonal lifeguard corps, despite a roughly 25 percent annual turnover, then protect millions of beachgoers, many of whom can't swim.
New York City beaches all have their quirks. Dangerous whirlpools formed at Bay 22 in Coney Island because of an extended jetty. Orchard Beach has a steep drop-off that gets poor swimmers in trouble when the tide goes out. On rainy days, millions of gallons of feces-polluted water flush into the city's coastline, sometimes forcing beach closures.
Taming Rockaway Beach has always been Stein's greatest challenge. Seven miles long, it is the city's only truly open-ocean beach, and it is brutal. At low tide, rip currents form—swirls of foam and sediment that suck swimmers out to sea. There are endless "cases," lifeguard slang for swimmers in need of help. On a busy day in the 1980s, Fash and her crew would sometimes make 40 saves while also navigating gangs on the boardwalk, truant kids, and a local drunk approaching their chairs to proffer nips of tequila.
Back then, Joe McManus was Rockaway's rising star. A court officer off the beach, he was six-foot-two, handsome, and Irish Catholic. He wrote articles for American Lifeguard and coached the varsity swim team at St. Francis College. His Rockaway squad regularly won the city's annual lifeguard Olympics. In other words, McManus was everything Stein was not.
California was then setting the trends: improved beach surveillance, Jet Skis, tough training regimens. "We were in the playpen here," McManus says. He wanted to make chief lifeguard, then perhaps borough coordinator, and modernize the city's program. But when McManus began to organize lifeguards for national competitions without Stein's approval, his ambitions made him a threat. In 1990, Stein transferred him to Beach 32nd Street in Far Rockaway, an underpopulated spit of sand far from beach babes and heroic rescues. Lifeguards called it "the 32-skiddoo."
On June 20, 1990, McManus was working his lonely stretch of beach when his radio crackled. Two boys, Anthony St. Agathe, 15, and Bugani Wilson, 14, had just disappeared under the waves 12 blocks away. McManus grabbed his buoy and sprinted up the beach. He found the rescue effort in disarray and organized a sweep: Lifeguards lined up in two rows, perpendicular to the beach, and dove in unison, slowly tightening on the search area like a net. They failed to find the boys.
When he returned to his shack, McManus got word that Stein was "interviewing" the on-duty lifeguards, which McManus suspected was an effort to doctor the official narrative. One boy surfaced two days later. It took the other more than a week to wash up seven miles away in Long Beach.
The incident shook McManus. The next summer, he challenged Stein for the union presidency. When word got back to Stein, he exiled McManus even further afield—to a pool in eastern Queens—which made it harder to campaign. Still, Stein wasn't taking any chances. Fash remembers Stein calling her at home to ask for her support. She had worked with McManus and thought highly of him. But Stein had gotten her the teaching job, and she worried that if she crossed him, and McManus lost, she'd lose her lifeguarding job. She was still nursing her son, so she decided to just stay home. Her vote, she admits now, "would've depended on the mood in the room."
The vote took place at the end of the summer. McManus arrived at a union hall in Tribeca just as a fleet of 12- passenger Parks Department vans pulled up. Rockaway was his whole world, but Stein's fiefdom extended across five boroughs. Lifeguards he had never seen before, from the Bronx and Coney Island, poured out. McManus had made a terrible miscalculation. Stein greeted him at the door.
"So you're here," Stein said. "Why don't you go home and play with your gun?"
"I thought," McManus recalls, "it meant, 'Go home and shoot yourself.' "
The mood inside was equally dark. The ballots were anonymous, but lifeguards were instructed to write their names on the envelopes. McManus says he lost 100 to 8. Lifeguards came up to him afterward and said they would have voted for him had it been truly anonymous. "It was a one-shot," McManus says. "And it failed."
In December 1991, a Parks employee knocked on McManus's front door and served him with disciplinary papers alleging a range of infractions, including leaving his assigned work location and using abusive language. He was terminated. McManus contested the charges, won a settlement, and moved to Florida to become a full-time lifeguard.
After the double drowning in Rockaway, trial attorney Jeffrey Lisabeth filed a wrongful-death case on behalf of the boys' families. City investigators had learned that as St. Agathe and Wilson were floundering, their friend raced to lifeguard Jack Jordan's chair and shouted for help.
"If they can't fucking swim," Jordan replied, according to court testimony, "why did they come to the beach?" Colleagues nicknamed Jordan the Angel of Death after several drownings on his watch.
Lisabeth thought his best shot was to stoke the anger of a Queens jury about white lifeguards callously letting Black kids drown. But at trial, Lisabeth's case took a left turn. One of his first witnesses, lifeguard Regina Erhard Carey, then 26, broke down sobbing.
"It was the only time in hundreds of cases over 40 years that I had a Perry Mason witness that made a stunning revelation on the stand," Lisabeth says.
You can read up to 3 premium stories before you subscribe to Magzter GOLD
Log in, if you are already a subscriber
Get unlimited access to thousands of curated premium stories and 5,000+ magazines
READ THE ENTIRE ISSUE
June 22 - July 05, 2020