Hogs head home
Mississippi Magazine|July - August 2020
Home Place Pastures is bringing pork farming back to Mississippi—while throwing a great party.
The accommodations were rough—rows of haybales lin-ing each side of a flatbed trailer—and the morning hot. As the road dipped into a particularly bone-bruising pothole, Marshall Bartlett, the shaggy-headed 30-year-old who had gathered this party, leaned out the window of his pick-up truck. "How y'all doing?" he asked. The group—which included some of the South's buzziest young chefs—sent back a hearty cheer.
They were eager to be here, clearly, en route to a muddy pasture, where, once they are detailed, Bartlett offered an unsparing description of the life of a pig. Around us, the real things squealed and squirmed and sprinted.
Bartlett has emerged as the Southern rock star of pig farming—these days, you'll find the words "Home Place Pastures" cited on nearly every high-end restaurant in Jackson and Oxford and New Orleans. And the annual Hill Country Boucherie & Blues Picnic he hosts on his family's farm in Como has become a summer-camp reunion for top Southern culinary talent. At last year's festival, the chefs, along with a gaggle of music lovers, arrived on Friday evening, setting up tents and trailers in the woods while indie bands signed to a local label rocked on a stage near the barn. The next morning, after coffee and breakfast tacos, everyone floated lazily on the farm pond. Now, though, they were ready to see—quite literally—how the sausage is made.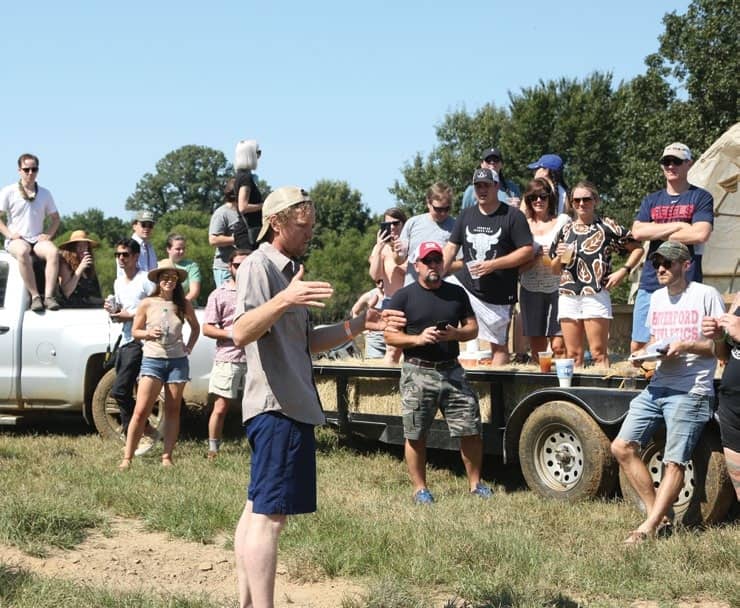 CLOCKWISE FROM TOP LEFT: Marshall Bartlett explains the practices of his pig farm to chefs and other visitors. The pigs on the farm are heritage breeds, raised on pastures. Part of the Bartlett property becomes a campground during the Boucherie, allowing attendees to enjoy a full weekend of food and music. On a stage built into a converted school bus, music begins on Friday night and picks back up on Saturday evening. Between events, celebrated chefs kick back and enjoy the setting.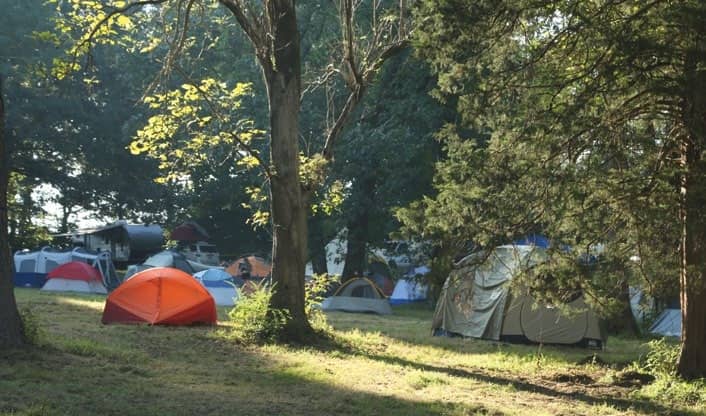 After winding through the pastures, and narrating the many details of his philosophical approach to farming, Bartlett arrived at his slaughterhouse and processing plant. "Every scrap of meat we sell walks in this thing on four feet," Bartlett said, his pride apparent. The story of this building reveals the quick rise of Home Place Pastures: it has been in operation since just 2018.
You can read up to 3 premium stories before you subscribe to Magzter GOLD
Log in, if you are already a subscriber
Get unlimited access to thousands of curated premium stories and 5,000+ magazines
READ THE ENTIRE ISSUE
July - August 2020