Breaking BREAD
Mississippi Magazine|July - August 2020
Turn empty grocery shelves into a culinary adventure.
Over the last couple of months, when most of us were required to stay at home, I took my passion for eating bread to a higher level. With time on my hands, I learned to bake a few pieces of bread that I generally wouldn't have baked.
Some breeds require skill, technique, patience, and, most of all, time. Others require tossing a few ingredients together in a bowl, mixing it up, and popping it into the oven. Both are fresh and tasty, and slathering it in butter is my favorite part of the process.
As I started baking, making croissants was first on my list. It's a tedious process of kneading, folding, chilling, and repeating, but it's so worth it, and I will definitely make them again. Brioche is also a process, but the dough is very versatile. The Brioche Pecan Sticky Buns were so delicious, and you can also use the dough for buns and tarts. Quicker bread such as Blueberry Muffins are long-standing favorites and can be made in a flash.
Making bread is rewarding, and there is nothing better for the taste buds and the soul than eating fresh, perfectly textured, buttery bread. Sharing fresh bread and watching others enjoy it is a bonus. Life can give you lemons, so make lemonade. When life puts you in quarantine, make bread! Happy summer, y'all!
BLUEBERRY MUFFINS
1½ cups all-purpose flour
2 teaspoons baking powder
½ teaspoon salt
½ cup of sugar
1 egg, lightly beaten
½ cup milk
4 tablespoons butter, melted
1 cup blueberries Sparkling sugar for sprinkling
Preheat oven to 375 degrees. In a bowl, sift together dry ingredients. In a separate bowl, combine egg, milk, and butter. Make a well in the center of dry ingredients and pour milk mixture into the center. Stir with a fork until moistened. Fold in blueberries and ladle batter into 12 buttered muffin tins or muffin wrappers. Sprinkle each with sparkling sugar. Bake for 20 minutes or until a toothpick inserted comes out clean. Serve warm with butter.
Yield: 12 muffins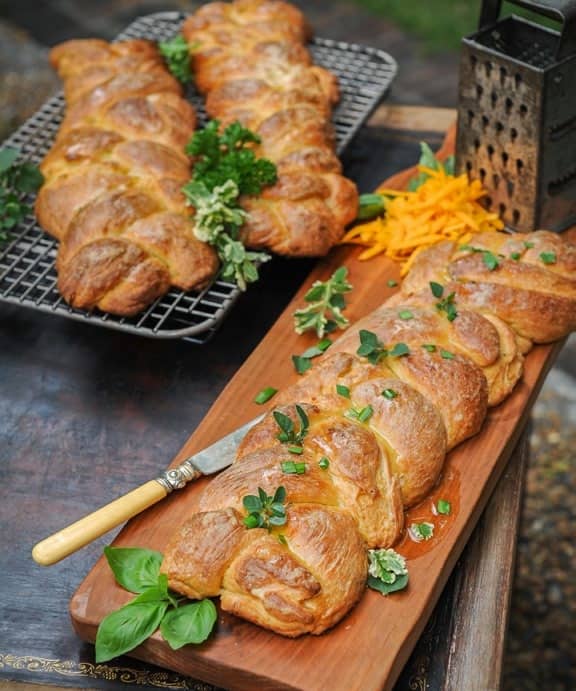 CHEESE HERB BREAD
2 tablespoons sugar
2 teaspoons salt
1 package dry yeast
¾ teaspoon dried whole oregano
¾ teaspoon dried whole basil
5½ to 6 cups all-purpose flour, divided
¾ teaspoon chopped chives
1 cup milk
¼ cup butter
1 cup cooked mashed potatoes
2 eggs
2 cups shredded cheddar cheese Melted butter
You can read up to 3 premium stories before you subscribe to Magzter GOLD
Log in, if you are already a subscriber
Get unlimited access to thousands of curated premium stories and 5,000+ magazines
READ THE ENTIRE ISSUE
July - August 2020