What Is Strength For
Men's Health Singapore
|
November - December 2019
For most of the past two million years, men and women needed strength for basically one reason: to not die. But as horse, machine, and computer power slowly replaced manpower, the meaning of strength began to evolve.
Now being strong has more cultural and social implications than ever. The connection between mind and body, and body and self-esteem, is complicated and intimate in ways our forebears couldn't imagine. Doctors and scientists are learning more about the health and longevity benefits of muscle, and even the government now recommends two sessions of strength training per week for everyone. As nerds and Marvel took over our lives and time became ever more scarce, muscle developed into a more desirable commodity. The result: swole Bezos. Today you could survive—thrive, even—without lifting anything heavier than your briefcase. So it raises the question: What is strength really for? There are many answers, and these researchers, powerlifters, soldiers, and everyday guys doing extraordinary things have some of them.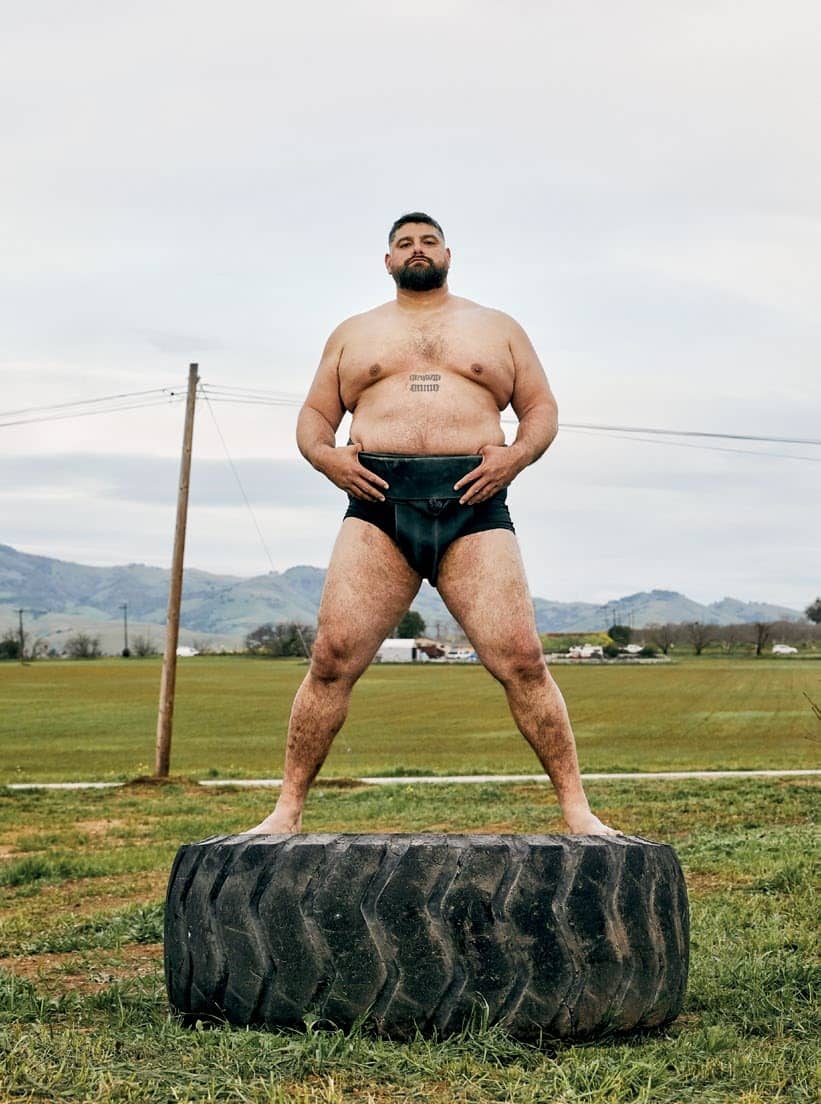 STRENGTH IS FOR
Moving Big Things
Roy Sims
"SumoS are much more athletic and fit than people expect. We often carry a lot of fat, but it's on top of a very solid, muscular structure. It's just a different body style. We need strength, speed, balance, and flexibility.
Because in my sport I'm trying to quickly move a human who is my own weight, I do a lot of explosive lifts using weights equal to my bodyweight. I'll put 160kg on the bar and do five back squats, front squats, or hang pulls. I keep the weight low and the intensity high. I try to make the bar move as quickly as possible. I also do yoga, jujitsu, Greco-Roman wrestling, play basketball—I can dunk.
I won a national championship at 172kg, and I've competed at 180kg. But I like 160kg. I feel like I'm faster and just as strong. And my energy level in my daily life is better. What's it like to be 1.95m, 175kg? I don't get to have a style. When I'm able to find a pair of shoes or pants that fit, that's what I have to buy. I had to put my work desk on blocks, and I used an oversize office chair. I've always wanted to work on cars, but I can't get my big hands in the engine very well.
That moment when we squat down before a match, some guys use it to intimidate or stare down the other guy. I always look right at my opponent's heart and empty my thoughts. I completely relax and stay in the moment so I can react better and not anticipate how the match will go. Sometimes we start and we have a big clash, and other times I'm able to move the guy like butter. I'm never trying to hurt the person. I'm trying to manipulate their body with force."
Living Longer
John Nagy
The man liveS for exercise. "I've always been active and involved in sports," says John Nagy, a chirpy 101-year-old. "And I love the social part of training." Nagy is in a crew of about 30 mature swolesters, all over 70, who train daily at the Physical Activity Centre of Excellence (PACE) gym at McMaster University in Hamilton, Ontario. They provide the oomph in an on-going research project on strength and longevity, spearheaded by Stuart Phillips, Ph.D., the director of PACE and a professor of kinesiology. "The data shows that being strong is as big a mediator in terms of long-term health as anything," he says. "Muscle is protective against cancer, it enhances survivorship in people with cancer, and it reduces the risk of mortality in people with hypertension, diabetes, and metabolic syndrome." A new JAMA study revealed that if you can do 40 or more push-ups in a row, you're 96 percent less likely to deal with heart problems in the next decade than someone who can't do 10.
Phillips expects that in five years the government recommendation regarding strength training will be beefed up: Instead of suggesting two strength sessions per week, it will recommend three to five. "Strength really is a buffer to mortality," he says. "And more importantly, it extends your health span, so you can maintain a higher quality of life for longer." Starting around age 40, most people begin to lose muscle mass. It's imperceptible at first but accelerates to about a pound per year by the time you're 50. It's easier to mitigate the slope of that decline by training more when you're younger than it is to try to rebound when your muscle has wasted away.
You can read up to 3 premium stories before you subscribe to Magzter GOLD
Log in, if you are already a subscriber
Get unlimited access to thousands of curated premium stories, newspapers and 5,000+ magazines
READ THE ENTIRE ISSUE
November - December 2019