Thomas Rhett Life Changes
Maverick Magazine
|
October/November 2017
Thomas Rhett's latest album is his most iconic yet. Bursting with classic country, as well as more experimental tracks the star is pulling out all the stops...
Your new album is called 'Life Changes', and it's fair to say you've had plenty of life changes since your last release; how is this reflected in your new music?
We released 'Tangled Up' two years ago, and it's fair to say I have never experienced so much dramatic change in my life as I have done in the past two years. Professionally, the success of 'Tangled Up' and especially 'Die a Happy Man' catapulted me into a different place in my career and I feel like we've been going a hundred miles an hour ever since. Personally, this year has obviously seen the biggest changes as well, with the adoption of our daughter Willa Gray and then the birth of our second daughter Ada James. Though the album was written and recorded prior to Ada being born, or Willa coming home, those events definitely influenced the tone of this album, and especially the title track 'Life Changes' which mentions both the adoption and Lauren being pregnant. Overall, the album covers a lot of change themes – from nostalgically looking back at your past, to ignoring change and living in the moment, to looking ahead at the future and contemplating the changes to come.
'Life Changes' encapsulates genres ranging from classic country to pop and even hints at R'n'B and EDM - are you enjoying being able to diversify and experiment with your sound?
It's definitely a lot of fun being able to just be myself and make a 'Thomas Rhett' album, without having to overthink how people are going to categorise certain songs. I have never consciously set out to diversify my sound, or experiment for the sake of it. But I guess you could say the success I have had up until this point, with songs that have stretched country music sonically, has given me the confidence to not be afraid of going in a certain direction, if that's the direction a certain song might be pulling me. I am a country singer with a country voice, but I was also born in 1990 and grew up listening to every conceivable genre of music, so it's inevitable that all those influences are part of the music that I make.
How was it working with Julian Bunetta? How did that relationship come about?
Working with Julian is great. He's one of the most talented people I have ever been around. He's a great writer and producer, but also a great musician, and so we connect on a lot of levels. My manager introduced us probably two years ago now and we became friends right away. He is one of the most laid back guys you'll ever meet, especially given the success he has had, and that energy is perfect in the studio.
Your Dad co-wrote three tracks on 'Tangled Up' and has stepped up his involvement in 'Life Changes', featuring on 'Drink A Little Beer'. What was it like recording this track with him?
Dad and I have always written well together, so it's no surprise that he has at least a couple of songs on my album. 'Drink a Little Beer' is one that he wrote, that I am not a writer on, and it probably sticks out from everything else on this album because it's the most country thing I have ever recorded. He sent it to me in an email the day he wrote it and he said, "You'll never record this, but I wanted you to hear it." And I think when your dad tells you're not going to do something, it makes you want to do it. I wasn't in the studio the day he recorded his vocal, but the actual recording of the song was some of the most fun I had making the album. I remember the day we recorded it, I played it for the musicians and they were like "We're recording this?" The day before they had played on some tracks that were the complete other end of the spectrum from 'Drink a Little Beer', and so it was awesome throwing them that curve ball and then watching everyone throw themselves into it.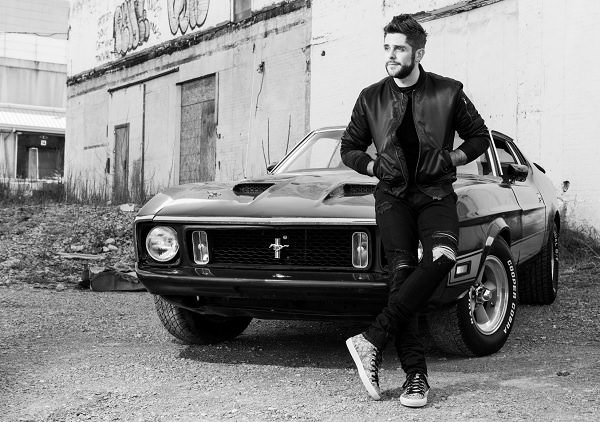 What's the story behind 'Kiss me Like a Stranger'?
This was a song I wrote on the road with Dave Barnes and Julian Reynolds. We were really in an 80s kind of R&B groove that day and it's not hard to realize that when you listen to this song. It's probably one of my favorite songs on the album and just has this really cool feel to it. The song is basically just about remembering to take time be in love with your wife, girlfriend, husband, boyfriend, etc. Life gets in the way sometimes and it's not always easy to maintain the initial romantic excitement you had early on in a relationship, so that song is a reminder to take it back to that phase and not take each other for granted. It's probably the sexiest song I have ever recorded and I think might be responsible for a population boom about nine months from now.
The video for 'Unforgettable' portrays you as affectionate, fun-loving and energetic. Would you say this was accurate of your personality?
You can read up to 3 premium stories before you subscribe to Magzter GOLD
Log in, if you are already a subscriber
Get unlimited access to thousands of curated premium stories, newspapers and 5,000+ magazines
READ THE ENTIRE ISSUE
October/November 2017