Bradley Cooper On Being A Better Actor Now
Man's World
|
November 2018
Bradley Cooper on deal breakers, his admiration for Robert De Niro, the biggest change in his career, becoming a director and working with Lady Gaga in his latest movie a star is born.
Will Bradley Cooper be fourth-time lucky in his quest for an Oscar? Going by early predictions, his hugely acclaimed version of A Star Is Born presents him the best chance yet, after being left out in the cold three years running not long ago for Silver Linings Playbook (2012), American Hustle (2013), and American Sniper (2014). Pundits are even speculating that he might walk away with the coveted Best Director award for the film, which has since been a worldwide hit.
If the 43-year old does eventually win, it will be a fitting culmination to a career that was mostly nondescript till six years ago, when Silver Linings Playbook provided him with the first opportunity, he says, to play a "…character that was not the opposite of me, but someone who had a different way of speaking or came from a different place."
In this wide-ranging interview, he talks about his acting process, his admiration for Robert De Niro, the most significant changes in his career, becoming a director and working with Lady Gaga in his latest movie.
Do you need to have ambitions to make it into Hollywood?
Yes, for sure. Movies were a major part of my upbringing and I always knew I wanted to be a part of it, but it was terrifying. I was always scared to speak in front of people when I was a kid. I was pretty shy when I was younger, and so my ambitions came from wanting to conquer those fears in order to be a part of a storytelling community. Curiosity, it grabs me fully. And being a curious individual, I want to try things and I just love storytelling so much. It's what gave me hope as a kid. It allowed myself to enter into other worlds. I felt a purpose.
In what moment of your career would you say that you noticed your biggest change as an actor?
I think about being a young actor and then where I am now at 43. I remember, the first 10 years of working, I thought just to be natural on-screen, in front of a camera, saying lines that have been written. Can I just breathe them and speak in a place of authenticity? And I felt like I got to a place where I really felt that it was happening. I was really talking to other actors. But I didn't necessarily go far into a scary place, playing a character that was not the opposite of me but someone who had a different way of speaking or came from a different place. And then I started to have the real opportunity of being able to do that, starting with American Sniper. That's where I thought, "Other than the fact that I'm a male and we were the same age and we have the same shoe size, I'm not Chris Kyle, so where do I even begin?"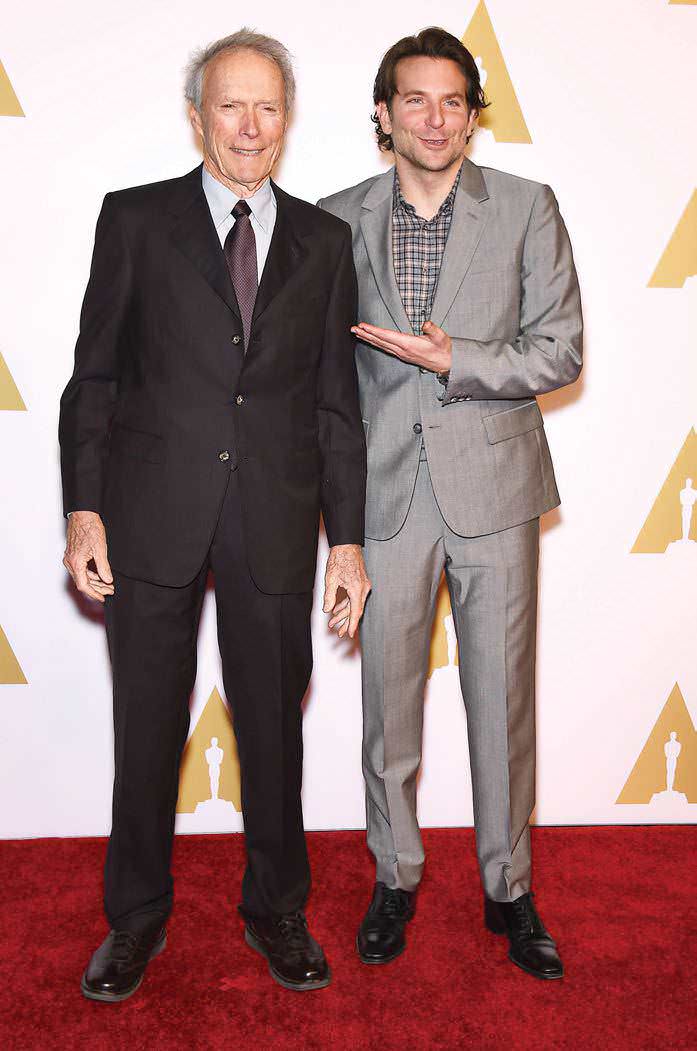 Is there a deal breaker where you would say "No" to a movie?
I remember saying to Clint Eastwood, "If I can't get to a place where I believe I'm him, there's no way I can do the movie." And that's always the thing. That's got to be locked, done, so when we show up and do the movie, we can make the movie. When you stretch yourself, it takes more time to prepare. I took like a year to prepare for Chris Kyle. [In] this movie, a star is born. This character was even farther away from me than Chris Kyle, and so I took 3 years. I don't know where I'm headed. (Laughing) Maybe the next one will take me 10 years, but the truth is The Elephant Man took me... since I was 12 years old, really. Whatever you need to do to get to a place that you believe you're the character. I find, as I get older, that voice is everything. And when you can tap into the voice of the character and you work on it to such a degree, it then becomes organic. That, to me, is fuel.
Is there any role or a character that you would love to play and you still haven't have the chance to do it?
It's funny you asked that. There is. I was sort of oddly thinking there are six characters in my mind that I always wanted to play since I was a kid, and I've been able to mark most of them off, but there is this one character that I've always felt that I wanted to play, as a profession. And then just recently, like a week ago, it sort of came up that there is a movie that I would get to play that character. I don't want to jinx it, but that would be great.
You can read up to 3 premium stories before you subscribe to Magzter GOLD
Log in, if you are already a subscriber
Get unlimited access to thousands of curated premium stories, newspapers and 5,000+ magazines
READ THE ENTIRE ISSUE
November 2018