TRYING A POWERED SHARPENER
Knives Illustrated
|
September - October 2020
WORK SHARP KEN ONION EDITION KNIFE & TOOL SHARPENER
One of the most intimidating aspects of the knife-collecting hobby for newer entrants is sharpening. From the outside looking in, it can seem like a mystical, dark art that can only be mastered by mysterious beings that seem to be able to speak to stones and metal as easily as if they were ordering a coffee. Of course, it isn't nearly that magical, but it can be hard to find out what system works best for you.
If you pop onto any knife forum on the internet, you'll mostly find suggestions for guided sharpening systems of many different kinds or calls to just jump to the much more advanced whetstone methods. One that's often overlooked (or even looked down on) is a powered sharpener. That's really a shame. A well powered sharpener such as the Work Sharp Ken Onion Edition can work more than fine for 90% of daily knife users and is by far the best option out there for some larger tools.
Enter Work Sharp
Work Sharp was kind enough to provide me with the full Ken Onion Edition, the optional Blade Grinding Attachment, and all the different belts that the company offers. The initial investment for the Ken Onion Edition is about $130. This will probably work fine for most end users. If you want a little bit more adjustment and options for more custom edges, the Blade Grinding Attachment runs around $80, and sets of new or optional belts are $18.
This is quite a chunk of change to be sure, but you can pick and choose which options you want. There's even a much less expensive model simply called the "Knife and Tool Sharpener" if you need something more basic.
The advantages of the Ken Onion Edition are the adjustable guide systems that allow you to more easily replicate the factory edge on your knife or tool or customize it to your wants and needs and replicate that angle every time. In stock form, the Ken Onion will guide you through angles of 15 to 30 degrees. If you opt for the Blade Grinding Attachment, you get more options and can easily switch between angles of 10 and 35 degrees, and you get some more belt options. The belts are also longer and wider so they should last longer.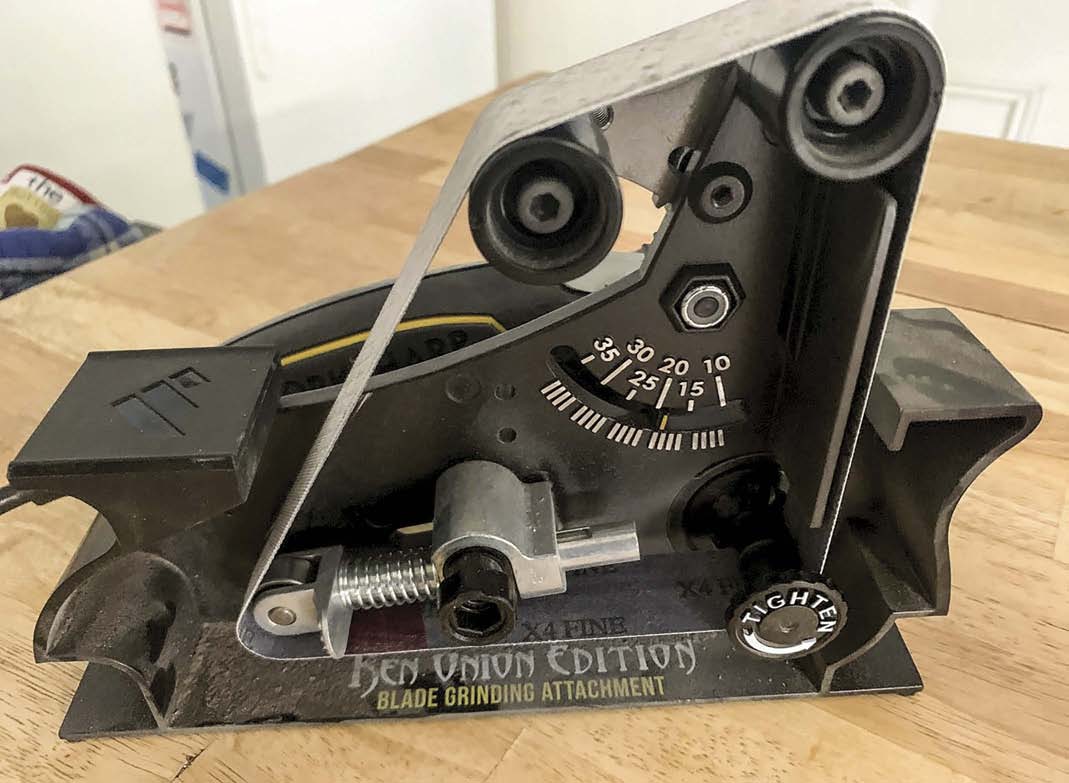 Easy Peasy
This was my very first experience with a powered sharpener and I admit I had a bit of trepidation. This was totally unfounded.
You can read up to 3 premium stories before you subscribe to Magzter GOLD
Log in, if you are already a subscriber
Get unlimited access to thousands of curated premium stories, newspapers and 5,000+ magazines
READ THE ENTIRE ISSUE
September - October 2020