SECURING YOUR STEEL
Knives Illustrated
|
January-February 2020
A VARIETY OF CARRY OPTIONS FOR YOUR INDISPENSABLE BLADE
Knives are, without a doubt, one of man's oldest tools. They have been a necessity for everything from food prep, to cutting cordage to self-defense. Of course, none of that is possible if you don't have your knife always nearby and accessible when you need it, so a good carry method is crucial to a sound overall knife system.

For thousands of years, carrying a knife consisted mainly of a wood, leather, or possibly metal sheath for a fixed-blade knife, and later simply dropping a folder into a pocket or belt pouch. Both of those methods are still viable today, but as humans developed, so did the options to carry our blades and make them much more accessible when needed.

The two main categories of knives, fixed and folders, will be presented, and the great number of options, some known and others perhaps new to you, to carry them will be explored.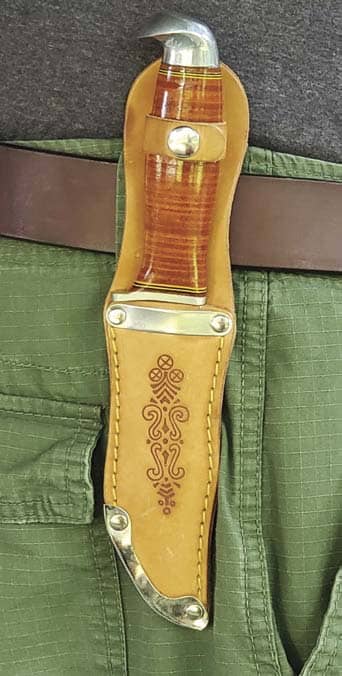 FOLDER CARRY
Pocket pal
Pocket carry is just what it sounds like, just dropping a folder into our pocket. This was the norm for ages and was the main way we carried folders such as the classic slip-joint or Swiss Army Knife. It was convenient, since most folks wore pants or jackets with pockets, and it was a discreet way to carry a knife. The downsides were that it generally wasn't particularly fast to access, and a heavy or large knife could be uncomfortable bouncing​ around in your trouser pocket all through your day.
Hanging by your side
For bigger blades or blades that needed to be held a little handier, a small belt pouch was commonly used, usually with a flap or snap to secure the knife against loss. The most classic example I can think of is the Buck 110 and the leather belt pouches that were sold with it. This was a mainstay method of carry up into the 1980s and was often seen with hunters, workmen, and even police officers. It wasn't unique to the Buck 110 knife, by any means, but was handy for any number of folding knives. Belt pouches are commonly made of leather but nylon pouches with Velcro flaps​ or snaps are also a common choice. Molded leather and Kydex open-top belt carried are also available. The belt pouch was a little easier to access and faster than pulling a knife from your pocket in most cases, but it did leave the knife exposed unless garments such as an untucked shirt or jacket were used for concealment.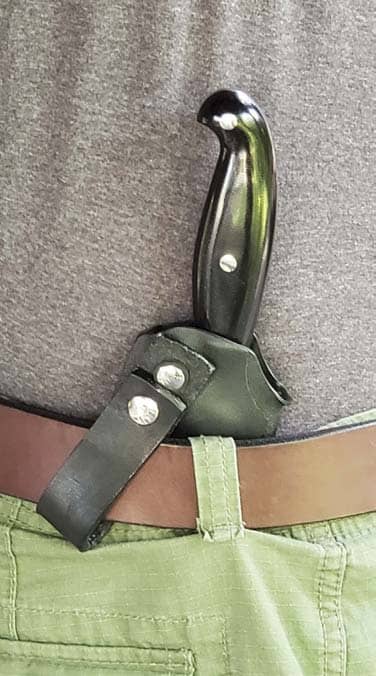 The Easy Clip
You can read up to 3 premium stories before you subscribe to Magzter GOLD
Log in, if you are already a subscriber
Get unlimited access to thousands of curated premium stories, newspapers and 5,000+ magazines
READ THE ENTIRE ISSUE
January-February 2020