PARTNERING WITH POWER
Knives Illustrated
|
September - October 2020
GERBER GEAR'S STRONGARM FLEXES ITS MILITARY-STYLE MIGHT
"FROM STEAMY RAINFORESTS TO TREE-COVERED WOODLANDS TO SWAMPY BOGS TO THE CITY'S CONCRETE JUNGLE, THIS KNIFE OFFERS ALL- AROUND USE FOR A PLETHORA OF SURVIVAL, BUSHCRAFT, AND SELF-DEFENSE APPLICATIONS."
A simple, yet practical design, a sure-grip handle, and always ready to enter the combat zone when needed or as a backwoods companion, the Strongarm knife from Gerber Gear is a civilian's answer to a military man's blade that still offers a lot of versatility.
The Strongarm, featuring a full tang blade and rubberized textured grip, is at home in nearly any environment. From steamy rain forests to tree-covered woodlands to swampy bogs to the city's concrete jungle, this knife offers all-around use for a plethora of survival, bushcraft, and self defense applications.
Not content with just believing blindly the descriptive words of the packaging, I took this military style blade into the field, both in rural and urban settings, to test the metal and the mettle of this overall intriguing knife.
The Strongarm In Hand
Upon removing the knife from its packaged blister-card, I immediately noticed its simple stockiness. It felt solid in my hand with a no-frills feel. There were no issues with it fitting well within my grip, with my larger-than-average hand and fingers being able to position well on the rubber and not slipping off or squeezed to the point of uncomfortableness. The rubberized diamond texture of the handle "locked" the knife within my palm with an almost adhesive-like attachment.
The weight (7.20 ounces) of the Strongarm was neither too great nor too light. Like Goldilocks says, it was just right. Again, as mentioned earlier, it exhibited a stockiness that reinforced, even preliminarily before true testing, that this knife could be a reliable companion and get the job done. Due to the fact that I have tested numerous knives in the past, some just have a "feel" that, upon first handling, I already know that it won't stand up to much punishment, or perhaps not even make it through the tests. The Strongarm had no such foreshadowing, and it was indeed quite the opposite.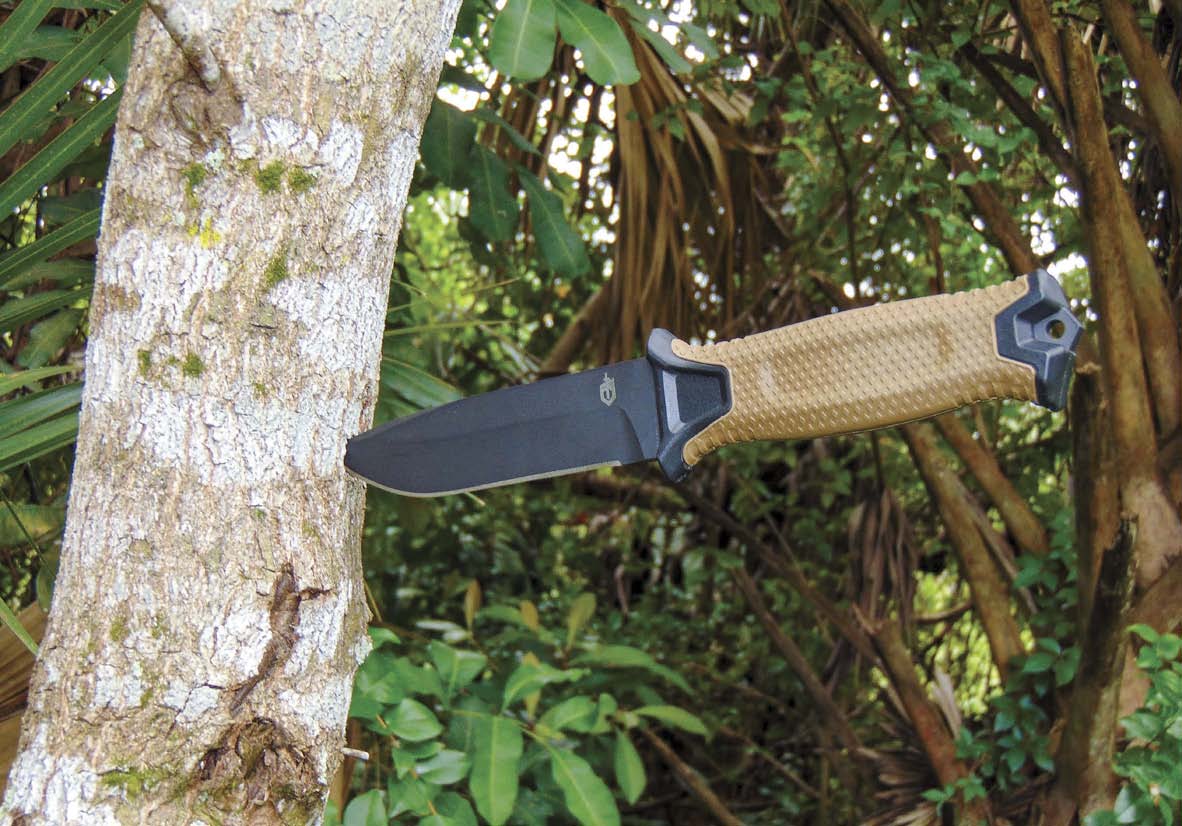 Overall, the knife's blade length just skirted below 5 inches, more than adequate for tactical, self-defense, and bush crafting applications. It featured a drop-point straight blade with a very decent amount of cutting area. The handle exhibits dual guards that are meant to prevent a person's hand from slipping forward onto the blade during a powerful thrust or cut (that will be tested), and the handle culminated in a slightly angled outward butt and a pre-drilled hole for adding cordage if wanted.
THE BASICS OF TACTICAL
You can read up to 3 premium stories before you subscribe to Magzter GOLD
Log in, if you are already a subscriber
Get unlimited access to thousands of curated premium stories, newspapers and 5,000+ magazines
READ THE ENTIRE ISSUE
September - October 2020