Historical Validation
Knives Illustrated|November 2019
THE DOGWOOD CUSTOM KNIVES KEPHART PROVES WHY IT HAS BECOME SUCH A PROLIFIC DESIGN IN RECENT YEARS
Honesty, integrity and outstanding craftsmanship are the hallmarks of Dogwood Custom Knives.
I first met Dan back in 2014 during a trip to the Amazon jungle in Colombia with Bushcraft Global. Dan and I immediately hit it off and our conversations regularly turned to knives — a topic that was not hard to get either of us on. Having brought with him a small sampling of his knives for testing, Dan provided me with one that I used extensively while there and still own today. Since then, I have found myself going to my Dogwoods more often than not, with my Echo-7 being a common go-to bushcraft knife. Now, with the introduction of his version of the Kephart — based on the design of legendary outdoor survivalist and author, Horace Kephart — I think I have found a new favorite.
But looks aren't everything, I had to find out just what makes the Kephart such a prolific design, utilized by many knifemakers the world over.
First Impressions
Even though Dan made some minor changes to the production model (that he felt Horace Kephart would have approved of), the look and feel of the Signature Kephart are almost identical to the original — which I had the opportunity to hold and inspect during Blade Show 2017.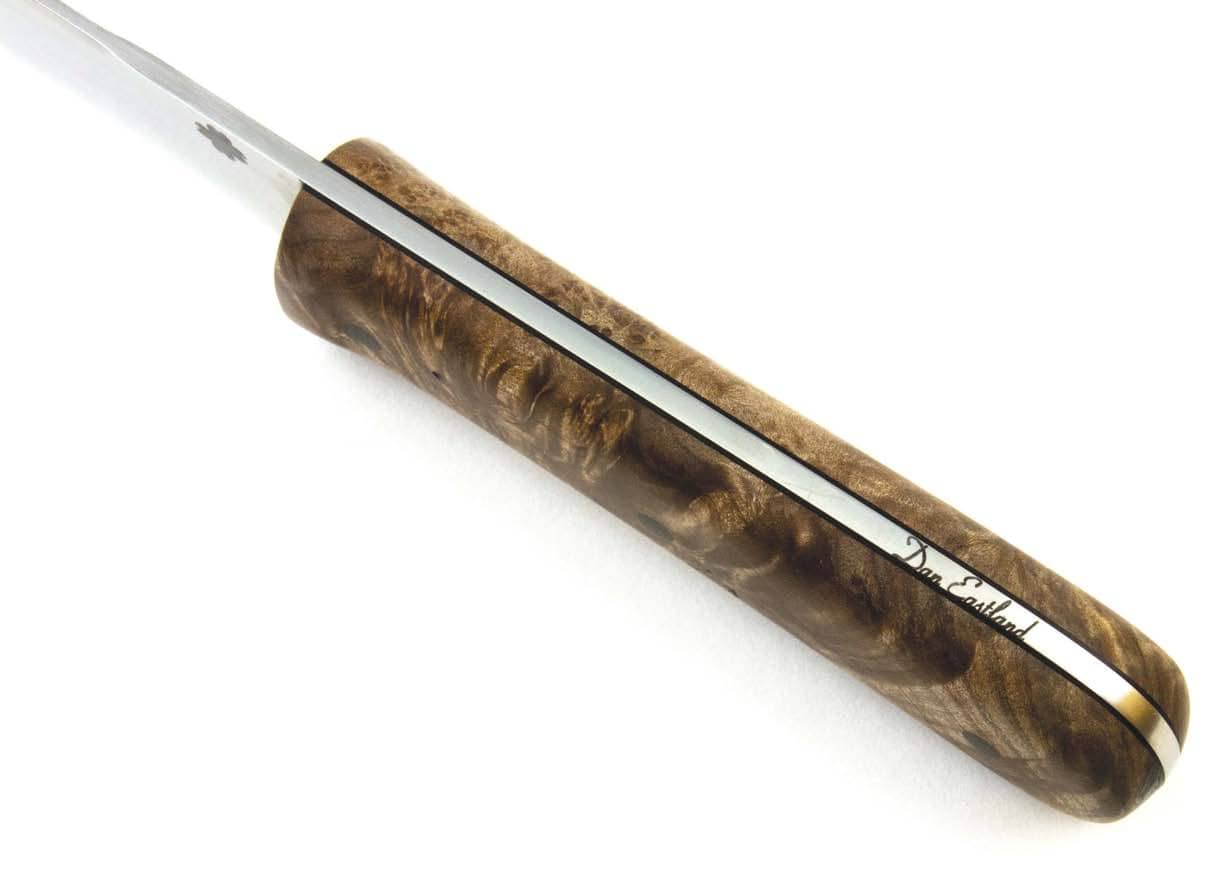 The 9.625-inch Kephart features a 5.125-inch blade constructed of S35VN stainless steel but is also available in CPM-154. The spear point broadens slightly at the tip, keeping in line with the original Kephart design, which helps increase the cutting power and ensures that the tip isn't "too sharply pointed to cook and eat with," according to Horace Kephart.
Along the spine of the Kephart is a light swedge that aids in penetration, for tasks such as gutting and skinning large or small game and fish. However — different from the original Kephart — Dan left the first inch of spine at the back untouched, leaving the 90-degree angle for things like shaving tinder bundles and striking a ferro rod.

You can read up to 3 premium stories before you subscribe to Magzter GOLD
Log in, if you are already a subscriber
Get unlimited access to thousands of curated premium stories and 5,000+ magazines
READ THE ENTIRE ISSUE
November 2019