FIXED TO FIGHT
Knives Illustrated
|
July-August 2020
IF YOUR LIFE DEPENDS ON IT, CHOOSE A FIXED BLADE OVER A FOLDER
Is a folder all a soldier really needs? Yes, some may say. But despite folder advancements, this perspective is short-sighted. A fixed blade is in every way superior to a folder for the tasks that a soldier needs a knife to perform.
Historically, fighting men throughout the ages have relied upon fixed blades (swords, bayonets, daggers, and dirks) as primary and secondary weapons of war. While folding knives have existed for centuries, they were seldom seen as suitable for the battlefield. They were relegated to agricultural and plebeian uses.
More recently, military leaders and troops alike have wrongly believed that a folder is all a soldier really needs. Folder proponents point to steady improvements in the reliability of firearms and ammunition, as well as major advancements in folding knife materials, construction methods, and locking mechanisms. And for those who will actually occupy the battlefield, this perspective can have dangerous consequences.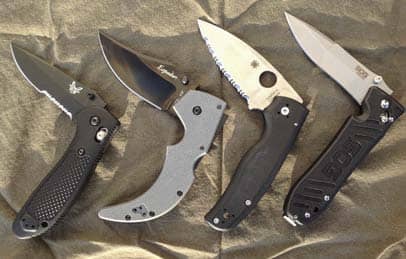 So what does a soldier's knife need to do? Answer: The same tasks knives have been performing since the beginning of time: cutting, stabbing, hacking, and occasionally prying and digging. Many folders can meet several of these needs. A few manage to struggle through most of them. But no folder will perform all of these requirements well. A fixed blade, on the other hand, can accomplish all of them with the reliability and consistency that the vagaries of combat demand.
You can read up to 3 premium stories before you subscribe to Magzter GOLD
Log in, if you are already a subscriber
Get unlimited access to thousands of curated premium stories, newspapers and 5,000+ magazines
READ THE ENTIRE ISSUE
July-August 2020