BEST VALUE BENCHMADE?
Knives Illustrated|July-August 2020
BENCHMADE PRESIDIO II CF ELITE
Is Benchmade's Black Class worth the price? To answer this question, this "Blue Class" guy is going to take a close look at the new release from the company's Black Class, which is intended for tactical users and fi rst responders: the Benchmade Presidio II CF Elite. To say Benchmade is a staple of the folding pocketknife market is an understatement among understatements. Everyone—from general users to enthusiasts to collectors to law enforcement and military—knows what a Benchmade is.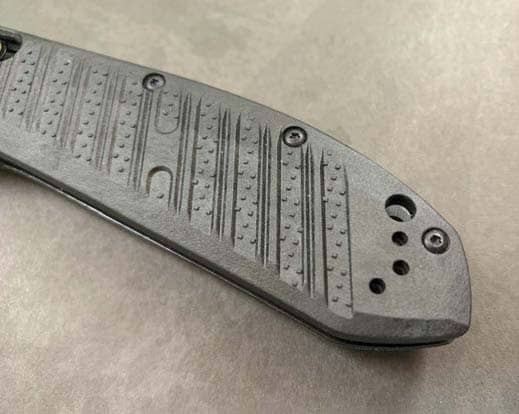 Three Classes
Benchmade has split its catalog into three "classes." The Blue Class features the knives that we've all grown to know and love such as the 940, the Griptilian and, more recently, the Bugout. The Gold Class is made up of upscale versions of other models.
The Black Class is tactical. One standout from this class over the last few years has been the Presidio II. It comes in several different versions, including coated or uncoated blades, a large standard size, a mini, and even automatic variants. One constant of all of them has been the heavily milled aluminum handles. They were very grippy and definitely looked pretty cool, but they made the knife heavy and a bit pricey. The Presidio II in all of its forms retailed for well north of $200 and a large manual version weighed in at a pretty hefty 6.1 ounces for its 3.7 inches of blade length.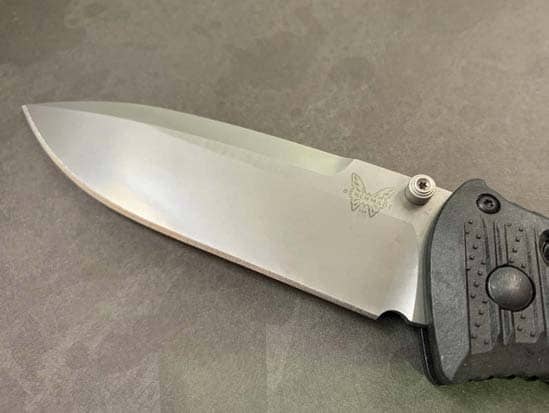 Black Class Lightens Up for 2020
For 2020, Benchmade introduced the new "CF Elite" handle material for its extremely popular Bugout model. CF Elite is a carbonreinforced nylon polymer that claims to be 17% lighter and 50% stronger than the "Grivory" nylon handles that have been a constant presence on Benchmade's knives for many, many years. Given that Grivory was already lighter than aluminum and CF Elite is much less expensive to work with, putting on a new lighter and cheaper Presidio II was a natural fit.
SPECS
You can read up to 3 premium stories before you subscribe to Magzter GOLD
Log in, if you are already a subscriber
Get unlimited access to thousands of curated premium stories and 5,000+ magazines
READ THE ENTIRE ISSUE
July-August 2020