MY FAITHFUL FRIEND
Kent Life|June 2020
Pets are proving a lifesaver for many, providing companionship and consistency in uncertain times, as these Kent Life readers reveal
KATIE & RALPH
Tell us a bit about you
I am the director of Libra Partnership Ltd, a company providing advocacy services for local authorities. We work with people who lack the capacity to make decisions and who are in care homes and hospitals across England and Wales, making sure that their voices are heard and their rights upheld.
I usually spend at least one week a month travelling the country to see clients in care homes, so the lockdown has had a big effect on how we manage this.
We have had to adapt to using technology; with the help of home managers and care staff, we can see clients using Zoom, Face Time or WhatsApp video.
We use encrypted email to transfer documents and the team can work remotely using the Cloud. However, I can't wait to be back on the road again, because there is nothing nicer than meeting someone face to face.
And your dog
Ralph is a two-year-old standard wire-haired daschund, he's incredibly lazy and happy to sleep all day, he isn't what you would call a high-energy dog! He does enjoy his walks, however, particularly if they include treats for recall.
We used to go for walks twice a day, morning and evening, but since the lockdown we try to go for a longer walk mid-morning so we only go out once. If he is feeling particularly energetic, we will play games in the garden in the evening, one of his favourites being hide and seek with treats.
What's your favourite walk?
We are really lucky living in Maidstone. From our house we can access the Medway Valley Walk and walk either to Allington or Teston, and there is also a circular walk through the nearby orchards which is lovely. Mote Park and Oaken Wood are also favorites.
Ralph is very sociable and loves other dogs. I belong to a WhatsApp dog walking group and prior to the lockdown we would arrange to meet up on a regular basis, our largest group walk was eight owners and 12 dogs. We're all still in touch and help each other with shopping if we can, but dog walks are definitely on hold for now.
Ralph is used to having both my husband and I at home, but he is definitely enjoying the extra attention that having us both home at the same time brings.
Katie and Ralph have a wonderful choice of walks from their home in Maidstone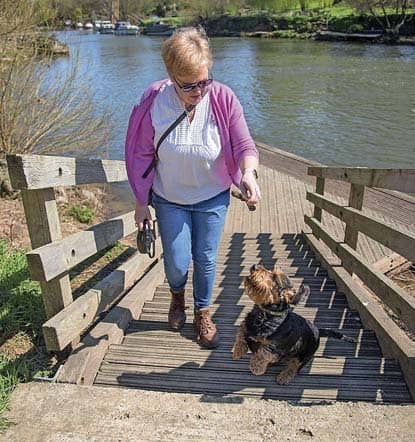 Benefits of having a dog in lockdown?
Having a dog gives me structure and purpose, particularly at the moment when days all blend into one another. Going for a walk allows me to get away from the work environment and unwind.
I'm not sure I would go out every day if I didn't have Ralph.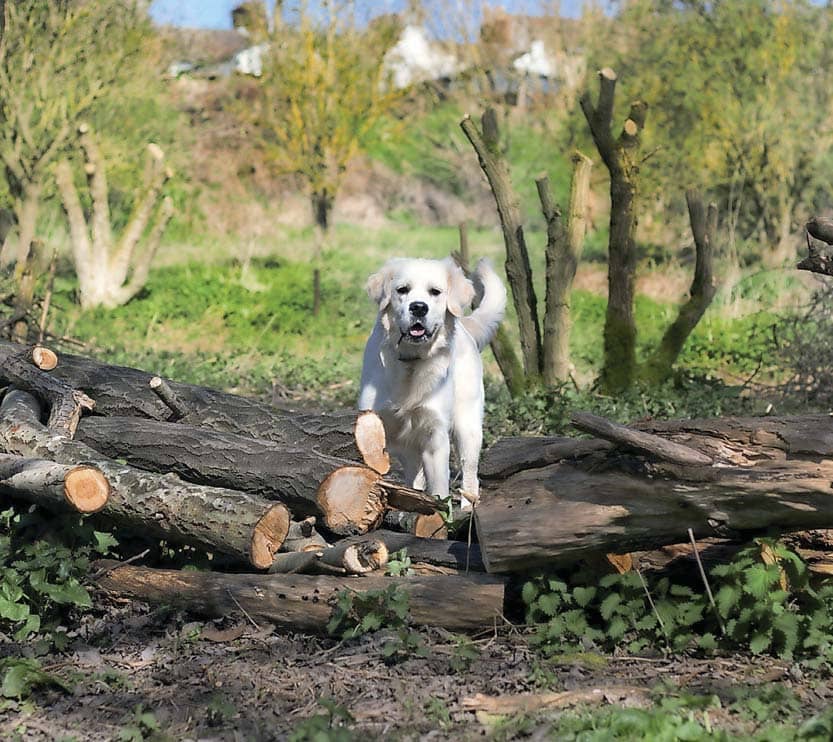 Maidstone resident Dee's Golden Retriever Joey
DEE & JOEY
Tell us a bit about you
I live in Maidstone and I used to work as a barista in BB's Muffins, but I quit my job just before the lockdown for health issues. I like staying at home, I keep myself busy with taking photos, reading, walking my dog and writing.
And your dog
Joey is a nine-month-old white Golden Retriever and the cutest dog ever. He loves to be around us and loves cuddles.
Your favourite walk?
Our walking routine hasn't changed much since lockdown as Joey and I love walking along the River Medway. We start our stroll in the Fant Wildlife area, where Joey has lots of freedom and loves chasing me with the stick. It's just beautiful there.
You can read up to 3 premium stories before you subscribe to Magzter GOLD
Log in, if you are already a subscriber
Get unlimited access to thousands of curated premium stories and 5,000+ magazines
READ THE ENTIRE ISSUE
June 2020