BUILDING communities
Kent Life|June 2020
Mark Quinn of property developer Quinn Estates on community, communication and positive changes to the Kentish landscape
Mark Quinn in the glorious office he designed
The face of Kent is rapidly changing around us and a key player in effecting that change is the highly proactive mixed-use property developer Quinn Estates.
It's the creation of entrepreneur Mark Quinn, who took on his first development project at just 23, turning an empty old water pumping station in Charing into a thriving health club.
"I got involved with the building side, and just loved it; the dirt, the work, the honesty of it all. I bought books on engineering, design, quantity surveying and basically taught mysef," he says.
"When I was starting out you could borrow money quite easily; those days are gone. I borrowed my first million quid when I was under 30. You need a couple of wins, and I had those. I was lucky. I was in the right place at the right time. You can't be successful in anything unless you take risks."
I'm speaking to the CEO of the company that bears his name at HQ in rural Bridge, a huge, lightfilled contemporary office at the top of a converted barn. Designed by the boss, it's an architectural showstopper in its own right.
Mark, 46, a lifelong sportsman, isn't bounding up the wooden stairs to his loft space with quite his usual alacrity – he broke his leg pretty badly while skiing in the New Year. "I was confusing ambition with reality I think!" says the former professional skier.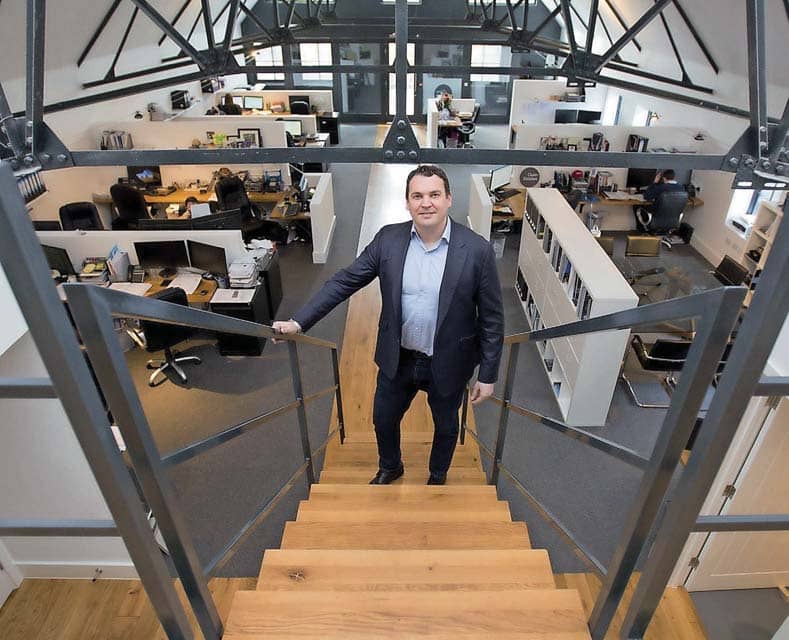 Mark's office is in the loft space above his workforce
There's not much this visionary action man hasn't done to be honest, but one thing even he couldn't have predicted was that, just a couple of weeks after our meeting we would all be in lockdown. I phone for an update and, despite acknowledging the challenges to the property market the outbreak of COVID-19 has already delivered, Mark was keen to highlight some real positives.
The company has always had a strong charitable focus and it quickly made a major donation to a community fund for victims of coronavirus in Dover, donated £1,000 to homeless charity Porchlight's emergency appeal – and also provided spare PPE it held to key NHS workers in Swale.
And Mark is delighted to tell me that Ashford Borough Council had just become one of the first councils to deliver one of the biggest regeneration planning permissions in Britain – granted by a virtual planning committee.
That project is called Newtown Works, an ambitious £250m film studio-led regeneration of a derelict railway works in Ashford, with Amazon and Netflix among a number of global streaming giants poised to back the scheme.
"During these difficult times one of the only winners has been companies that provide content to watch on subscription services such as Amazon Prime and Netflix," says Mark (Ed: spot on!).
You can read up to 3 premium stories before you subscribe to Magzter GOLD
Log in, if you are already a subscriber
Get unlimited access to thousands of curated premium stories and 5,000+ magazines
READ THE ENTIRE ISSUE
June 2020