Gandhi And Kashmir
Kashmir Life|October 06-12, 2019
In order to imagine how Mahatma Gandhi would have responded to Kashmir's present situation, it is important to understand Gandhi's long Kashmir story first on his 150th birth anniversary.
How M K Gandhi would have responded to a situation in which Kashmir landed after August 5? The man who led the freedom movement in India with emphasis on non-violence has, to his credit, some of the historic statements on Kashmir, minorities and the communalism. He actually found the "ray of hope" only in Kashmir at the peak of communal massacres before and after the partition of India in 1947.
"What can be the meaning of communalism in a state which is overwhelmingly one population according to religion? What can communalism mean in, say, Kashmir or the Frontier where the population is predominantly of one faith?" Gandhi wrote in Harijan on September 17, 1938. "The doctrine of minority is a good hobby to ride up to a point. But it must be at least numerically a fair minority. Even a minority of one can expect perfect justice."
How could Gandhi reconcile with the current situation in Kashmir in the backdrop of his statement on April 19, 1942: "If Kerala and Kashmir were speaking the same language, I would treat them as two distinct provinces."
"Is Kashmir a Hindu State because a Hindu Prince happens to rule a territory which has an overwhelming majority of Muslims as its inhabitants? Or is Hyderabad with its overwhelming Hindu population a Muslim State because a Muslim Prince rules their destiny?" Gandhi wrote in Harijan on February 18, 1939. "I regard this kind of talk as a libel on nationalism."
But to understand Gandhi's Kashmir story, one must get into the details of his association with Kashmir. He knew Kashmir for a long time but visited only once and that too reluctantly. That visit was hugely consequential. Recorded by the historians, his involvement with Kashmir can be chronologically traced from 1931.
KASHMIR WOOLLENS
The first reference linking Ghandi and Kashmir involves the Kashmiri woollens. "Fine woollen things come only from Kashmir, and so it has become the fashion nowadays to palm off foreign woollens as cashmere, i.e., fabrics hand-spun and hand-woven in Kashmir," Sjt Kotak, who handled the All India Spinners Association (AISA) in Srinagar, wrote in Gandhi's Young India (May 7, 1931), and Navajivan (May 3, 1931), at the peak of the Swadeshi and Khadi movement. "Can you not do anything to stop this fraud?"
Though there has been an exchange of letters between Prem Nath Bazaz and Ghandi, for many years, Srinagar's Khadi Bhandar was Ghandi's main Kashmir connection. By 1935, he was seeking suggestions to address the "complaints about the management of the Kashmir branch" and a year later, he wrote someone: "The only person I know in Kashmir is Shri Surendra Mashruwala of the Khadi Bhandar."
Gandhi was, for a long time, fascinated by the woollens produced in Kashmir. "It is the khadi spirit which has enabled Kashmir woollens and Bengal-Assam silks to hold their own," he wrote in Harijan (November 7, 1936). Seemingly, he was keen to improve the Kashmir product. On June 21, 1937, he wrote to Purushottam K Jeranjani about the blanket he had earlier sent him. "The blanket that I have sent you is a hand-woven one from Scotland. It is said that even the wool is hand spun. The beauty of it lies in the composition of different colors.
The purpose in sending it to you is that you may try and make use of the design in Kashmir or some other place."
By 1945, he was discussing with the managers of the Bhandar in Kashmir to lift a bank loan for the better management of the depot.
Till his last breath, he remained a strong votary against the mechanical interventions in handicrafts. "For instance, the woollen manufactures in Kashmir are not self-use. They cater for the market for fancy goods outside Kashmir. They are extremely popular," Gandhi was quoted telling a friend somewhere on August 17, 1946. "Now, if we introduce machine carding, they can hold their own against all competition. But that would be against the fundamental khadi principles."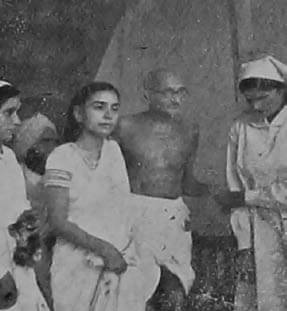 FOR SHEIKH ABDULLAH
Gandhi's close circuit was literally pushing him for a Kashmir visit since 1933. "You swear by Kashmir, but let me tell you that it is not the climate that suits every constitution and in any case I cannot go to Kashmir in search of health," Gandhi wrote to a well-wisher on June 20, 1933. "I must find my health where my work lies."
By June 1939, he was willing to an extent: "I am not going to Kashmir unless JL (Nehru) comes and takes me there." Finally he was supposed to be in Kashmir by July 23. He actually wrote to his friends to join him in Srinagar for a week.
Barely five days ahead of the visit, he conveyed to Amrit Kaur from Abbottabad: "I am sorry to have to tell you that I had to withdraw acceptance of state hospitality in Kashmir. The people won't tolerate any such thing. This is unfortunate. But I did not want to create bitterness."
"I regret to say that for unavoidable reasons I have been obliged to cancel my Kashmir visit," The Hindu carried his statement from Abbottabad on July 22, 1939. "I must apologize to those who were led to expect my visit to India's fairyland."
You can read upto 3 premium stories before you subscribe to Magzter GOLD
Log-in, if you are already a subscriber
Get unlimited access to thousands of curated premium stories and 5,000+ magazines
READ THE ENTIRE ISSUE
October 06-12, 2019