Agriculture: Bloody Harvest
Kashmir Life
|
October 20-26, 2019; Issue 29 Vol 11; BLOODY HARVEST
Unlike all other unrests that Kashmir witnessed since 1990, apple somehow escaped the crisis. In the wake of the abrogation of Jammu and Kashmir's special status, the Rs 10,000 crore economy is caught in crossfire and is struggling to survive at crippling costs, especially after a series of killings in south Kashmir,
On the evening of October 16, when Aslam, 42, a fruit grower and trader from Shopian, saw fire tenders rushing towards Trenz village, he knew something bad had happened.
Within no time, he learned that unknown gunmen – police say militants – had attacked two non-local apple traders in Trenz, where they had gone to buy girana (C grade apples) from a local trader. The gunmen had also set on fire the vehicle in which the non-local traders had come. About an hour later, one of them, identified as Charanjit Singh, a resident of Punjab was declared dead, while his colleague, Sanjiv Kumar, 25, is struggling for his life in Srinagar's SMHS Hospital.
Aslam who had been busy all day packing apples in two trucks in Pulwama, instantly knew what it meant. "We are finished," he said over phone trying not to sound afraid.
The attack in Trenz came two days after Muhammad Shareef Khan, a truck driver from Rajasthan was killed by masked gunmen in a similar fashion in Shopian's Sirnoo-Shirmal village. He had loaded 150 of the 200 apple boxes when two masked men forced him to move his truck out of the orchard on the main road, where they shot him dead and set his truck afire. Incidentally, the truck owner, a relative of the slain driver, was in his truck when it was set afire.
"The moment I learned about the second attack in Trenz, I decided not to trade in apple this year," said Aslam. "No trade is worth my life. I will not put myself in risk."
Aslam said at least twenty other growers and traders from his area have stopped picking or loading apples, after the twin attacks. "Why everyone is talking about apples?" asks Bashir Ahmad Wani, 56, a grower who lives in Shopian outskirts. The area is reeling under unprecedented fear as the belt's key economy is caught in a cross-fire.
Since August 5, when Government of India unilaterally stripped Kashmir of its special status, and people reacted by observing a civil curfew, apples got catapulted to the centre of crisis.
This unnecessary attention made normal economic activity like picking or transportation of apples an emotional issue.
"I don't understand why people are connecting apples with K-issue?" asks Aslam.
Growers say, even during the unrests of 2008, 2010, and 2016, they managed to harvest their crop and send it to markets in different Indian cities without any hassles. "But this year, it is different," feels Aslam. He believes apple is deliberately being connected with politics. As a result Kashmir apple has made headlines since August 5, for all the wrong reasons.
A day after the attack in Trenz, orchards in Shopain and its adjoining areas once again were deserted. There were no minitrucks seen parked outside orchards ready for loading. Traders like Aslam stayed at home hoping for a miracle.
"Once again Shopian and its adjoining areas are enveloped by mysterious silence," said Aslam.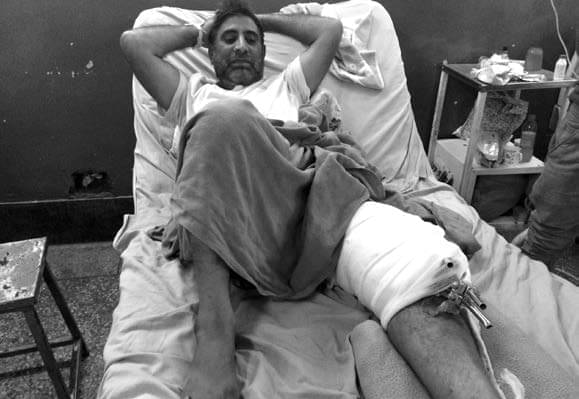 Apple picking is a labour intensive exercise. But Trez had a chilling impact on labour force. Reports in media suggest that the two gunmen who killed Singh had actually assembled as many as 18 non-locals in addition to Singh and Sanjiv. Finally, they separated the traders from the labourers and sent the latter free with a warning. These 18 labourers took refuge with the resident for whom they were working and were eventually taken by an army major along with him, according to The Telegraph.
There is no sign of life in south Kashmir's biggest fruit mandi (market), located on Shopian outskirts. Outside one of its two iron gates, a group of teenage boys were riding their bicycles.
You can read up to 3 premium stories before you subscribe to Magzter GOLD
Log in, if you are already a subscriber
Get unlimited access to thousands of curated premium stories, newspapers and 5,000+ magazines
READ THE ENTIRE ISSUE
October 20-26, 2019; Issue 29 Vol 11; BLOODY HARVEST