Extreme Sparkle
Her World Singapore
|
April - September 2019
Feast your eyes on some of the most gorgeous engagement and wedding rings from the most iconic brands of our time.
"Will you marry me?" These four little words can send even the most sensible woman into a tizzy, especially when the rocks are as dazzling as some of these beauties. Jewellery, after all, is about emotion. It revs up your heart, reignites memories, and recognises milestones. Here, we take a look at the signature designs that have stood the test of time and become emblematic of the brands that originally created them.
CARTIER
From its modest founding in Paris by Louis-Francois Cartier in 1847, it became the "king of jewellers and jeweller of kings", thanks to its reputation for exceptional gems, groundbreaking designs, and exquisite craftsmanship. The French elite, European and British royalty, India's maharajas, and American heiresses all vied to show off its most extravagant pieces. It was also one of the first jewellers to use platinum in jewellery – groundbreaking in the 19th century.
Thanks to this legacy, Cartier, which made the engagement rings for the late Duchess of Windsor, Princess Grace of Monaco and Diana, Princess of Wales, remains one of the most sought-after brands in the world. Today, it is also the jeweller to stars. Nicole Kidman proudly wears her precious Cartier diamond ring (from husband Keith Urban), as does Mary-Kate Olsen (French banker Olivier Sarkozy proposed with a vintage Cartier engagement ring).
SAY "YES": Signed and numbered, the signature Solitaire 1895 has been a Cartier star since 1895. Displaying optimal brilliance, it has a design that is elegant and timeless, with the centre stone held by four prongs. Another classic option is the Trinity Ruban, a reinterpretation of the Trinity ring. With a brilliant-cut diamond solitaire and a swirl of platinum paved with glittering diamonds celebrating commitment, this unique engagement ring shines at every angle.
SAY "I DO": The famous Trinity ring was originally designed for French writer, artist and filmmaker Jean Cocteau in 1924. He commissioned Cartier to create a design with three interlocking bands: one for love in pink gold, one for friendship in white gold, and one for fidelity in yellow gold. Over time, it has seen various changes, such as diamonds channel-set into the original three bands, and even a black ceramic and white gold model with diamonds.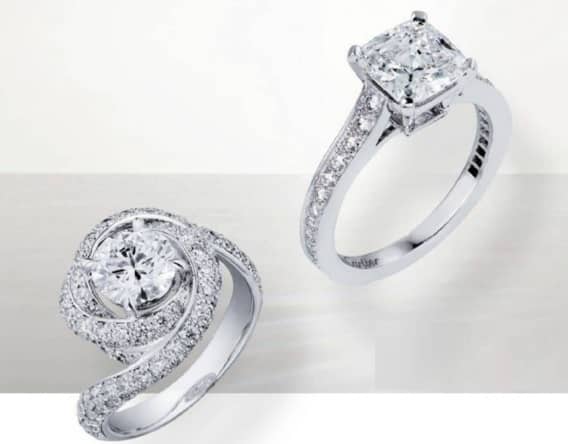 TIFFANY & CO.
Designer Paloma Picasso, who joined Tiffany & Co. in 1979, once said: "Anybody can walk into Tiffany's and be treated like a queen." The thousands who have visited the brand's flagship New York store, which opened on Oct 21, 1940, would surely agree.
The jewellery house was founded in 1837 by Charles Lewis Tiffany and John B. Young, and officially named Tiffany & Company by the former when he took over the company in 1853. Since 1886, the brand and it's Tiffany Blue Box – the shade of a robin's egg, and now known officially as Pantone 1837 – has been synonymous with romance, proposals, and marriage.
The flagship store is also home to the Tiffany Diamond, one of the largest yellow diamonds ever discovered. It was found in a South African diamond mine in 1878 as a 287.42-carat rough stone, then cut in Paris into a cushion shape of 128.54 carats (about 25g). The canary yellow stone's 82 facets maximise its fire rather than its size.
In 1961, it became the star of designer Jean Schlumberger's Ribbon Rosette necklace, made with yellow gold, platinum and over 1,000 white diamonds for another star – Audrey Hepburn, who wore it in publicity photographs for her film Breakfast at Tiffany's. Today, it is on permanent display on the Fifth Avenue store's main floor.
SAY "YES": Pick an engagement ring with the brand's signature Tiffany Setting, which was first introduced in 1886: A brilliant-cut round diamond is lifted above the band, and elevated with six prongs designed with V-shaped scoops, giving the diamond maximum visibility. In 2016, the brand celebrated its 130th anniversary with the launch of the Pave Tiffany Setting ring, with pave diamonds wrapped around the band.
SAY "I DO": A matching platinum band with pave diamonds complements the Pave Tiffany Setting's simple elegance and stunning shine.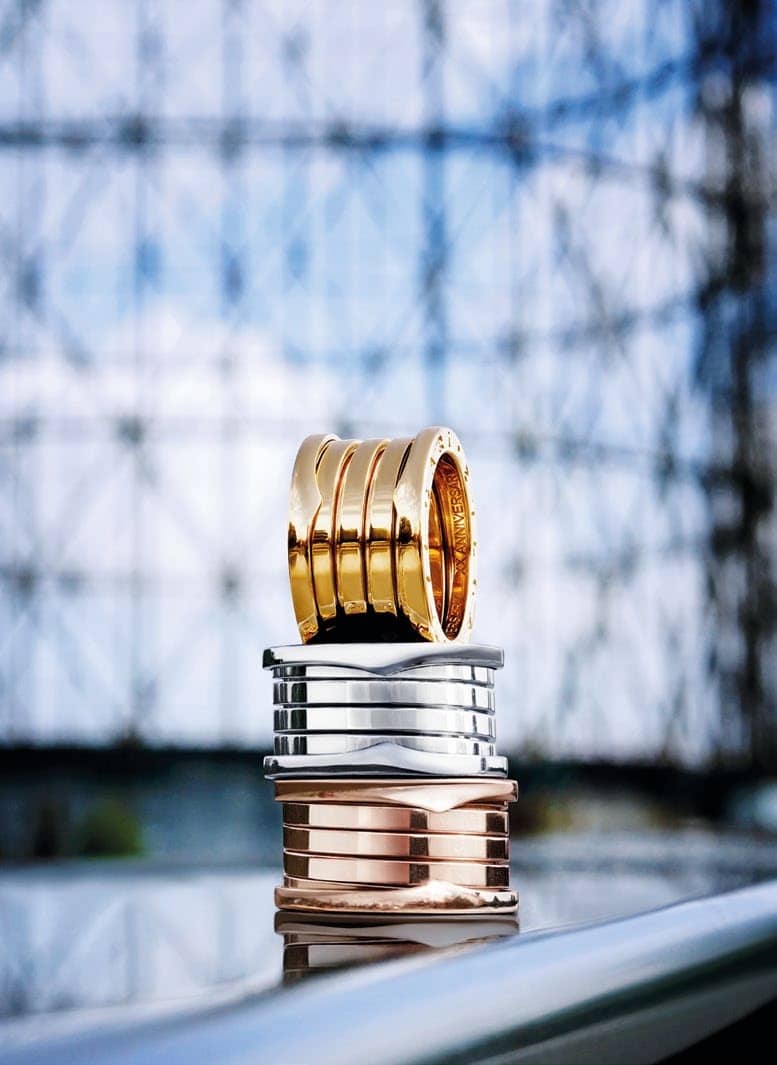 BVLGARI
One of the oldest Italian jewellery brands around, Bvlgari began as a modest store at the top of the Spanish Steps in Rome in 1884. It was opened by Sotirios Voulgaris, a Greek who started out as a silversmith. He adopted the phonetic version of his surname – Bvlgari – and opened more stores, including the now historic luxury maison at 10 Via dei Condotti in 1905.
Later on, his grandsons Gianni, Paolo and Nicola introduced bold combinations of coloured stones (chosen for their hue rather than their weight), cabochon-shaped gems, and smooth, simple shapes that soon became recognised as the Bvlgari style.
Many memorable designs ensued. The Serpenti, one of its most recognisable icons, dates back to the 1940s. The 1960s saw the introduction of Coins or Monete, which came about when Nicola was inspired by ancient Roman currency. In the 1970s, the Parentesi brought a stylish simplicity to fine jewels with its soft, clean lines made up of repeated curves that were interlinked for flexibility. In 2000, the B.zero1, an audacious 3-D design inspired by the Colosseum, with a broadband encircled by two flat rings and engraved with the Bvlgari double logo, became another signature.
SAY "YES": The "B" in B.zero1 stands for Bvlgari, while the "zero1" signifies that it was the brand's first jewellery design of the second millennium. Updated every year, the flat rings that punctuate each end are engraved with the distinctive Bvlgari double logo. This model with a gorgeous diamond is perfect as a proposal ring.
You can read up to 3 premium stories before you subscribe to Magzter GOLD
Log in, if you are already a subscriber
Get unlimited access to thousands of curated premium stories, newspapers and 5,000+ magazines
READ THE ENTIRE ISSUE
April - September 2019