Sniffing Out Danger
Her World Malaysia
|
June 2019
A winner of the L'OréalUNESCO for Women in Science Fellowship in 2018, Dr Chai Lay Ching may not have become a doctor, but she is determined to save lives by developing a real-time method to detect diseasecausing bacteria in raw chickens.
Do you know several studies in Malaysia have shown that as many as nine out of 10 raw chickens in our markets test positive for Salmonella or Campylobacter jejuni contamination? A leading cause of food-borne diseases globally, these bacteria kill more than 150,000 people annually! Although science is continuously advancing, the conventional laboratory-based testing approaches of raw chickens have become too slow to meet the demands of today's large-scale food production. A test currently takes anywhere between two to seven days to complete, and with produce having to be sacrificed when tested, the process is an expensive affair – causing the majority of raw chickens to go untested. Consumers are on the losing end either financially or health-wise, as the cost of testing usually gets passed on to us, which is reflected in higher market prices.
One woman, Dr Chai Lay Ching, is out to change that. A senior lecturer at the University of Malaya's Institute of Biological Sciences, Dr Chai is developing a real-time method to sniffout highly pathogenic bacteria in raw chickens. This research has nabbed her one of only three L'Oréal-UNESCO For Women in Science Fellowship awards available to Malaysian women in 2018, a highly coveted honour that comes with RM30,000 grant money. "I think I was just too overwhelmed when I got the call that I'd won. My brain did not know how to process the good news. I was speechless and emotionless. It was repeated to me twice to make sure I actually understood what I was being told. After putting down the phone, I think I took at least 30 minutes to really digest the good news. It's a dream come true, as I never anticipated winning the award," she humbly reveals.
As fate would have it, her 'Eureka' moment happened quite by chance. "I accidentally found that Campylobacter produces a very specific scent when we grow them on the agar plate. This allowed me to correctly identify samples with Campylobacter from the negatives ones," says the young scientist. In the months to follow, Dr Chai spent her time sniffing out the bacteria in a laboratory – first using her nose, and then a machine. From this she fine-tuned her research method, which is based on the detection of specific volatile organic compounds (VOCs) produced by bacteria.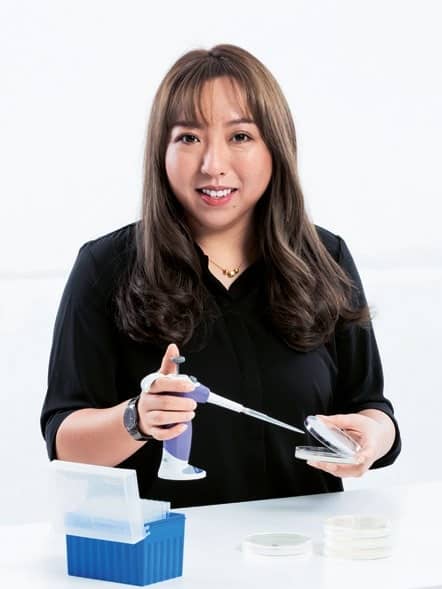 UP TO THE TASK
"This work is crucial for the future development of VOC-based biosensors or electric noses that meet the ideal high-throughout detection criteria. It can also be automated, is easy to perform, and instantly detects contamination," Dr Chai enthuses. With the RM30,000 boost from her L'Oréal-UNESCO For Women in Science fellowship, she's been able to purchase the chemicals and media necessary for making the biosensor a reality. Progress has been encouraging thus far. "My research team is now at the stage of recording the VOCs emitted by pathogenic bacteria in raw chicken, so that we can identify the unique smells associated specifically with these bacteria. This is essential research work before we can proceed to developing the biosensor that could be used to sniffout these bacteria in real-time."
You can read up to 3 premium stories before you subscribe to Magzter GOLD
Log in, if you are already a subscriber
Get unlimited access to thousands of curated premium stories, newspapers and 5,000+ magazines
READ THE ENTIRE ISSUE
June 2019