Meet The Property Tycoons Nadia Zaal and Kabir Mulchandani
Hello! India
|
October 2015
Once a Mumbai boy, the former electronics baron (Akai TV and baron electronics) and his wife give us an exclusive glimpse into their beachfront mansion on Nurai Island a breathtaking property off the coast of Abu Dhabi Kabir Mulchandani.
An exterior view of Nadia and Kabir's home, one of 23 villas designed by international architecture firm AW2, on the 4.3 million square foot Nurai island in Abu Dhabi. Above inset: Nadia wears a Donna Karan dress and sandals while Kabir wears a Paul & Joe shirt with jeans and shoes, from their personal collections.
To say that 42-year-old Kabir Mulchandani has had an eventful life would be an understatement. Born to privilege and blessed with smarts, he attended the prestigious American boarding school, Phillips Exeter Academy, going on to the Ivy League institution, Stanford. However, his seemingly idyllic life took a dramatic turn when he was forced to leave college because his entrepreneur parents could no longer afford his tuition. Undeterred, he rebuilt his family's electronics business empire, with Bush, their firm, becoming the largest seller of TVs in India by 1998. His success story in the UAE had its share of similar vicissitudes; he was charged with fraud after experiencing dizzying success and was even taken into custody for 140 days. Following his complete exoneration of all charges in 2010, Kabir's powerful return to the upper echelons of the real estate scene has earned him respect, riches and most importantly, a humility that is hard to find amongst the mega-wealthy.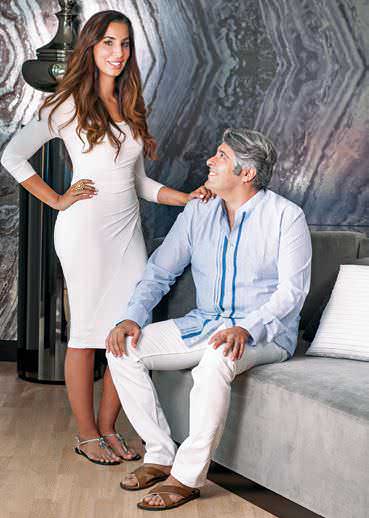 Nadia Zaal, his 34-year-old wife and partner in both mind and spirit, is a powerhouse in her own right. By the age of 23, she was doing billion-dollar deals for the Abu Dhabi government. Her family's subsequent personal property project, Al Barari, a tropical paradise in the Dubai desert, is one of the most beautiful developments in the region, whilst her just-unveiled Abu Dhabi development, Nurai Island, is nothing short of breathtaking. Seemingly perched at the edge of paradise, state-of-the-art, glass-walled, luxury homes dot the island. The island hosts a hotel, water villas and large estate villas whose grass-topped roofs look out into the endless, azure-blue horizon.
Yet Kabir and Nadia are, in person, far from the intimidating real estate moguls their credentials would suggest. Nadia is often found at home, barefoot, with their one year-old son Aylaan on her hip; she refuses to get a nanny and takes care of every aspect of her household routine, from her family's diet to their clothing, single-handedly. The natural beauty is a self-confessed traditionalist. Spiritually inclined since the age of 13, Nadia's calm and easy aura has done wonders for her husband, as he gazes adoringly at her every few minutes. While they undoubtedly love to live well, frequently hopping on their private jet or sailing for days on their yacht, it is obvious that money doesn't define or drive them. The more time HELLO! spent with the couple, the more it became clear that they are immune to social snobbery and have a close circle of childhood friends. The family of four – Kabir, Nadia, Aylaan and Rehan (Kabir's eight-year old son from his first marriage) – is clearly a seamless, tight unit.
How did the two of you meet? Kabir: 'We met at the Abu Dhabi Formula 1 in 2009."
Nadia: "That was the first time we saw each other, that is (laughs)."
Kabir: She had a beautiful smile; I thought she was awesome. I remember she was wearing a black tight trouser thing (laughs)."
But you didn't speak?
N: "We just spoke about some work stuff for a few minutes. I was trying to sell homes on Nurai Island, post the financial crisis. He offered me a deal to buy one of the houses there."
K: "I had invested in some commercial real estate. I told her that I would be happy to trade her the commercial real estate in exchange for a villa."
That meeting obviously led to a second?
N: "I was really surprised. Initially, I didn't want him to buy the house because I had the impression that he was going to be really arrogant. When I actually sat down and spoke to him, I was shocked because he was so humble and engaging."
K: "We had lunch, that's all. I found her attractive but she was with someone else at that point so I didn't really think of her in that way. She was interested in selling me the villa but I didn't want to buy it unless I got a solid deal. At that time the mindset was, unless you get a deal where you really are in the money, it's not worth the risk."
When was your actual first date?
K: "She was the one who actually ended up asking me out (laughs)!
N: Yes, I did. We went for dinner to 101 at One&Only The Palm, Dubai. Our date lasted from 9pm to two thirty in the morning. They literally had to kick us out of the restaurant. We sat on the terrace overlooking the water. That was it. Since then, we haven't spent more than 10 days apart. It was such a whirlwind."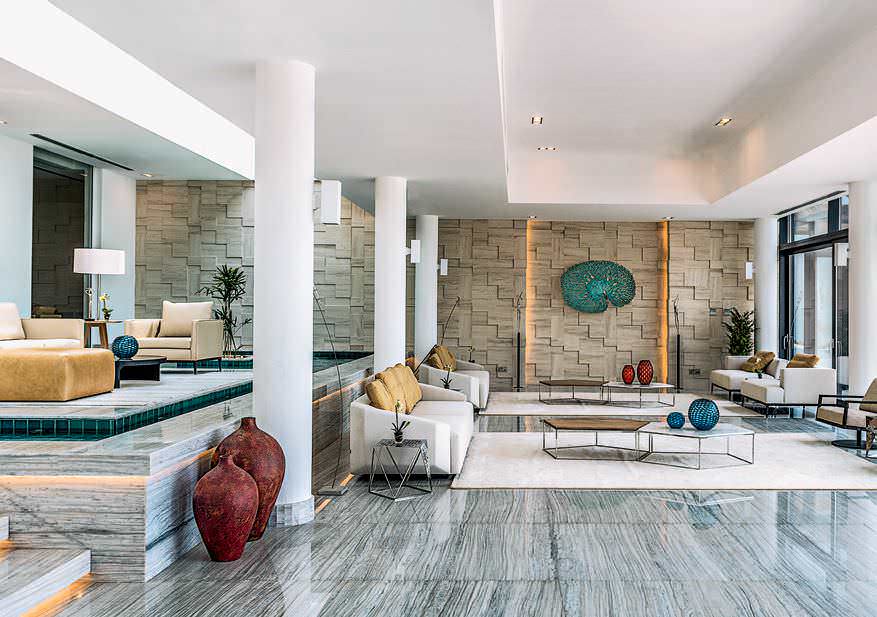 Did you know then that you were meant to be together?
N: "That was it. From our first official date I knew that I was going to marry him."
K: "I also knew on that night that I was going to marry her. I remember calling up my friend and telling him to shoot me if I don't propose pronto. We went for a movie the next day and then... that's it, here we are, four years later, with our little Lanu." (Aylaan, their son)
Family is obviously very important to you both. Can you tell us a bit about your own families who obviously instilled these values in you?
N: I was born in England but we moved back to the UAE almost immediately and I have been here ever since. I went to an all-girls Emirati school till the ninth grade, then moved to a co-ed international school, followed by university in London."
Did you fit into the all-girls Emirati school very easily?
You can read up to 3 premium stories before you subscribe to Magzter GOLD
Log in, if you are already a subscriber
Get unlimited access to thousands of curated premium stories, newspapers and 5,000+ magazines
READ THE ENTIRE ISSUE
October 2015